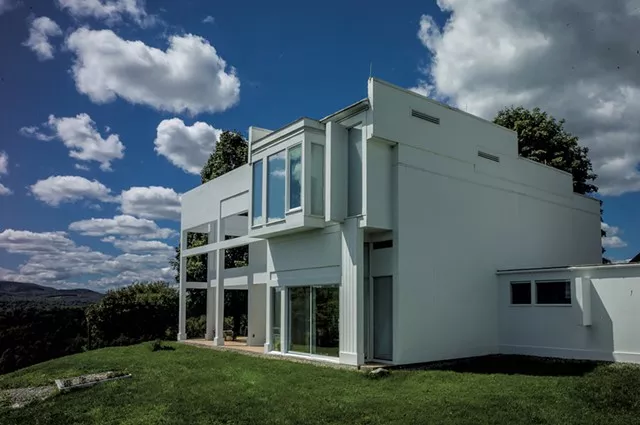 Courtesy of Geoffrey Gross, NYC
House II in Hardwick
Not many house hunters are in search of an experimental, white, modernist home built in 1969-70 that one listing described as a "live-in artwork." But, after four years on the market, as
Seven Days
reported earlier this year
, architect
Peter Eisenman
's House II in Hardwick finally found its ideal caretakers.
The New England-based couple who purchased the iconic house would prefer to remain anonymous.
Andrew Ferentinos
, the architect they hired to make the house both truer to Eisenman's original drawings and more livable, describes them this way: "They are the rare people who are deeply and passionately interested in architecture, and in being stewards of modern architecture."
That's fortuitous, for only pure love was going to save this building.
Courtesy of Geoffrey Gross, NYC
House II
Set on a hill amid 80 acres of former farmland, House II was one of 10 houses Eisenman designed as theoretical experiments beginning in the late 1960s. Only four were built, and House II was the first. Ferentinos describes the house as a "three-dimensional grid of columns and walls" that defy divisions between inside and outside. Bedroom walls stop short of ceilings, and beams defining interior spaces extend outside to create a kind of exoskeleton.
Richard and Florence Falk, who commissioned the house from Eisenman, had to make immediate changes once they moved in, including blocking a void in the second-story floor with a grill to keep their toddler from falling through. The flat roof and building materials — mostly wood and plywood — quickly proved unequal to Vermont weather.
Ferentinos describes the renovation project as an "unbuilding." "We're taking it apart to bring it back to the original state, but reinventing it, too," he says. They are replacing the entire exterior envelope, and introducing steel as a structural material. Interior renovations have consisted of stripping back additions made by various owners, including Plexiglas added for sound barriers between bedrooms.
The buyers were located thanks to the unflagging efforts of Devin Colman, Vermont's state architectural historian in the
Division of Historic Preservation
. Colman has been alerting the architectural community to the importance of House II since its owners put it on the market in 2013 for $1.4 million. (The last listed asking price was $425,000.)
Colman helped organize a tour of the building for the Boston chapter of
Docomomo
, an organization dedicated to conserving buildings and landscapes of the modern era (roughly from 1930 through the '70s). He also wrote the house up in
Dwell
magazine and
Seven Days
when, in April, a different buyer expressed interest in tearing it down. At Colman's behest, Docomomo staff sent out a blurb in their national newsletter. A writer at Curbed, a real-estate blog, spotted that notice and posted a detailed listing of the home.
The current owners, says Colman, had just seen the Curbed article when Colman called them at the suggestion of a California architect friend to ask if they might be interested in buying. "Everything converged at once," says the historian of the lucky match.
The owners are already intimately familiar with Eisenman's work: For the past year and a half, they and Ferentinos have been restoring House VI, in Cornwall, Conn., completed in 1975. The trio found justification for their "unbuilding and reinvention" technique in a book about House VI written by owner Suzanne Frank. In it, Eisenman expresses distaste for freezing a house in time merely for the sake of preservation, notes Ferentinos.
How would Eisenman react to the resurrection of House II? In fact, Ferentinos bumped into him recently during an event at another modernist icon: Philip Johnson's
Glass House
in New Canaan, Conn. A discussion about restoration at House VI convinced Ferentinos that Eisenmann would "have a positive response" to his approach with House II.
August 10, 2017: This article was updated to correct two errors.