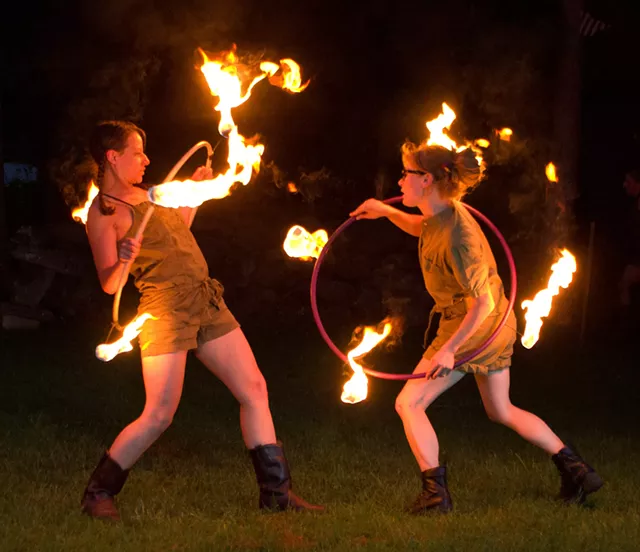 Courtesy of Stephen Mease
Green Mountain Fire Militia at work
Ready, aim, fire! The
Green Mountain Fire Militia
has been accepted to perform at the 2017
Burning Man
Fire Conclave in Nevada. It's the first time a Vermont group has applied to the conclave, a massive fire performance that precedes the torching of the notorious "man" figure. The militia is one of 27 acts that will perform.
The group is led by Jericho-based Kim and Chris Cleary. They also head up a local fire troupe called
Cirque de Fuego
and host an annual event at summer solstice called Zenith.
"It is a Burning Man-inspired, volunteer-run, participatory event that highlights community, art, music and fire," Kim says of Zenith. "We have a ceremonial fire performance before burning a 20-foot-tall wooden sculpture." By comparison, last year's burning "man" at the Nevada event was taller than 70 feet.
For the Green Mountain Fire Militia, the Clearys assembled 11 performers. Their performance, in line with the festival's theme of Radical Ritual, will be about "war, peace and unity," Kim says.
Courtesy of Stephen Mease
Green Mountain Fire Militia with custom-made, Kevlar-coated bayonets
"The Green Mountain Fire Militia chose its name in honor of Ethan Allen and the Green Mountain Boys," Kim adds, "and was inspired due to our assemblage of a 'civilian' group to come together and perform as a call of duty. " Some of the members had never performed with fire before.
Burning Man is not a festival, according to its website. It's an annual, leave-no-trace event that takes place at "Black Rock City" — a temporary city erected and disassembled in the Black Rock Desert every year. The city is "dedicated to community, art, self-expression and self-reliance," notes the website.
The event attracts thousands of people each year who create art installations, make music and form community bonds in the harsh desert climate.
To raise awareness and funds for their trip, the militia is holding a "
Special Edition Fire Theater
" event on August 11, 9 p.m., at On the Rocks Carving Studio & Sculpture Garden, 353 Browns Trace Rd., in Jericho. Suggested donation is $5-25.