Sadie Williams
Sahar Alsammraee
In Iraq, Sahar Alsammraee operated a clothing design studio out of her home. Her stock-in-trade were elaborately embroidered designs for traditional Arabic/Islamic dresses called abaya. That all came to an end when the 55-year-old designer fled to Syria at the start of the Iraq War in 2003. When conflict escalated there she returned to Iraq, then migrated to Vermont in 2014.
Alsammraee provides home care for her mother. And it's taken her some time to save up for sewing machines and fabric. But this year she has returned to the practice she loves: designing and sewing abaya.
And now, she has an outlet to show those designs: The Karibu (Welcome) International Fashion Show. Staged by the
Champlain Valley Office of Economic Opportunity
, the show takes place on Thursday, April 13, at the Higher Ground Showcase Lounge in South Burlington.
Sadie Williams
A traditional Iraqi dress by Sahar Alsammraee.
Aslammraee is one of three designers preparing garments for the show. The others, Pamela Tshilemba and Virginie Diambou, are from the Democratic Republic of Congo and the Republic of Congo, respectively. The show features 21 models from far flung countries such as Peru, Guatemala, Mexico, Iraq, Togo, Ghana, Nigeria, China, Nepal, India, the Democratic Republic of Congo and the Republic of Congo.
CVOEO associate director Sandrine Kibuey, formerly of the DRC, cohosts the event with Alex Hirsch from WCAX-TV.
Alsammraee was preparing four pieces for Karibu in her Winooski apartment on Tuesday afternoon. The designer doesn't speak fluent English, so Houda Musanovic, formerly of Morocco, translated.
One red evening gown with long sleeves not yet sewn to the bodice was draped on the couch near a small sewing machine set up on a folding table. She'll be making two dresses in that style.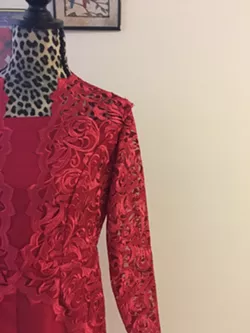 Sadie Williams
Detail of evening wear dress by Sahar Alsammraee
The other two, which she has already finished, are abaya in seashell pink and turquoise. One is adorned with glitzy rhinestones, the other bearing an appliquéd band of silver lace trim down the center. The dresses are composed of two parts — a loosely fitted, ankle-length sheath dress in poly-blend satin topped with a layer of sheer chiffon.
The designer says she gets her fabric at Jo-Ann Fabrics and Crafts in South Burlington, but that it's more expensive than the material she used to work with in Iraq. She's also using machine-embroidered fabrics from Jo-Ann. In Iraq she designed embroidery patterns and commissioned area seamstresses to fashion them either by hand or machine, depending on the complexity of the design.
Alsammraee and Musanovic explained that the light, flowing abaya are typically worn "the day just before a wedding, henna day." On that occasion, women dress up and gather to adorn the bride-to-be with temporary henna tattoos. "Just girls," Musanovic says, adding, "sparkle is very important."
Aslammraee is excited for people to see her designs. "It's just the beginning, she says." She hopes to grow her business here and be successful with it, as she was in Iraq. She adds, "It helps to be known in the community."