Rachel Jones
Lyn Severance (holding sign) with friends and family
Vermont's second
Design Week
kicked off at UVM's Fleming Museum of Art last night with the Vermont Design Awards and the AIGA Vermont Design Fellow Award. The latter honor was presented to Lyn Severance of
Harvey|Severance Design
, who is perhaps most recognized through her original work crafting the identity of Ben & Jerry's Ice Cream.
Design Week is an initiative of the Vermont chapter of the American Institute of Graphic Arts. The week's events include a short-run
Josef Albers exhibition
, a letterpress workshop and more. According to president Jeffrey Harkness, the chapter has approximately 125 members.
Introducing Severance, Ben Cohen of Ben & Jerry's credited the designer with essentially saving the then-fledgling company. Cohen cited the
New York Times
recognition of the "
high-touch
" (versus high-tech) appeal of Ben & Jerry's, which he said was in large part thanks to Severance's ability to translate their conversations into a unique visual style and to develop "this fine line of childlike sophistication; chic funk," he said.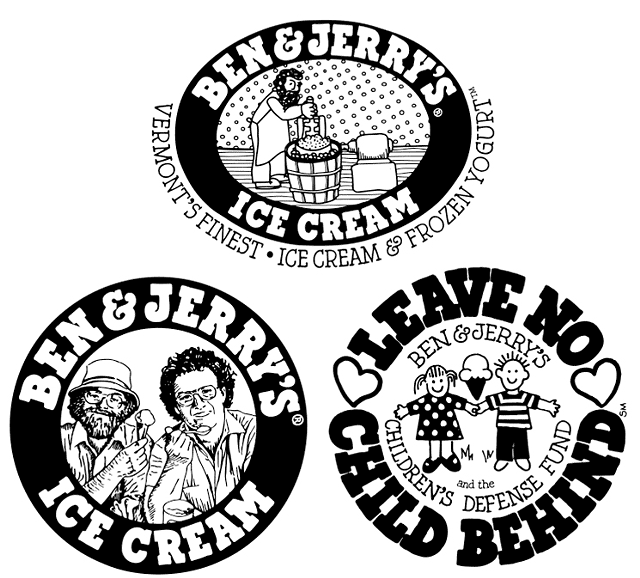 Harvey|Severance
Early Ben & Jerry's logos
It was Severance who orchestrated a shoot with then Vermont-based photographer Marion Ettlinger. Her image of the two idealistic ice cream entrepreneurs would become iconic through Severance's successful branding.
Said Harkness, "We all would not be here tonight if Lyn had not been in the basement of Bennington Potters when [Ben Cohen] was selling cookies."
Accepting her award, a clearly moved Severance expressed her gratitude to her family, friends and clients. "You are all collaborating with me creatively, whether you mean to or not," she said.
Severance noted that "a real lightbulb went off" when she first encountered design, after originally studying to be a metalsmith. She also recalled a group effort to establish a local chapter of the Graphic Arts Guild, which she says was too difficult to maintain. Of the Vermont graphic design community, Severance said, "We've really come a long way."
Severance is the second Vermont designer to receive this award; the first was Michael Jager, formerly of JDK Design and now
Solidarity of Unbridled Labour
. He received
the inaugural honor
in September 2014.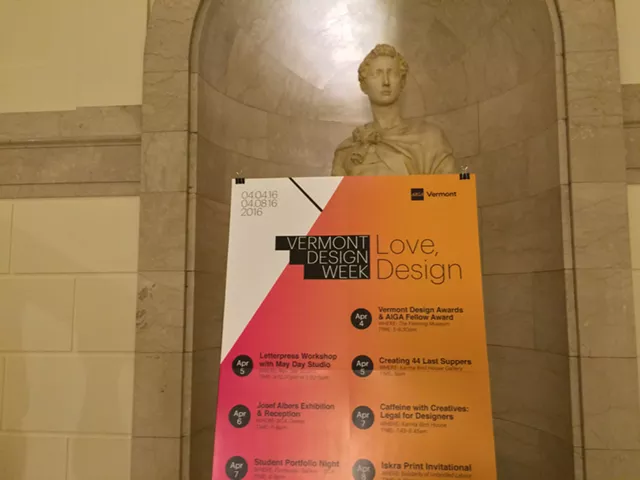 Rachel Jones
Vermont Design Week poster
Severance was not the only designer who was recognized last night. Tables lining the Fleming's Marble Court were lined with submissions from designers around the state who had answered a call for submissions in March. The selections were chosen from hundreds of submissions by a panel of three judges: Jason Adam of
Jason Adam Design
in LA, Frances Macleod of
Leo Burnett
in Chicago, and Kevin Perry of
Struck
in Salt Lake City. Categories included advertising, app design, identity system, environmental/experiential, logos, packaging, posters, video + motion graphics, and websites + microsites.
Artist
Marc Nadel
, who has contributed many covers and illustrations to
Seven Days,
made the cut in the illustration category for his political caricatures.

Marc Nadel and Seven Days
Covers illustrated by Marc Nadel
Five best-in-show awards were granted to the following Vermont designers:
1.
Perfect Circle Communication & Design
for its Candelicious logo.
2. OXBOW for an extensive set of graphics, animations and visualizations to accompany six
TED Talks Live
speakers.
Courtesy of OXBOW
Slide for TED Talks Live speaker Juan Enriquez
3. Solidarity of Unbridled Labour for
this series of Love GIFs
:
Solidarity of Unbridled Labour
Valentine's Day GIF by Solidarity of Unbridled Labour
4.
Dubko/James Kowalski
for his Pilot explainer video.
5. Solidarity of Unbridled Labour for its
Uvero
brand video.
See the full line-up of Design Week events here.