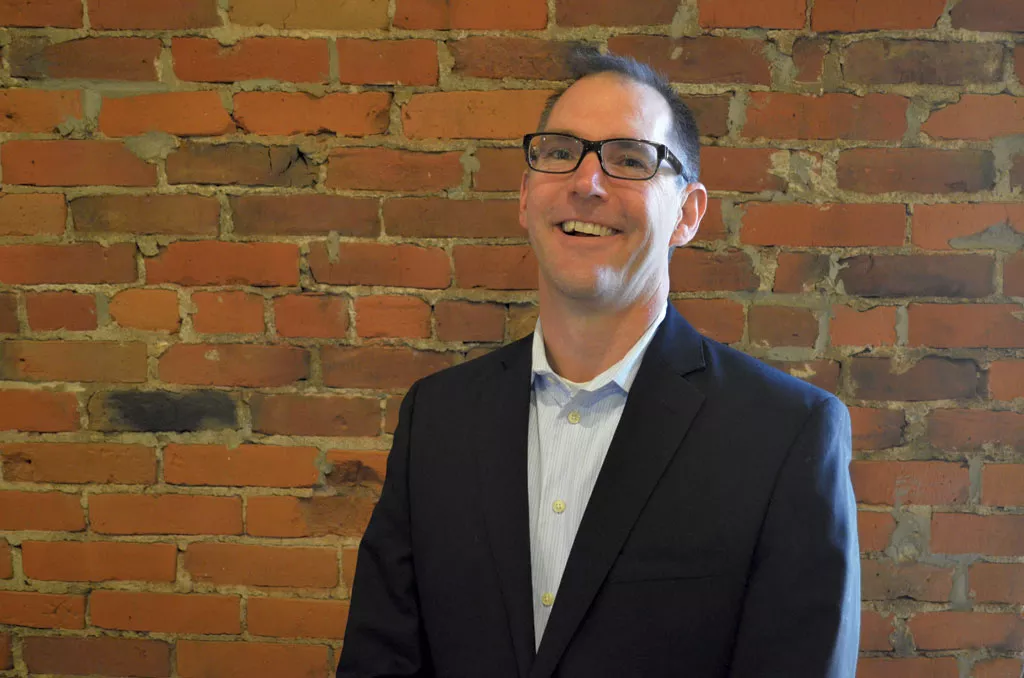 JEFFREY HARKNESS, AIGA-VT president
Aside from the Architecture + Design Film Series at Burlington City Arts and the Madsonian Museum of Industrial Design in Waitsfield (architect David Sellers' collection of well-designed objects), Vermont doesn't offer many prompts for the public to consciously admire good design.
That will change beginning Monday, September 22, with the launch of the first Vermont Design Week. Comprising a series of events hailing local talent, it's been organized on a volunteer basis by the Vermont chapter of AIGA (American Institute of Graphic Arts), the professional organization for designers.
Spearheading the planning is former chapter president Michelle Hobbs, who designs Efficiency Vermont awareness materials at Vermont Energy Investment Corp. Hobbs explains that graphic design used to be limited to "setting type and creating printed material." Today, the profession includes web design, environmental design (e.g., campus signage, exhibit design and other directional concerns in the built environment) and 3-D contributions such as trade-show booths and product packaging.
Ironically, the first of the week's events to have sold out are two old-style printmaking workshops at Shelburne Museum. Participants will write a renga — a Japanese poem they'll collaboratively compose on the spot — and print it by setting and inking metal-and-wood type.
Leading the workshops is Jeffrey Harkness, AIGA-VT president for the past year and the principal of Hark, a Burlington-based design firm specializing in shaping green product-makers' online presence. "All of the designers today are so tech driven," comments Harkness. "I grew up in an era when people were just transitioning to that. The workshops will be a throwback to a past era of graphic design."
Hobbs, conversely, will moderate an event that looks beyond the traditional reach of the profession. "Designer as Entrepreneur: A Panel Discussion on Dreaming Up and Selling Product" features six young local designers who have successfully launched retail businesses.
Among these are Annemarie Buckley of Scout's Honor Paper, who sells her strikingly simple, mid-century-evoking cardstock designs online; and Cristin Denight, whose Syrup Souvenir Shop sells maple products and hip, Vermont-themed clothing online and at a Church Street retail space beside lululemon.
"This event will be very interesting to folks who are deciding, Do I want to continue offering design services or go into making a product?" Hobbs says.
If, from the foregoing, Vermont design seems Burlington-centric that's because it is. Though designers can live anywhere with a high-speed internet connection these days, most of AIGA-VT's 110 members live in Chittenden County, according to Harkness. And their hub in Burlington, arguably, is Karma Bird House at 47 Maple Street.
The Bird House, as it's known, is hosting a mid-Design Week open house. The evening event will allow the public to see what designers do and how their workplaces look. (One hint: They tend to favor architect-designed furniture.) Open-house coordinators Evan Deutsch and Jon Portman, founders of Oxbow Creative, invite attendees to explore their office and those of a dozen other Bird House designers and entrepreneurs, and then move to a third-floor common space for drinks, presentations and product demos.
One product attendees will get to try out is the Oculus Rift, a 3-D virtual-reality headset developed by Bird House tenant IrisVR. The goggles, to be released in May 2015, will allow architects and their clients to experience a space before it's built. The invention placed third in Time magazine's list of 2013's top 10 gadgets; Apple's new iPad took first.
Oxbow will likely display its latest infographic, "Monsanto vs. Monarchs," which Middlebury College grads Deutsch and Portman designed for the D.C.-based nonprofit Center for Food Safety. The infographic summarizes how the Monsanto weed killer Roundup, to which the company's genetically modified seed is immune, has decimated milkweed and its dependents, monarch butterflies. The project is timed to correspond with Vermont's legal effort to require GMO labeling on food products.
That use of design — to motivate people and change cultural attitudes — is something Vermont's best-known designer, Michael Jager, would surely approve. AIGA-VT will award Jager its first Fellow Award at a final celebration at ArtsRiot. Cofounder of JDK Design a quarter-century ago, Jager worked with major clients from Burton Snowboards to Nike to Microsoft. He's being honored not just for his design leadership, says Hobbs, but for "his mentoring, community building, advocacy and pro bono work" for many area organizations.
Deutsch comments that the "legendary" Jager, who also cofounded Karma Bird House, "worked with Burton at the inception of the sport and helped define and shape the snowboard culture." In a promotional video for Jager's latest initiative, called Solidarity of Unbridled Labour, Jager announces that the collective's aim is to "create culture through really brilliant design."
AIGA-VT will pay tribute to other local talent with its inaugural Vermont Design Awards. Winning work, chosen from more than 200 member submissions, will be displayed at the Karma Bird House Gallery all week and honored at an opening reception there.
Hobbs hopes Vermont Design Week will raise everyone's awareness, not just of AIGA's local chapter and the slew of local talent, but of design itself. "It's anywhere and everywhere," comments the veteran, who designed Olive Garden's logo in the 1990s. "It's one of these things we don't give a lot of thought, but it's a heavy part of our lives, even in the smallest things."