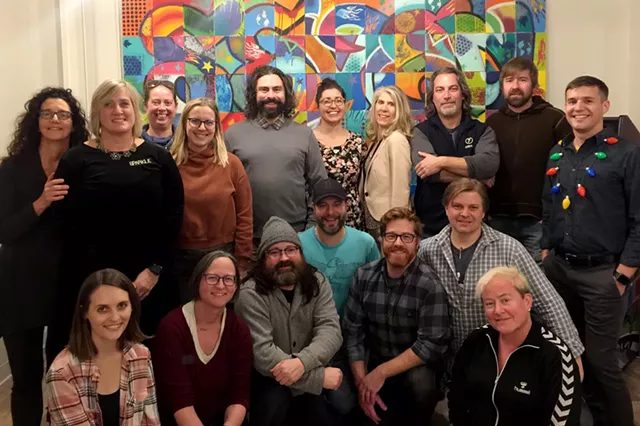 Top row from left to right; Paula Routly, Robyn Birgisson, Kaitlin Montgomery, Corey Grenier, Colby Roberts, Eva Sollberger, Michelle Brown, Ken Picard, Paul Heintz and Don Eggert. Bottom row from left to right; Carolyn Fox, Cathy Resmer, John James, Matt Weiner, Dan Bolles, Michael Bradshaw and Diane Sullivan.Not present: Pamela Polston
Seven Days
founders Paula Routly and Pamela Polston are pleased to announce that 13 longtime employees are new shareholders in the media company the two women created almost 25 years ago. The holdings of those workers, combined with those of minority owners Cathy Resmer, Don Eggert and Colby Roberts, now represent 49 percent of the business.
"These employees have been crucial to our success — upping our news game, creating meaningful events, running other publications, always innovating — so we decided to make it official," said Routly, publisher and co-editor of
Seven Days
.
The newly vested shareholders extend across all departments in the operation, from editorial to circulation. They are: staff writer Paul Heintz,
Kids VT
account executive Kaitlin Montgomery, account executives Michael Bradshaw, Michelle Brown and Robyn Birgisson, marketing director Corey Grenier, staff writer Ken Picard, assistant arts editor Dan Bolles, production manager John James, art director Diane Sullivan, circulation director Matt Weiner, chief proofreader and special publications manager Carolyn Fox and senior multimedia producer Eva Sollberger.
All of the 1 percent owners have been with
Seven Days
fulltime since at least 2012. Several in the group have been working at the company for much longer.
The latest development is part of a succession plan that began in 2009, when Roberts, Resmer and Eggert were brought in as junior partners. "In some areas, we've mentored them; in others, Pamela and I have learned from their expertise," Routly explained. "That collaboration has led to better decision making."
Resmer, Roberts and Eggert each now own 12 percent of the company.