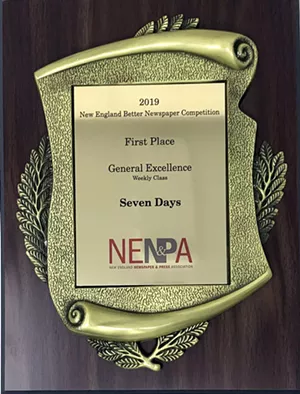 Seven Days
, Vermont's free, independent newsweekly, won 14 first-place awards in this year's
New England Better Newspaper Competition
— including for general excellence and top honors in business, crime and courts, education, health, human interest, religion, science and sports-feature reporting.
Eva Sollberger
received first place in all four video categories. The paper also won seven second-place and one third-place awards — 22 total.
The contest is organized by the
New England Newspaper & Press Association
; winners were announced at NENPA's annual convention last weekend in Boston.
Seven Days
— which circulates 36,000 print copies every Wednesday — competed against numerous other large New England weeklies.
Here's what judges had to say about
Seven Days
' 14 first-place awards:
General Excellence Award: "Seven Days is a testament to the power of a well conceived, well executed community publication."
Business/Economic Reporting for "Who Wants to Work on a Vermont Dairy Farm?" by Chelsea Edgar: "The writer has done considerable digging — literally and figuratively — to bring a microscope to everyday life at a dairy facility."
Crime and Courts Reporting for "Trafficked: How the Opioid Epidemic Drives Sexual Exploitation in Vermont" by Kate O'Neill: "Absolutely riveting story about the horrific intersection between opioid addiction and sexual exploitation of women in Vermont."
Education Reporting for "Survival of the Smartest" by Molly Walsh: "The graphics were dynamite. The topic, while not new, was covered thoroughly. The writing made me want to keep reading."
Health Reporting for "Exploring the Science, and the Snake Oil, Behind Stem Cell Therapy" by Ken Picard: "Well written and diligently reported."
Human Interest Feature Story for "Who Shot Mr. Cheeseface?" by Dan Bolles: "A breezy, fun, breathless whodunit, told with pace and anticipation."
Reporting on Religious Issues for "Bible Study on Aisle Three" by Sasha Goldstein: "Mr. Goldstein skillfully reports on the intrusive tactics of an unfamiliar church with traveling members that have arrived in Vermont."
Science/Technology Reporting for "Blood, Sweat and Shears" by Sara Tabin: "A first-class work, including in-depth reporting, compelling writing, and some very good explanations of how the reporting was done."
Sports Feature Story for "The Mighty Bucks" by Derek Brouwer: "In-depth reporting at its finest, leading to a well-crafted feature story."
Entertainment Video for "Burlington High School's dance Team Brings the Crowd" by Eva Sollberger: "This high-energy video really captures the spirit of the school."
Feature Video for "Exploring Three Swimming Holes in Lamoille County" by Eva Sollberger: "Beautifully shot and well produced."
News Video for "A Recovery Coach Pays it Forward" by Eva Sollberger: "An important story that's very well told and well produced."
Sports Video for "Lily Stilwell Competes in Gymkhana Ice Time Trials on Malletts Bay" by Eva Sollberger: "A very polished, well-produced video that tells an inspiring story."
Photo Story for "In Pictures: Monday Night Hockey at Gordon H. Paquette Ice Arena" by James Buck: "Strong set of images to tell the story."