Melissa Pasanen
Vadeboncoeur treats in greenhouse No. 3 at Red Wagon Plants
After seven years of baking wood-fired bread, cardamom morning buns, buckwheat cakes and perfectly flaky croissants, Julianne and Didier Murat sold Vergennes Laundry in 2017.
Devoted fans will welcome the news that a small taste of their Europe-meets-Vermont menu and aesthetic is popping up amid the flora at Red Wagon Plants in Hinesburg this nursery season.
The couple, along with employee Emma Rosenzweig, can be found in a blond wood café built within greenhouse No. 3 on Fridays, Saturdays and Sundays. They are operating under the name Vadeboncoeur, originally used for Didier's nougat candy business.
Red Wagon owner Julie Rubaud said she built the space as a classroom for her series of workshops, many of which focus on cooking from the garden. "We had been thinking about doing something with coffee and treats in that space, too," Rubaud said. "There's a nice creative energy around it."
Melissa Pasanen
Julianne Murat
Vadeboncoeur offerings include open-faced tartine sandwiches on Julianne's own sprouted rye bread topped with seasonal, local produce such as thinly sliced radishes, cultured butter and feathery fronds of chervil snipped to order from a planter on the window sill.
Baked goods on a recent Saturday morning ranged from wedges of rhubarb crumb cake to puffy, bronzed cheddar-chive gougères. There is also drip coffee, locally made Savouré sodas and green juice featuring Vermont-grown ingredients.
Julianne noted that she is baking in a commercial catering and processing kitchen located in the couple's home but without access to certain professional equipment she previously had at the Vergennes Laundry, which means no morning buns but, yes, buckwheat cakes. "The average gardener lady seems to like a buckwheat cake," she noted.
As the season progresses, Julianne said the couple hopes to add fresh oysters and wine later in the day, an idea she has dubbed "Happy Afternoon."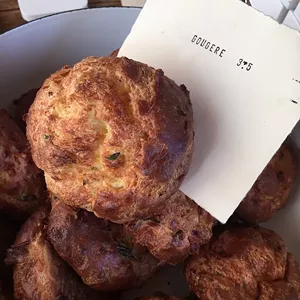 Melissa Pasanen
Cheddar-chive gougères
On Saturday morning, longtime customers of the couple's previous business and the newly won over gathered around a large communal table, nibbling and sipping, with a verdant view of hanging baskets and potted plants. The table and other café furniture comes from the Westford bakery of the late, legendary bread baker, Gérard Rubaud, Julie Rubaud's father.
Partnering with the Murats felt like the right match, Rubaud said. "We go back a ways," she recalled, to before the Vergennes Laundry days when Julianne apprenticed with her father. "He said she was one of the few students who got it," Rubaud said.
The café adds "a nice way to be in the greenhouse and spend a little more time," she continued. "I like anything that combines being around plants and beautiful, quality food. It makes me happy."