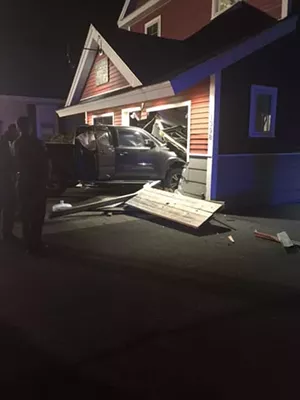 Courtesy of Brian Bessery
Bessery's Butcher Shoppe
Bryan Bessery was in bed at his Burlington home Wednesday at about 11:15 p.m. when he heard a loud crash and "everything shook," he said. Bessery thought something had hit his house on North Avenue, or maybe his car.
He looked outside to discover that a pickup truck had crashed through the front of
Bessery's Butcher Shoppe
, his restaurant and butcher shop at 1398 North Ave. The truck came to a stop in his restaurant.
"They jumped the curb and took out the picnic tables," Bessery told
Seven Days
Thursday afternoon. "It's an epidemic in Burlington."
At least it's an epidemic on North Avenue, where two weeks ago a car drove through the plate-glass window at
Scout & Co
., a coffee shop at 237 North Ave.
No one was inside Bessery's when the crash occurred Wednesday night, but the restaurant sustained substantial damage, according to the owner, who is assessing its extent.
"The whole front of the store is missing," Bessery said. "There's no power. I have contractors coming by to give me bids."
The creemee and Italian ice machines were damaged. Broken glass was found at the back of the store, he added. "If there's glass by the back door, there could be glass in the frier."
Bessery called the accident "small potatoes" relative to what might've occurred if a truck had crashed into his restaurant at three in the afternoon.
"The timing of the day is everything," he said. "When there's 50 kids at the picnic tables, that's something to worry about."
Burlington Police Deputy Chief Jan Wright said the 30-year-old driver of the vehicle, Shawn Cunningham, had to be extricated from the pickup truck by members of the fire department. (The station is across the street from Bessery's.)
Speed and alcohol appear to be factors in the crash, Wright said.
"Based on the investigation, and marks that they found, it appears that the truck was attempting to turn right from Staniford Road onto North Avenue, but lost control and went into the store," she said.
Cunningham, of Burlington, was taken into custody on suspicion of driving under the influence, Wright said. He was released on a citation for criminal refusal (to take a breathalyzer test) and negligent operation of a vehicle. He was also issued a ticket for an open container of alcohol, according to Wright.
An attempt to reach Cunningham by telephone Thursday afternoon was not immediately successful.