Sally Pollak
Heirloom Tomato Salad at Rí Rá
The salad on the menu at
Rí Rá Irish Pub
in downtown Burlington is called Heirloom Tomato Salad. The first ingredient listed in the description is "Half Pint Farms [sic] heirloom tomatoes."
But
Half Pint Farm
hasn't harvested tomatoes since the fall of 2017, and the first harvest of this season will be in about six weeks, said Mara Welton, who owns and operates the farm at Burlington's Intervale with her husband, Spencer Welton.
Mara Welton handles farm deliveries herself, transporting produce to about 30 restaurants in Chittenden County. In the 13 years that Half Pint has been growing tomatoes, Welton said she has never delivered them to Rí Rá.
"I'm infuriated. This is something that's been happening regularly," Welton said, meaning beyond this instance and this restaurant. "It happens on different levels and it erodes our brand, and I think it erodes every farm's brand that is being used this way."
Sally Pollak
Heirloom Tomato Salad at Rí Rá
Brady Patterson, chef at Rí Rá, said his restaurant is introducing a new menu on Thursday and the tomato salad will not be on it. The salad was on the menu when he took over the kitchen about two months ago, he noted.
"It's from a menu in the summer, but it's not something that I would put on the menu," Patterson said. "I can't really comment on where he [his predecessor] was sourcing the tomatoes. He was a frequent visitor of the [Burlington] Farmers Market out back."
Helen Labun is executive director of the
Vermont Fresh Network
, a nonprofit that works to build relations between local farmers and chefs. She said it's difficult to gauge the prevalence of misrepresenting local foods on Vermont restaurant menus. But, she added, VFN is concerned about "local" being used as a "broad marketing scheme."
"That sort of marketing is what we're concerned about becoming prevalent," Labun said.
The tomatoes in the "heirloom salad" at Rí Rá are served on a bed of arugula with bits of mozzarella cheese — billed on the menu as from
Maplebrook Farm
, a producer in North Bennington — and prosciutto chips. In a version served to a Rí Rá diner on Monday evening, the salad featured about 10 whole cherry tomatoes and a handful that were sliced in half.
Patterson said the restaurant gets cherry tomatoes from
Black River Produce
, a food distributor based in North Springfield. Efforts to reach Black River Produce by telephone were not successful.
But there is no chance that Black River could deliver Half Pint tomatoes even if they were in season. Half Pint Farm, which the Weltons founded 16 years ago, has never sold its produce through a distributor, Mara Welton said.
"We pride ourselves on harvesting all of our produce the day of delivery or the day before delivery," she said. "And that's something we market to our chefs: getting the freshest possible tomato that's been ripened on the plant so they have the fullest flavor."
Sally Pollak
Menu at Rí Rá
Steve and Lara Atkins, chef-owners of the
Kitchen Table Bistro
in Richmond, are longtime purchasers of Half Pint tomatoes. Steve Atkins said that when the farm's tomatoes come into season, he's reminded of the "celebration" of eating his father's garden tomatoes as a kid in Shelburne.
"That's what the Half Pint tomatoes are," Atkins said. "They are the glory of fresh-from-the-garden tomatoes. Mara and Spencer are actually touching and holding each box and can guarantee the quality of every tomato that they bring our way."
Working with Half Pint tomatoes is a "joy," Atkins added. The Kitchen Table Bistro presents a dinner every summer featuring the farm's tomatoes — preparing about 10 dishes that range from a "pristine" salad to sorbet.
"It's a love affair from their side for the tomatoes," Atkins said. "And we get to help partake of that love."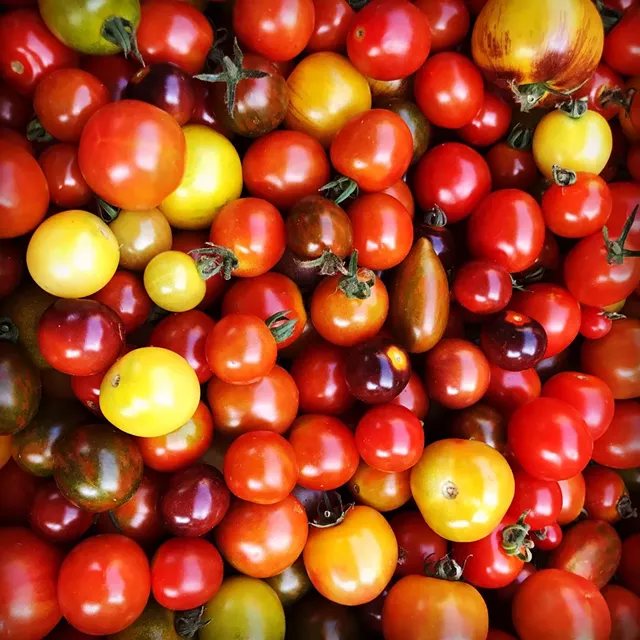 Courtesy of Half Pint Farm
Half Pint Farm tomatoes
The Weltons grow 85 varieties of tomatoes on their 2 1/2 -acre farm. Mara Welton said she loves to share the stories of the provenance of the tomatoes with shoppers at the Burlington Farmers Market.
"The work is a labor of love," she said. "When it gets eroded, it's so dismaying. ... I've let these things go for so many years. I think [restaurants are] thinking,
We'll give these little farms some props. Having a small farmer's name on the menu is good for us and good for them, so what's the harm?
"But it's a false experience for the customer," Welton continued. "And what if the tomatoes were kind of crappy? What if they'd been stored in the fridge?
"I think it does a big disservice to the customers because they think they're getting a product they're just plain not getting," she said. "They have an experience with the product that isn't ours, and whatever that experience is isn't real."