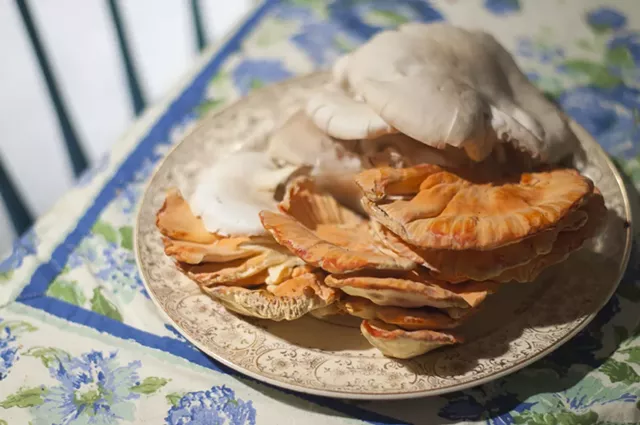 Hannah Palmer Egan
Oyster mushrooms and chicken of the woods
After a cool spring, summer mushroom season is finally here. I've been too busy to hit the trail myself, but if my Instagram feed is any indication, it's been a bumper year for morels. Last weekend, a friend of mine stopped at his usual morel spot on his way home. It was devoid of morels, but he did find a huge cluster of chicken of the woods, and grabbed enough to share. Lucky me!
Last night, I bathed the fungi (along with some oyster mushrooms my mom brought over) in a slap-dash marinade for 15 minutes, then passed them off to the grill man, who charred them briefly for a sumptuous supper side.
My marinade was simple — a splash of olive oil, a bigger splash of beer (I was drinking an IPA from
Harpoon Brewery
, but anything with some flavor — white wine, rosé or cider — would work), and a little salt and garlic. Also, this would work with other types of mushrooms, so you could use a portobello or even some big button mushrooms, if you're not into or can't get the wild stuff.
Hannah Palmer Egan
Summer grilling
Beer-Marinated Chicken of the Woods

Makes 1 pound
Ingredients:
1 pound sturdy, shelf-like mushrooms (oysters, chicken of the woods, portobello)




2 cloves garlic, minced




1 small shallot, minced




1/4 cup extra-virgin olive oil




Generous splash light vinegar (apple cider, rice, white balsamic, plum)




2 generous splashes flavorful beer, cider or light wine




Sea salt and fresh-cracked pepper
Preparation:
Wash the mushrooms and place them in a sealable plastic bag with the garlic and onion.




Combine the liquids in a small bowl. Add salt and pepper to taste and mix well. Pour the mixture in with the mushrooms and massage gently to coat.




Let sit while the grill heats up, turning occasionally so the mushrooms soak evenly.




When the grill is hot, place the mushrooms toward the periphery of the flame, so they're exposed to the heat but not instantly charred. Heat 3-5 minutes on each side (how long and often you'll need to turn them hinges on your grill temp), until the mushrooms start to release liquid and soften slightly.

Serve in a bun as a "burger," or sliced as a side dish with meats and salads.