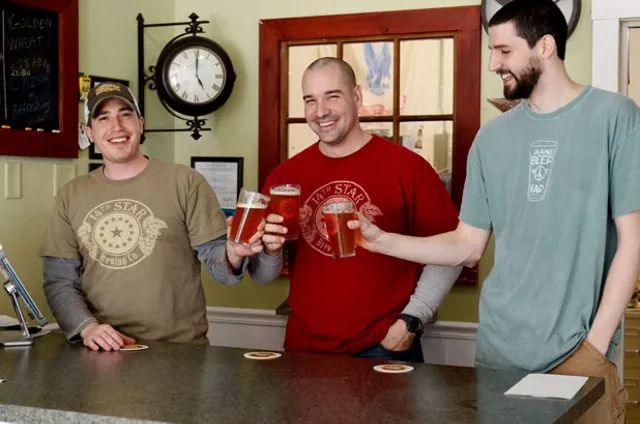 File photo: 14th Star Brewing
After winning Seven Days' Vermont Brew Bracket in April
Vermonters are observing their rites of spring – warm days blossom with floral dresses and rosy, bare chests, and by evening, sunburns for paler, more foolhardy revelers.
For casual tipplers and craftbrew dilettantes alike, spring also means bright, sunny beers best sipped fresh in the open air, whether the venue is your back porch, on the lake or in the garden, or at your favorite watering hole.
Over the last few weeks, Vermont's brewmasters have been rolling out the season's new releases. It's a fruity, citrusy batch that predictably forges new trails into IPA territory, with stops along the way for ciders, sours and saisons. Just in time for Memorial Day and the official (unofficial) start of summer.
Read on for a smattering of noteworthy new brews, listed by release date.
Out now: 14th Star Berliner Weiss
Few are true lovers of sour beer, and even connoisseurs tend to temper this tart German throwback with sweet syrups for something of an ancient, cherry-popped Shirley Temple. But I'll enjoy a lip-smacking, sweet-and-sour pleasure any afternoon. Last weekend, the friendly vets at 14th Star in St. Albans released a traditional rendition, fermented with yeast and lactobacillus for a dry, puckery kick.
As far as I can tell, it's also the only Berliner Weiss in the state right now and, according to head brewer Dan Sartwell, they're serving it in the good old-fashioned German way, with red raspberry (über-traditional) or cucumber (modern twist) syrup to cut the tartness. "That sweetness from the raspberry adds a lot to it," Sartwell says. "It hits the style to a T."
Get it at the brewery — Thursdays and Fridays, 4-9 p.m.; Sundays, 9 a.m.-noon — or at a brewery tasting dinner at Stowe Mountain Lodge on Friday, May 30.
Out now: Long Trail Brush & Barrel Saison (Belgian-style farmhouse ale)
With the explosion of craft-beer culture, even Vermont's big, old-guard breweries are jumping on the small-batch bandwagon. In March, Long Trail released the Brush & Barrel Saison, a mellow, Belgian-style farm beer that drinks like a warm spring breeze. This is a pretty beer, pale gold in color and a little cloudy, all florals and citrus on the nose but dry and light in the mouth, and rounded out with a bit of wheat malt.
Long Trail's early-summer saison carries its 7.1 percent ABV with a dancer's grace, so drink it now, as it'll be gone come July. "If we had done this beer 10 years ago," says Long Trail brewmaster Dave Hartmann, "people would have been, like, 'What is wrong with this beer?' But nowadays people are digging that kinda thing."
File photo: Matthew Thorsen
Fiddlehead Brewing's Matt Cohen in 2011

Out now: Fiddlehead Second Fiddle (double IPA)
Last year, Fiddlehead brewer Matt Cohen created Second Fiddle with Vermont's hoppy crowd close to heart, and now it's back for its sophomore season. "Today's beer drinkers are leaning toward highly hopped, larger beers," Cohen says, "so this is our take on that style."
Despite dialing the booze up to 8.2 percent ABV, the citrusy double IPA maintains its drinkability. With coriander on the nose, strong summer fruit from start to finish, and solid, hoppy bitterness (it carries 80 IBUs exceedingly well) gleaned from Citra and Simcoe hops, the beer starts and finishes clean and easy.
I'm looking forward to singing songs with Second Fiddle throughout the summer; unlike many spring releases, Cohen is brewing a lot of it, which means you'll find it on draught around the region and, very soon, in cans. Second Fiddle is the brewery's second canning after this spring's Hodad porter.
Out now: Shacksbury Flagship Ciders
This summer, Vermont is getting new old-style cider. According to Shacksbury founder Colin Davis, the new cidery – named for a forgotten hamlet near Shoreham – is bringing back the ciders of the early New England settlers. They're made from a different kind of apple; not the crisp, sweet fruits of tarts and turnovers but a smaller, harsher fruit, high in tannins. This produces a drier, more nuanced brew than most folks are pressing today. Planted by homesteaders, these apples were all but wiped out when the Prohibition police slashed and burned Vermont's cider orchards.
Last month, Shacksbury released two flagship ciders, both significantly drier than anything else you'll find on the market. The Basque is a bright, unfiltered, natural-yeast cider, hailing from its namesake region in Spain. A bigger, more complex press from Herefordshire, England, called the Hereford, is muskier and more bitter.
Shacksbury's owners are also working on a press from lost apples called the 1840, which will be out in limited release this fall. Find these ciders on draught at Farmhouse in Burlington and Flatbread in Middlebury, and in bottles at City Market, Middlebury Co-Op and other local outlets.
Out now: Otter Creek Fresh Slice (white IPA)
Here's another fresh new release from a big brewery. Otter Creek brewmaster Mike Gerhart took a crack at the hybrid wheat IPA that's been gaining steam over the last few years. His pale-yellow brew begins with a wheaty, yeasty, Belgian witbier nose. It's brewed with clementine, but offers more orange peel than strong fruit up front, and a hint of coriander. The hops shine through mid-palate for a round but light mouthfeel, and at 5.5 percent ABV, it's an easy-drinking, sessionable beer. According to Otter Creek marketing coordinator Drew Vetere, it'll be around throughout the summer so look for it in wide distribution, and soon, in cans: the brewery canned its first run of the stuff last week.
May 23 & 24: Foley Brothers Brewing Fair Maiden (double IPA)
This weekend the Foleys, Dan and and Patrick, release a baller new double IPA – I sipped a sneak-peek at the Farmhouse last Wednesday. It's a lightly malted, honey-hued brew with a citrus nose and snappy finish. "We were trying to keep it fairly light bodied," says Dan Foley, "in keeping with the name."
But this damsel cloaks a boozy dagger: She's 8.2 percent ABV and maintains a complex, hoppy profile: Kettle-hopped with aromatic Cascade greens and dry hopped with a blend of Citra, Amarillo and Simcoe hops, the result is brighter, more complex and less malty than Foley's flagship Native IPA. Though Fair Maiden will be available only at the brewery and on draught in a few select outposts, look for it in increasing proliferation as the summer wears on.
May 24: Burlington Beer Company Summerfield (golden ale)
Though Burlington Beer Company has been active for some time, this weekend marks the official grand opening of its taproom. Stop in anytime between noon and 8 p.m. Saturday or Sunday for pints and growlers of Hills and Hollows (hoppy ale on the spectrum between pale ale and IPA); Mason Jar Mild (brown ale); C'Bon (French-style farmhouse ale); or Summerfield (golden ale). The last, as its name connotes, is a bright, mild beer brewed with summer on the brain.
"I pulled from a lot of different traditions to sum up what I think of as a nice summertime drinking beer," says Joe Lemnah, the brewery's founder and head brewer. And at around 4.9 percent ABV, it's totally sessionable. "It's something you can drink a few of and it won't weigh you down," the brewer says.
Brewed with barley, wheat, rye and oats, Summerfield is a seriously malty beverage with just a "little kiss of hops" to balance it out. Find it at the brewery or in limited draught runs at the Skinny Pancake, ArtsRiot Kitchen Collective and Juniper at Hotel Vermont.
May 24: Lawson's Finest Liquids Triple Sunshine (triple IPA)
Ever since Sean Lawson released his wildly popular Sunshine Double IPA in late 2010, brewheads have been begging for a Sunshine Triple. On Saturday, they'll get their answer. At 10.5 ABV, Lawson's Triple IPA will whack a lightweight, and seasoned drinkers may want to sip with caution.
I haven't had a taste yet, but Lawson says he used the same recipe as with the double, so expect a juicy, fruity, tropical brew with extra-heady malt. "I get a lot of mango and pineapple [with this beer]." Lawson says, describing the beer as hop-forward but balanced: "It's coming along quite nicely."
If you want a taste, you'll have to join the hungry hordes at Waitsfield Farmers Market on Saturday. Get a ticket at Mad Taco starting at 8 a.m. — they'll be pouring the brew on cask — then head to the market by 9 a.m. to snap up a bomber or three.
(Bonus:
Hill Farmstead is also celebrating its fourth anniversary
with tap takeovers in Waterbury all weekend, and
the Alchemist will be at the Waterbury Train Station
with a truckload of cans (Beelzebub and Focal Banger) at 3 p.m. It's a landmark day for beer in the Mad River Valley!)
May 27: Rock Art Simcoe IPA (single-hop IPA)
Last summer, Rock Art brewer Matt Nadeau wanted to spotlight the citrusy Simcoe hop in his second summer collaboration with Woodstock Farmers Market. "The focus [of the beer] is on the hop flavor, so we really load up the kettle and then dry-hop it after, which allows that Simcoe to really shine," the brewer says. He adds, "We had a lot of fun working with [Woodstock Farmers Market director] Patrick [Crowl] and the gang."
For his part, Crowl says the pairing is part of an ongoing effort to bring Vermont businesses together. "To partner together is a cornerstone of what we do here at the farmers market," he says. "It's all part of our push to get the Vermont name out."
The resulting IPA is a rich amber color with a bright, hoppy punch and a lot of citrus. It's a drinkable 6 percent ABV and is available in bottles at the Woodstock Farmers market, as well as at retail locations around the state including Pearl Street Beverage in Burlington and Beverage Warehouse in Winooski. It's also on draught throughout the Upper Valley and Mad River Valley, and all Positive Pie locations, among other venues.
Did I miss anything? Please, enlighten me in the comments.