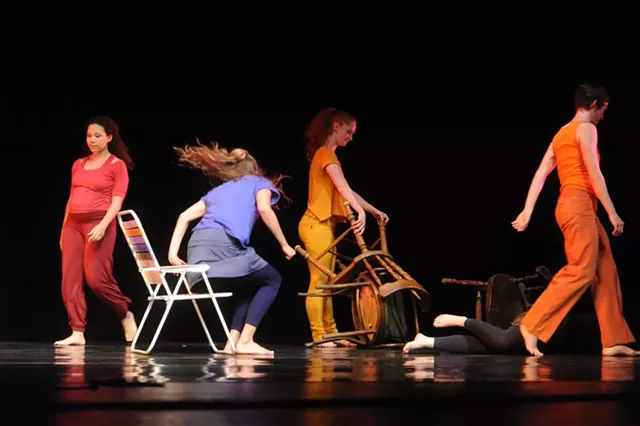 Courtesy of Hanna Satterlee
The
Vermont Dance Alliance
is partnering with local businesses to launch an online dance school featuring various styles of dance and benefitting Vermont nonprofit organizations.
The
class series
, called "Resilient Dancing," will feature 11 three-week classes from different instructors. The offerings include tango, belly dance and hip-hop; lessons in theatrical choreography and interacting with surroundings; and specific classes for families and older adults.
"One of the cool things about this series is how diverse the styles of offerings are," Hanna Satterlee, the founder and director of the VDA, wrote in an email. "Different than a studio roster or calendar, these classes offer a workshop style environment to give a taste into something new and different. Students can select one, two, or all of the classes, as they are drop-in friendly."
Individual classes are $8-12 for members and $10-16 for non-members. Thanks to sponsorship from
Rabble-Rouser Chocolate and Craft Co.
,
Northfield Savings Bank
,
Vermont Federal Credit Union
and
City Market
, VDA is providing scholarships. Satterlee said they have enough funding for a full scholarship — a class card that allows participation in all classes — for 15 students or can distribute the money for individual classes.
Satterlee founded VDA in 2016 as a hub for professional dancers and casual enthusiasts alike. Part of the mission for the Resilient Dance series is partnerships with nonprofits to engage new populations in dance and contribute to social change. In September, 30 percent of proceeds will go to
Inclusive Arts Vermont
.
"This organization was specifically of interest to VDA so that we can better improve our accessibility, both logistically (ASL, automatic captioning, assistance filling out registration form, etc), and creatively through our teachers' efforts with languaging, pace and attention to special needs," Satterlee wrote. She said accommodation requests can be made to VDA by email.
VDA will also partner with
Pride Center of Vermont
in October and the
Peace and Justice Center
in November.
Find out more about the class offerings, scholarships and accommodations by visiting the
VDA website
or emailing
info@vermontdance.org
.