Courtesy of Galaxy Bookshop
Bookshelves at Galaxy Bookshop
As Vermonters hunker down during the coronavirus pandemic, finding ways to stave off boredom has become more important than ever. But what to do when you've burned through the home library in, like, four days? Throughout this indefinite period of isolation, we're checking in regularly with local booksellers for reading tips. Next up in the Quarantine Book Club: Galaxy Bookshop in Hardwick.
---
Pandemic preppers in Hardwick are fortunate to have the coronavirus-era equivalent of one-stop shopping right downtown. Main Street neighbors the
Galaxy Bookshop
and
Buffalo Mountain Food Co-op & Café
both currently offer curbside pickup. That means residents of the Northeast Kingdom hamlet can stock up on sustenance for their bellies and their minds in one fell swoop.
"A lot of customers come in to town and just grab their groceries and grab their books at the same time," Galaxy Bookshop co-owner Sandy Scott said by phone. While that's been a convenient setup for shoppers, she said the move to semi-remote business has been surprisingly tricky for her and business partner Andrea Jones.
"I have to say it's been a funny adjustment," Scott said. "I would have thought it would have been easier, because we don't have customers coming in all the time with interruptions. But it's
so much
easier to have customers coming in, and we'd so much rather see them in person!"
That's because shops like Galaxy are really meant to be browsed in person. The store is tiny — about 700 square feet of shopping space. So Scott and Jones, who have owned the Galaxy Bookshop since 2014, carefully curate its inventory. Sure, they stock best sellers from heavy hitters such as Chris Bohjalian and Stephen King. But they also search out and offer less conventional titles with specific customers in mind.
"But now they can't come in and see those titles," Scott explained. "So we're dealing more with people calling and ordering who already know what they want, for the most part, which doesn't always match up with what we have."
Fortunately, Scott said, plenty of customers are still reaching out for that most essential of indie bookstore offerings: a good book recommendation.
"We're getting a number of people calling or emailing saying, 'Hey, we just want something good to read,'" Scott said. "Again, that takes more time than normal, but it's a lot of fun to put together a package of books for a customer."
Galaxy has also upped its digital game. Jones' daughter is a film student who's home from college because of the pandemic. So she's taken over the store's
Facebook page
and is producing videos featuring book recommendations from her mom.
"It gives people the sense they can still come visit us, even if it's only virtually," Scott said.
Scott, who worked at Galaxy for 15 years
before
she bought the store, said that recommending books is "one of my favorite things to do." With that in mind, she emailed
Seven Days
the following picks you could add to your nightstand.
---
'The House in the Cerulean Sea,' by TJ Klune
The House in the Cerulean Sea by TJ Klune
, Tor Books, 400 pages, $26.99
Said Scott: "This book absolutely won my heart. It reminds me a bit of
Miss Peregrine's Home for Peculiar Children
[by Ransom Riggs]. It is written for adults but will appeal to many teen readers, as well. The story follows Linus Baker, who works for the Department in Charge of Magical Youth. He has been assigned to a top-secret investigation into a special school run by the mysterious Mr. Parnassus. The children under Mr. Parnassus' care are unusual and endearing. Linus' transformation from a buttoned-up office worker to a warm and caring protector of these magical children is equally charming. The whole novel is a delight, from start to finish."
---
'Everything Chocolate: A Decadent Collection of Morning Pastries, Nostalgic Sweets, and Showstopping Desserts' by America's Test Kitchen
Everything Chocolate: A Decadent Collection of Morning Pastries, Nostalgic Sweets, and Showstopping Desserts by America's Test Kitchen
, America's Test Kitchen, 376 pages, $35
Said Scott: "I know that for myself and many others, baking and cooking can be an immense comfort in difficult times. This collection of decadent chocolate recipes is, for me, the ultimate in comfort baking. Brownies, cookies, cakes, fudge — it's all here. And, since it's from America's Test Kitchen, you know that the recipes have been fine-tuned to work perfectly for any home baker. Bake by yourself or get the whole family involved. For those with kids, baking with recipes covers reading, chemistry, math
and
life skills!"
---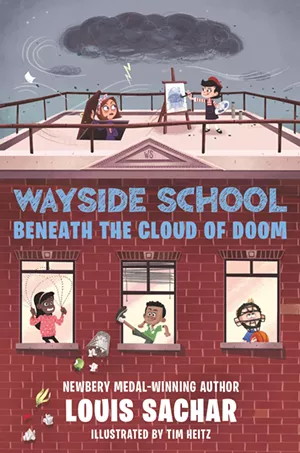 'Wayside School Beneath the Cloud of Doom' by Louis Sachar
Wayside School Beneath the Cloud of Doom by Louis Sachar
, Harper Collins, 192 pages, $17.99

Said Scott: "My family was introduced to these books through the audio versions, and we all had a blast listening to the crazy stories from this very unusual school, where, on any given day, students could be turned into apples, a girl might try to sell her toes, and Miss Zarves — whose class is on the 19th floor — doesn't exist, because there is no 19th floor. The stories in these books are weird and funny and can be enjoyed by all ages. They would make a terrific family read aloud. The series, begun in 1978, now includes four books."
---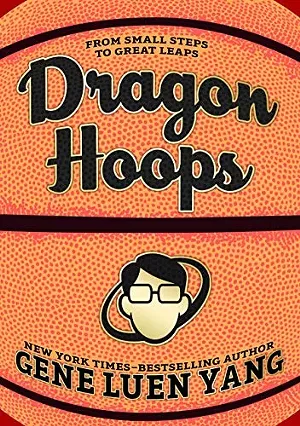 'Dragon Hoops' by Gene Luen Yang
Dragon Hoops by Gene Luen Yang
, First Second,
448 pages, $24.99
Said Scott: "This new young adult graphic novel was a terrific read, and I say that as a person who has absolutely no interest in basketball. The book is a memoir of the author's year as a teacher at a high school where the boys' varsity basketball team is in the running for the state championships. Gene has little interest in sports himself but can't help being swept up in the excitement, since it's the main topic of conversation among students and teachers alike.
"The book is full of interviews with players and coaches, interspersed with high points in basketball history. By the end of the book, I was on the edge of my seat, wondering how the big game would turn out. Yang, the author and artist behind several acclaimed graphic novels, brings individual stories into focus against the backdrop of basketball and varsity sports.
"I would recommend this to anyone who enjoys memoir or sports literature. For those who haven't read graphic novels before, I urge you to challenge yourself with something new! This would be a great place to jump in."