Courtesy of Elizabeth Bluemle
Elizabeth Bluemle at the Flying Pig Bookstore window
As Vermonters remain hunkered down during the coronavirus pandemic, finding ways to stave off boredom is more important than ever. But what to do when you've already burned through the home library? Throughout this indefinite period of isolation, we're checking in with local booksellers for reading tips. Next up in the Quarantine Book Club: the
Flying Pig Bookstore
in Shelburne.
---
On the eve of the release of
Harry Potter and the Deathly Hallows
in July 2007, the Flying Pig hosted a massive outdoor event that drew 1,500 muggles to the shop. The celebration featured herbology and potion-making classes and an owl demonstration by the Audubon Society.
Then, at midnight, those lucky readers with golden tickets lined up to receive their copy of the final book in J.K. Rowling's epic series from Flying Pig owner Elizabeth Bluemle. She handed them out through a window on the side of the store.
"That window has a happy history," said Bluemle.
Now, a new chapter of the window's history is being written. Since March, the Flying Pig has offered contactless pickup, like other bookstores throughout Vermont. But rather than curbside, the store has delivered books, games and puzzles to customers via its handy window.
"It's amazing to have that window," said Bluemle. "It's almost as good as a drive-through."
In accordance with social distancing guidelines, the Flying Pig only allows one employee in the store per day, who handles everything from answering phones and emails to fulfilling orders and managing window pickups. Even as the state has recently relaxed those protocols, the store plans to continue its minimal staffing strategy for now.
"It's a very odd bookselling experience," Bluemle said."It's surreal."
All of the Flying Pig's orders for curbside pickup come through its own website. But the bookstore is one of many around the country that has made use of
Bookshop
, an online bookstore that works with national warehouses to fulfill online orders for indie booksellers. Through the Bookshop website, customers can choose a specific bookstore to order from, and that store will receive the full profit from that order.
Think of it as something like the anti-Amazon. Or, as the
Chicago Tribune
put it: "Bookshop.org hopes to play Rebel Alliance to Amazon's Empire." And according to Bluemle, the Force is strong with the online startup.
"I find it best for people who are ordering for people out of state and need a book shipped somewhere," Bluemle explained. "The fastest possible way for us to do it right now is though Bookshop."
Still, there's no substitute for the in-person relationships Bluemle and her staff have built with patrons since opening in Charlotte in 1996 and moving to Shelburne in 2006.
"We miss our customers," said Bluemle. "But we do get to see them through the window."
Bluemle offered a number of recommendations for books she'd be happy to leave on the windowsill for customers .
Afterlife
by Julia Alvarez, Algonquin Books, 272 pages, $25.95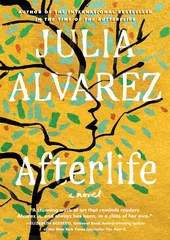 'Afterlife' by Julia Alvarez
Count Bluemle among the chorus of voices around the country praising the Middlebury College writer-in-residence emerita's first new adult novel in 14 years. It's about a woman grieving the sudden death of her husband, among other profound predicaments.
"It couldn't be a better book for these times," Bluemle said, "because it's all about what happens when disaster strikes and you are confronted with your own temperament and your nature. And what are the limits of your obligations to other people? How do you reach into yourself and find courage and generosity that you may have been timid about?
"I think that all of us are looking at ourselves in light of this disaster," Bluemle continued. "You see how some people take immediate action. Then you have people who are overwhelmed by it all and having a hard time getting to the end of the day. You just kind of come up against your own strengths and weaknesses."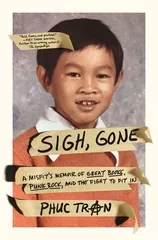 'Sigh, Gone: A Misfit's Memoir of Great Books, Punk Rock, and the Fight to Fit In' by Phuc Tran
"I love this book so much," Bluemle said of Phuc Tran's acclaimed and wickedly offbeat coming-of-age memoir.
The book recounts Tran's journey to America after the fall of Saigon in 1975. His family landed in Carlisle, Pa., where for many years they were the only Vietnamese family in town.
"In order to claim his identity and not just be 'the Vietnamese kid,' he made himself different by embracing punk rock and that kind of stoner culture," Bluemle explained. But Tran also loved art and great books, which figure prominently in his story.
"He was this amalgamation of many, many things, struggling to find his identity," Bluemle said. "But he's also a brilliant guy and very funny. From the first paragraph of this book, you know you want to read the whole thing. "
Wink by Rob Harrell, Dial Books, 320 pages, $16.99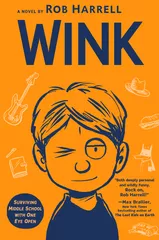 Though fictional,
Wink
is based on Harrell's own childhood experiences in middle school after he was diagnosed with a rare disease. It's about "all of the ways it makes you furious and angry and frustrated and feel different from the other kids," Bluemle explained.
In Harrell's children's novel, which includes comic panels and art, the main character, Wink, is diagnosed with eye cancer.
"So he's got to wear this eye patch, and it gets oozy," Bluemle explained. "But he's got to deal with middle school at the same time. So you can imagine the layers of humor and awfulness. It's very funny and fresh and lively, and I think kids are going to really enjoy this book."
Bluemle also recommends another children's book,
Right as Rain by Vermont author Lindsey Stoddard
. "She is the real deal," she said. "She is the rare writer who really respects the feelings of kids and kind of embodies kids when she writes."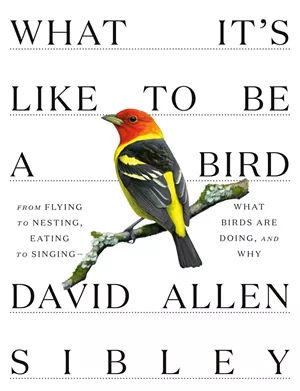 'What It's Like to Be a Bird: From Flying to Nesting, Eating to Singing — What Birds Are Doing, and Why' by David Allen Sibley
Bluemle noted that, thanks to self-isolation, people are currently spending more time in nature than usual. In his latest book, Plattsburgh-born ornithologist David Allen Sibley — of the famous
Sibley Guides
about birds and nature — "really tries to give people a sense of what it feels like to be a bird," Bluemle said.
She explained that though she's not a birder, she's interested in how animals experience the world. "It's just fascinating," she said.
Touching on another pandemic pastime, Bluemle also recommended the latest book from America's Test Kitchen,
100 Techniques: Master a Lifetime of Cooking Skills, From Basic to Bucket List
. "We have sold more cookbooks [lately]," she said. "It's been like Christmas."