The unfortunate result of a long and nasty series of surgical procedures is that my mother has lost sight in her right eye. She's taking it rather well, and is even relearning how to drive a car without depending on binocular vision. (Apparently this is legal.) In a recent discussion about her loss, I joked, "No more 3-D movies for you, Mom!" As it turns out, she couldn't care less, and I understand why; 3-D movies interest me even less, and I can still see with both eyes.
My disdain for 3-D isn't particularly novel: It's gimmicky, it gives me a headache, the glasses dim the image and are uncomfortable. And I'm certainly unwilling to pay extra for this "feature" — given the choice of a film in 3-D or "flat," I'll always choose the latter.
One of my main arguments against 3-D is this: "Do you
remember
the film in 3-D?" The answer is always
no,
for the simple reason that our brains don't work that way. Our visual memories unfold in two dimensions, almost as if they were — yup — unfolding on a movie screen.
I'll admit that the question might be unfair, since our memories of the films we see are highly intangible and fluid. And it's likely that our memories of a film are less important to us than are the two hours we spend watching it. Usually, the pleasure we derive from a film is
experiential
— we enjoy the act of watching, and enjoy experiencing the film as it unfolds in real time.
Warner Bros. Pictures
Ray Milland in Dial M for Murder
Still, in answer to my own question: No, I do not remember movies in 3-D. My "proof" is that I recently watched on DVD Alfred Hitchcock's 1954 film
Dial M for Murder
, a film I'd seen only once before, a few years ago, when I caught a 3-D version at
Film Forum
in New York City. I'd been holding out to see it, in fact, until I got a chance to catch a 3-D version, just because it's Hitchcock and because I wanted to re-create, as best I could, the circumstances of seeing the film in 1954. It was OK but somewhat underwhelming, though I don't blame Hitch for this. I'm just unimpressed by 3-D.
Seeing
Dial M for Murder
"flat" a few days ago brought back no specific memories of the film's three-dimensionality whatsoever. The DVD version, in fact, gave no clues about how Hitch used 3-D. (Like many films in the first wave of 3-D in the 1950s,
Dial M
was released in both 2-D and 3-D versions; the former was the source material for my 2004 Warner Bros. DVD — a disc which, by the way, looks terrific. The colors and film grain are vivid and luscious.)
Better writers and scholars than I have written about the subtle and surprisingly challenging ways
in which Hitchcock used 3-D in
Dial M
to convey space and create tension, so I'm not going to revisit that topic. (Full disclosure: I studied with that essay's author, David Bordwell, in grad school.) And it's quite possible the film's 3-D effects are unmemorable because Hitchcock integrated them so fully into the presentation of the film's narrative. Any juttings or pokings in the film do not draw attention to themselves, but are instead woven organically into the movie. (Indeed, this is part of Bordwell's argument, which I encourage you to read whether you know the film or not.)
Warner Bros. Pictures
One of Hitchcock's cleverer cameos occurs in Dial M for Murder.
The other side of the 3-D experience occurred for me a few years ago when I watched
The Stranger Wore a Gun
on a DVD I'd picked up randomly. I didn't know anything about the film but am partial to its genre, the western; its stars, Randolph Scott, Claire Trevor, Lee Marvin and Ernest Borgnine; and its director,
André de Toth
.
Nowhere does the DVD case indicate that this film was originally shot in 3-D, so I was puzzled when, partway through the movie, characters kept hurling objects cameraward and elements of the scenery flung themselves into the foreground. I paused the film, quickly looked it up online and learned that it was made in 3-D, which explained everything. (Puzzle for a moment over the fact that the director made not just this film but the 1953 horror classic
House of Wax
in 3-D ... yet he had only one eye.)
Indeed,
The Stranger Wore a Gun
, which was released in the summer of 1953, was
made pretty early in the 3-D heyday
, a fact that partly accounts for its "throw stuff at the camera" aesthetic. Directors were still working out the kinks with this new technology.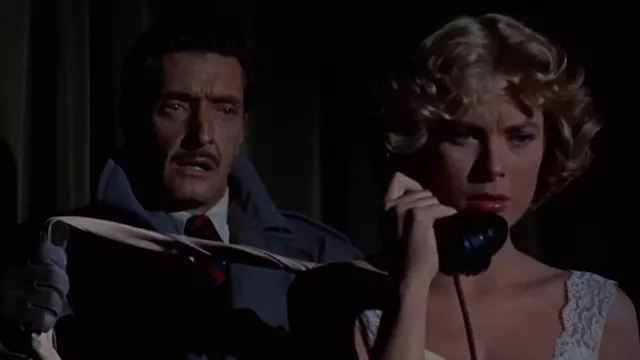 Warner Bros. Pictures
The near-murder of Margot in Dial M for Murder
Though it came out only 10 months later,
Dial M for Murder
represents a sea change in directorial approaches to 3-D, and it should come as no surprise that Hitchcock's method was subtler than most. (No discredit intended to de Toth, who was an excellent filmmaker; check out
Dark Waters
,
Pitfall
or
Play Dirty
if you're curious.) My point is that the 3-D processes used to make
The Stranger Wore a Gun
(or, rather, the 2-D vestiges of those processes) stood out precisely because they challenged my conception of the space in which the film's story unfolded.
In
Dial M
, the 3-D processes contribute unobtrusively to the narration, and this is why I have no memory of their effects. Hitchcock is such a good storyteller that, even when he's using an obtrusive device like 3-D, he can still push even style-sensitive viewers like me to "look past" his use of technique.
Studios have really committed to 3-D in the last 10 years or so, but they haven't gotten many of my dollars for their efforts. The only time I'll see a 3-D movie now is when that's the only version of a film available on the day I'm theater-hopping. Neither will my mother now be shelling out for tickets to 3-D movies. Curiously, though, she's just signed on to direct a biopic about André de Toth.