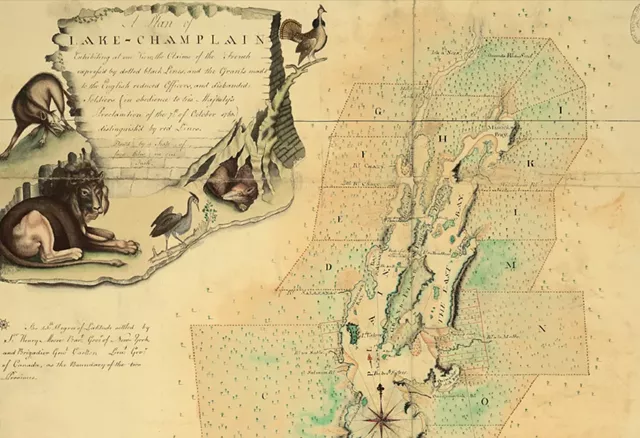 Courtesy of the National Archives
Lake Champlain and a cartouche from a 1767 map
Graphic designers, cartographers and coffee-table owners might find themselves fascinated with the new book
Maps: Their Untold Stories
, to be published on October 14 by Bloomsbury. Those with an interest in Vermont history might also find a little cartographic treasure in it.
Authors Rose Mitchell and Andrew Janes are map archivists at the
National Archives
in London, a fact that accounts for the book's overall Anglocentric focus. And while it does contain many a map of Britain and her former colonies, this handsome, profusely illustrated volume also offers such fascinating features as a map of 19th-century Edo (now Tokyo), a map of the Allied forces' invasion of Normandy and, from 1836, the first-known pen-and-ink map by an Aboriginal Australian.
One chapter, "New Worlds: Exploration and the Colonies," showcases maps that testify to the massive wingspan of the British Empire. Amongst the maps of Gambian slave forts and the Indian subcontinent is a 1767 map of French and British claims to the forested parcels of land that surrounded Lake Champlain. Created by Yorkshireman Simon Metcalfe, the surveyor general of New York province, the map shows how the two countries' claims conflicted.
Even more interesting is the watchful lion that joins a wolf, a crane and a turkey in the cartouche in the map's upper left corner. Cool your jets,
Catamount Truthers
: Just as in the present day, no lions romped through the Champlain Valley in the mid-18th century. Rather, as the authors write, the mapmaker included this fearsome beast in order to "convey ... to those in London both the inherent possibilities and the dangers present in the colonies."
Fanciful details such as that incongruous lion are exactly what make this and the other maps in the book so fascinating. The maps' very inaccuracies speak most eloquently to their origins and attest to their historical significance.