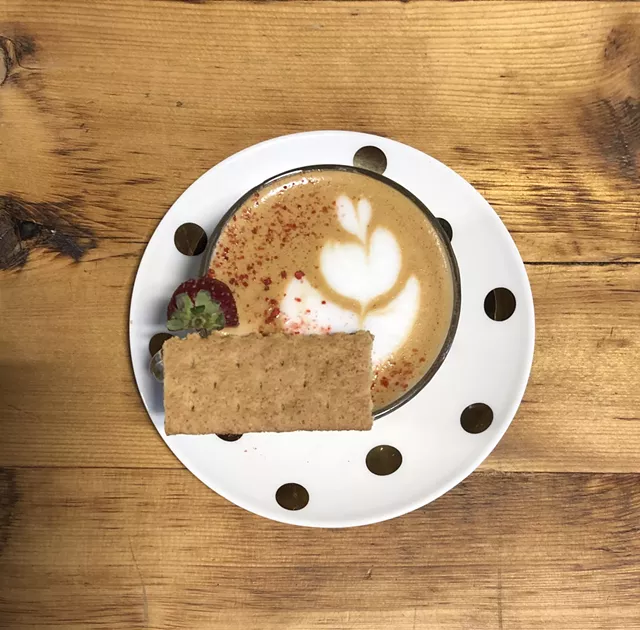 Jordan Barry
Vermontte special at Brio Coffeeworks
International Coffee Day is this Sunday, September 29. To celebrate, coffee shops in the Burlington area are taking a decidedly local approach and offering a series of unique coffee drinks, all dubbed the Vermontte.
Coffee drinkers will see Vermontte specials around town, with flavors, ingredients and concepts going beyond the usual espresso and steamed milk: carrot juice at the
Great Northern
; maple matcha at
New Moon Café
, strawberry cheesecake with goat milk at
Brio Coffeeworks
; spicy maple at
Uncommon Grounds
; Japanese sweet potato at
Scout & Co.
; maple, pear and sage at
August First Bakery
; ginger infused maple at
Vermont Artisan Coffee & Tea Co.
; apple cinnamon cascara at
Carrier Roasting Company
; chaga mushroom and maple at
Nomad Coffee
; and a cardamom and honey pour-over at
Blank Page Café
in Shelburne.
The Vermontte event is organized by the coffee pros who run the
@vt.coffee Instagram account
, Maya Nguyen and Gianni Paradiso, together with Lisa Espenshade, the director of donor relations at
Grounds for Health
, a Williston nonprofit focused on cervical cancer prevention in coffee-growing countries.
Jordan Barry
Vermontte Special at Brio Coffeeworks
In an email to
Seven Days
, Nguyen said the idea behind the event is twofold: to generate some excitement for a
coffee tasting event
on the top block of Church Street on Sunday, September 29, as well as to support two Vermont-based coffee nonprofits —
Food 4 Farmers
and
Grounds For Health
.
"The inspiration for the Vermontte piece was that we wanted to engage and include as many coffee shops as possible in an effort to bring people together around a cause," wrote Nguyen. "We also wanted to do something that would engage coffee lovers who don't work in coffee."
Enticed by the array of flavors and always up for a coffee-related challenge, I set out to try as many of the Vermontte specials as I could fit into a single day. I made it to four shops — any more and my hands would have been shaking too much to type. (I'm morally opposed to decaf).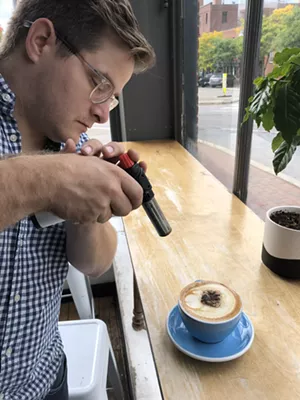 Jordan Barry
Tom Green torches the Vermontte special at Scout & Co.
I kicked things off at Scout & Co.'s Winooski location, where co-owner Tom Green personally blowtorched the molasses marshmallow on top of my Japanese sweet potato Vermontte. The drink is full of fall flavors, with lemon, brown sugar and warming spices. "It's like a not-sweet pumpkin spice latte, but I didn't say that," said Green, with a laugh.
The special will run through the week at Scout, but the blowtorch fun will continue next week when the café's seasonal favorite smoked maple latte comes back. "We'll still get to play with fire," Green said.
Stop number two brought me to August First, where the Vermontte mixes pear, maple and sage syrup into the coffee equation. The flavors were subtle, but the overall effect was definitely autumnal.
Jordan Barry
Vermontte special at August First
A few blocks away at Brio Coffeeworks' Tasting Bar in the
Soda Plant
, the Vermontte special could have been dessert. A cappuccino crafted from naturally processed Ethiopia Ardi espresso, goat milk and strawberry preserves was garnished with a graham cracker, a strawberry from Adam's Berry Farm and artfully placed strawberry dust.
The single-origin Ethiopia Ardi has aromatic strawberry notes on its own. Combining it with the three other strawberry ingredients made for a berry-forward beverage. I'm a fan of goat milk, but fully acknowledge that it can get "goaty" — which wasn't the case at all in this drink.
My final stop was at the Great Northern, where cold-pressed carrot juice was steamed up with ginger, black cardamom, nutmeg, cinnamon, maple syrup and milk, then poured into espresso.
Jordan Barry
Vermontte special at the Great Northern
I was worried that the carrot juice would change the overall texture of the drink, but it was incorporated perfectly, and the earthy carrot flavor was the most unexpectedly pleasing of all the Vermonttes I tried.
Each of these four cafés — and the other participating shops I didn't make it to — will be pouring their Vermontte specials through Sunday, September 29.
Nguyen is thrilled with the support the event has gotten from the coffee community. She said many businesses have donated in addition to participating, including the Hinesburg-based coffee industry consulting firm
Coffee Enterprises
, which donated coffee for the culminating event on Church Street this Sunday.
"I hope that people have fun trying new drinks," Nguyen said. "I hope that people who work in coffee feel like they're part of what's going on."