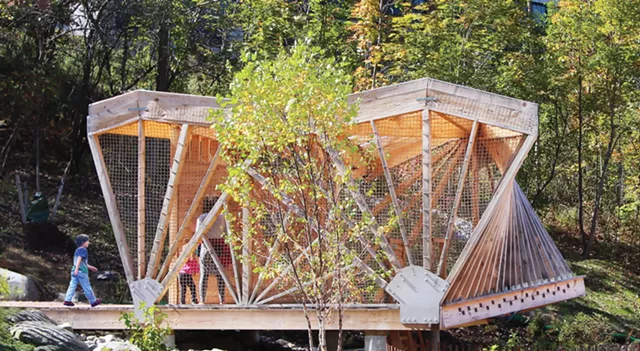 Courtesy of Mark Collier
Outdoor classroom at Union Elementary School, Montpelier
In 2018, the undergraduate architecture students in
Tolya Stonorov
's design-build class at Norwich University designed and built an outdoor classroom at Union Elementary School in Montpelier. Then the pandemic hit. Let's just say the project was prescient.
Now Norwich has launched an outdoor-classroom design competition for high school students — a cohort likely to know first-hand the urgency of the need. The competition invites high school students anywhere in the world, singly or in teams of up to four, to choose a site on the grounds of a school in their town and design an open-air classroom for it.
The prize? A sizeable chunk off of Norwich's tuition every year for four years: a total savings of $8,000 for first prize, $4,000 for second and $2,000 for each completed submission. And if a team wins, each member gets the same prize.
As Stonorov, associate director of the
Norwich University School of Architecture + Art
, said of the competition, "We thought,
How can we engage high school students in this conversation [about outdoor classrooms]?
Because the kids who are learning right now have their own perspective."
Norwich offers a four-year bachelor's in architectural studies that prepares students for its 1.5-year master's in architecture — making it the only integrated, professionally accredited architecture program in northern New England. About 100 students are currently enrolled, including 28 first-years.
No drop in enrollment has occurred this year, but there's no guarantee that that trend will continue, said Stonorov. The competition steps in as a useful recruitment tool: It spreads the word about the school's architecture program while also attracting highly interested students. (Winners can pick any major, however.)
Courtesy of Mark Collier
Outdoor classroom at Union Elementary School, Montpelier
The competition is designed to engage students regardless of their ability to draft plans. "We tried to make submission requirements really inclusive," Stonorov said. Students submit a narrative proposal along with any visual they can manage: drawings, sketches, photographs of a physical model, digital models on SketchUp or other software. One Hong Kong team even asked if they could submit a Minecraft model, Stonorov noted.
Submissions, due by December 13, are already coming in. Details about the competition can be found
here
. Winners will be selected by the architecture faculty and Aaron Temkin, dean of the College of Professional Schools, by December 17.