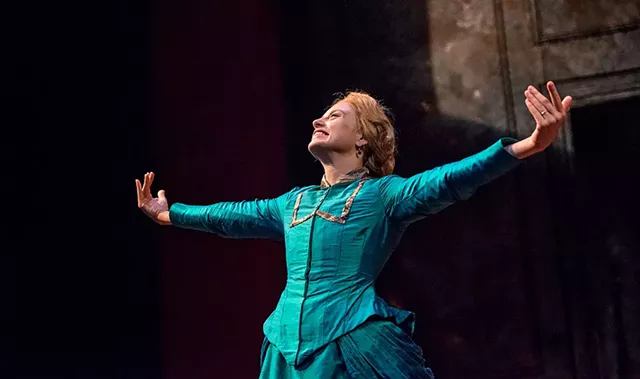 Courtesy Photo
Olivia Gilliatt in a previous Northern Stage production of A Doll's House
During this strange time of enforced isolation, visual artists around the world are adapting to the virtual space through everything from Instagram projects to takeout knitting kits to online gallery tours. But what are theater companies to do without a live audience? Can the visceral connection between performers and audiences survive social distancing?
Northern Stage is about to find out. Physically based in White River Junction, the company has created Play Date, a Zoom-based class with performance and discussion. The series begins on Friday, April 3, with Anton Chekhov's The Seagull. It will continue every Friday until — well, that's unknown at this time.
"Play Date was created in response to the pandemic," said Carol Dunne, producing artistic director at Northern Stage. And it's not simply a staged reading that viewers can passively watch at home. "This is a chance to take a deep dive into plays," she explained.
Here's how it works: Participants sign up for the session, purchase and read the designated play, and come together Friday at 4 p.m. on Zoom. Each session will have a different presenter — from Northern Stage or "actors and artistic directors from elsewhere," Dunne said — who will first talk a little bit about the play. Then actors will read a scene, followed by more group discussion.
As of press time, 80 people had signed up for this week's session. Dunne said they are working with local bookstores to order copies of the plays and get them to participants.
Readers for The Seagull include Carol McVey at the University of Iowa — "she was my acting professor at Princeton in the '80s," Dunne said — and veteran Northern Stage thespians Dave Mason (with his wife, actress Kathy McCafferty) and Thom Miller.
The play for Friday, April 10, is Eurydice by Sarah Ruhl, hosted by Eric Love, director of education at Northern Stage. Love directed the play in 2015 for Montpelier's Lost Nation Theater. The stars of that production, Kate Kenney and Christopher Scheer, will read two scenes.
The plays and personnel for more sessions are in development and will be announced on the Northern Stage website.
Participants in Play Date also can access notes from each play's host, including tips for script reading — "It can be challenging for the layperson," Dunne said.
Also challenging? Finding ways to calm, amuse and entertain ourselves while hunkered down at home. Play Date offers a way to learn something, too — no tests! — honing one's drama-appreciation skills for future use.
Toward that end, Dunne said that the company is still hoping to produce Million Dollar Quartet — the final show in its curtailed 2019-20 season — as well as a youth production of Frozen later this year.