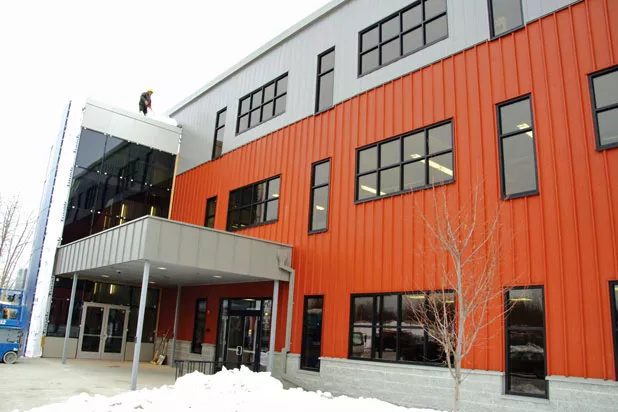 Champlain College's building on Lakeside Avenue
It was just last November that General Dynamics vacated its Lakeside Avenue quarters in Burlington's South End, and already Pomerleau Real Estate has filled more than half the building's 167,000 square feet. The Vermont Energy Investment Corporation snapped up about a third of that space, with the IRS, a pediatrics practice and a wellness center among the other eager tenants. Yves Bradley, the Pomerleau agent who's handling the leasing in what's now known as the Innovation Center of Vermont, expects the rest of the space to go just as quickly.
Across the street, Champlain College recently opened a brand-new, 36,000-square-foot administrative and academic building that will house the school's Emergent Media Center. It prepares students for tech jobs such as those on offer at rapidly expanding Dealer.com, which is headquartered a couple of blocks to the north on Pine Street.
As these developments suggest, the South End now qualifies as the most vibrant commercial district in Burlington — and probably in all of Vermont. It's become the place to be for hip, young companies such as RL Photo, where Rick Levinson shoots gear and clothing for Burton Snowboards, another wildly successful South End business. Burton recently built a 10,000-square-foot research-and-development facility on Industrial Parkway.
Easy access to both downtown and I-89 is a big incentive for locating a business in the South End, says Levinson, whose photo studio was recently installed in a dazzlingly renovated, 6000-square-foot space on Sears Lane, just west of Pine. "The South End is full of creative energy," he adds. A fine-arts photographer in his spare time, Levinson says he's "very tied in to the arts community here." In fact, he's using a lounge area in RL Photo's all-white interior as a gallery where friends can hang their paintings and display their sculptures.
All this construction, leasing and redevelopment activity is leading some long-established South End business owners to wonder whether the neighborhood might be transitioning from funky to fancy. Could the South End follow the trajectory — some would call it the devolution — of Manhattan's SoHo? The scales and circumstances are vastly different, but there are some disquieting similarities.
As factories and warehouses left Lower Manhattan in the '50s and '60s, artists moved into the spacious interiors that served, illegally at first, as their residences as well as their studios. Galleries followed, along with rich hipsters and hordes of art tourists. Over 20 years, SoHo went from resembling a film-noir set to a Prada zone so clogged with consumers that it calls to mind Yogi Berra's quip "Nobody goes there anymore. It's too crowded."
Rick Davis, who bought and rehabbed the derelict Maltex Building on Pine Street in 1984, expects the South End to move in a somewhat similar direction. "It's what always happens," he observes. "Artists find areas with affordable rents; the areas become a lot more desirable; the rents go up."
Gentrification has already occurred along Battery Street in Burlington, Davis adds, pointing to the stretch near Maple and King streets where Jim Lampman, now the owner of Lake Champlain Chocolates, opened the Ice House restaurant in the '70s. "That used to be pretty slummy," Davis recalls. "Look at it now."
Davis himself is doing what he can to maintain the South End's affordability, he adds. Maltex tenants aren't being hit with rent hikes, he points out, even though he spent $1 million renovating the building's 10,000-square-foot addition last year. "We want the building to stay full," he explains.
Davis should be seen as a catalyst for the makeover of the South End, Yves Bradley suggests. "Rick invested millions in Maltex at a time when that was still a dilapidated area," he points out. "He also put money into the addition during a really bad economy. That's made a strong impression on many investors about the desirability of the South End."
Two decades from now, suggests Steve Conant, the South End will be "more gentrified, more polished." The owner of Conant Metal & Light says he himself could contribute to that trend if the South End's zoning designation changed from commercial/industrial to mixed use. "I've got spaces upstairs that would make the coolest lofts," Conant says with a smile.
Bradley agrees there would be heavy demand for residential units along the Pine Street corridor if the zoning regs were amended to accommodate housing construction and conversions there. "But that's not going to happen unless there's some revolutionary change at city hall," he adds.
Bruce Seifer, a veteran staffer at the Community and Economic Development Office, affirms there's no prospect of such a shift. "We have to retain space for start-up companies to grow, or else they'll move out of town," he says in defending the South End's commercial/industrial designation. Bradley adds that, while the city does need more housing, "It needs jobs more than anything else."
As one of the pioneering "alley cats" who started businesses on Pine Street in the early '80s, Lampman has seen the South End transformed from a "kind of seedy" area to an emerging tourist destination. Conant notes that, just the other day, a "really enthusiastic" Canadian couple stopped by his shop as they were walking to Lake Champlain Chocolates.
Conant says he's pleased by the prosperity that many South End entrepreneurs have achieved, but he doesn't want to see the area SoHo-ized. "There's a nice blend here now of art and commerce," he says. "I'd like it to stay that way."
Conant's own business epitomizes the South End's shift in recent decades. He says that when he bought a "totally trashed cabinet shop" on Pine Street 30 years ago, "my idea was to fill it with manufacturing." Conant would have been carrying on the legacy of the century-old Soda Plant, which once produced ginger ale and which he has since rehabbed.
A brass and metal factory would likewise have paid homage of sorts to Queen City Cotton, the original occupant of the 130-year-old building that's now the Innovation Center of Vermont. Conant says he also had in mind the cereal making that went on for 50 years in the Maltex Building.
His plan to do manufacturing was scrapped "when China came along," Conant says. Faced with that source of low-cost competition, he decided to "focus on the creative side instead." In addition to Metal & Light, which makes, refurbishes and sells lighting, the Soda Plant houses a photography studio, two galleries and other arty enterprises.
The neighborhood's hybrid character is reflected in the name and programming of the South End Arts and Business Association. Established in 1986, SEABA recently moved to a high-visibility Pine Street locale flanked by Fresh Market and Speeder & Earl's Coffee Roastery. Roy Feldman, the association's director, says its new headquarters can house exhibits of the work of South End commercial enterprises as well as visual artists. A permanent display, now in development, will acquaint visitors with the area's rich history. The SEABA storefront will also be the venue for this year's juried show of the Art Hop, an annual September celebration that has amped up the South End's buzz.
For all its newfound cachet, the neighborhood does remain scruffy at its edges and in its details. A toxin-choked canal borders part of Pine Street, ensuring that no development can take place on the sizable tract just south of the Maltex Building. There's also no sidewalk on that stretch of a street that's dangerous to cross owing to a relentless tide of traffic. SEABA has petitioned the city to officially designate the Pine Street corridor the "South End Arts District." But it will be hard for the area to become a pedestrian destination as long as gallery goers have to drive from venue to venue.
The ostensibly up-and-coming Sears Lane is still as cratered as the moon's surface. And a deck planned for the top floor of Champlain College's snazzy new building will look onto a parking lot as expansive as any accompanying a Walmart. That entire dreary area south of Lakeside Avenue is the antithesis of urbanism.
Some of the South End's disfigurements, and its dearth of pedestrian amenities, are supposed to be rectified by the long-awaited Champlain Parkway project. Bradley says this $50 million roadway connecting I-189 with Pine Street will "really change the South End in positive ways."
Lake Champlain Chocolates' Lampman isn't so sanguine, however. "I can't get too excited about a road that I heard in 1978 would be built the following year," he says. "I'm not sure whether to see it as negative or positive." If it ever does get built, the connector that some South Enders refer to as the Godot Parkway "will probably just redirect where the traffic jams end up," Lampman laments.
For its part, Champlain College is striving to reduce students' and workers' reliance on car travel within Burlington. A shuttle bus runs every 15 minutes between the main campus in the Hill Section and the Lakeside Avenue building, notes David Provost, Champlain's senior vice president for finance and administration. Students who do own cars are required to park them in that vast lot off Lakeside rather than on the Hill neighborhood's residential streets, Provost adds.
This policy reflects Champlain's desire to be seen as "Burlington's downtown college," he says. "We would like our students to stay in Burlington and develop companies here."
Asked how he views the South End in particular, Provost quickly replies, "as Burlington's opportunity." The area represents the city's last, best chance for commercial growth and job creation, Provost says. He predicts, "This is where the action is going to be."