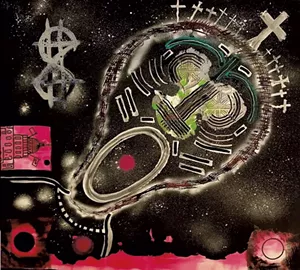 Zodiac Sutra, Bored Under a Bad Sign
(Self-released, digital)
Eclecticism is often a positive quality for musicians. Think about how many albums you've bought after hearing a song you loved, only to discover the band basically just plays the same tune over and over (looking at you, Beach House). You want a good album to bring you somewhere — that's the alchemy we're all hoping for when we hit play.
Zodiac Sutra's debut LP, cheekily titled Bored Under a Bad Sign, is nothing if not eclectic. At times meditative and brooding, at others bombastic and morose, the record follows the adventures of singer/songwriter/guitarist Wolf over two years. Based on his lyrical content alone, those years were slightly less than formative, nurturing times.
Opening track "Sick of Living," a psych-metal number built around a jerky rhythm and churning power chords, is based on the murderous notes left by the infamous Zodiac killer. Featuring such tender overtures as "You'll be my slave in the afterlife," the record gets you in that "eww" headspace pretty much right off the bat.
"New Jersey" hits next. The music starts just as dark and sludgy as the opening song but features some cookie-monster-metal growls that really could have been left on the cutting-room floor. (I want to be the producer who says, "You know, guys, maybe don't make vomit sounds into the microphone on this song?") It's especially confounding when you consider that Wolf has a rather impressive set of pipes, capable of delivering baritone-leaning melodies.
He showcases that voice on "Riverside," an acoustic, almost-folk number. Over delicately played notes on his guitar, Wolf croons about raindrops and dirty fingernails, creating a proper mood. The song serves as an interlude of sorts, leading out of the sloppy aggression of the first two tracks and bringing things to a more nuanced heaviness with "THC 1138" a stoner-sly nod to George Lucas' pre-Star Wars dystopian film THX 1138. "The unity humanity claims to want is only attainable in a mass grave," Wolf proclaims. Careful what you wish for in 2020, my dude.
"Dreambird" stretches the margins of the record even further as the band leans into indie rock and jazz. I'd be lying if I said the broad-ranging nature of the album forms its own kind of flow — it doesn't. Bored Under a Bad Sign has pretty much zero continuity or musical theme to be traced. It's more like a splatter of paint on the wall, at times inventive and artistic, and at others a bit of a mess.
There is a beauty to that kind of record, though. As the band lurches between heaviness and atmosphere, and Wolf alternates animalistic growling and singing, it creates a sense of excitement. Anything can happen.
Bored Under a Bad Sign is truly an ADD sort of record: all over the place in style and quality. As a debut, it shows potential, though it risks being no things to no people — a downside of leaning into eclecticism.
Listen for yourself and download Bored Under a Bad Sign at zodiacsutra.bandcamp.com. All proceeds from the album go to Campaign Zero, an organization dedicated to ending police violence.