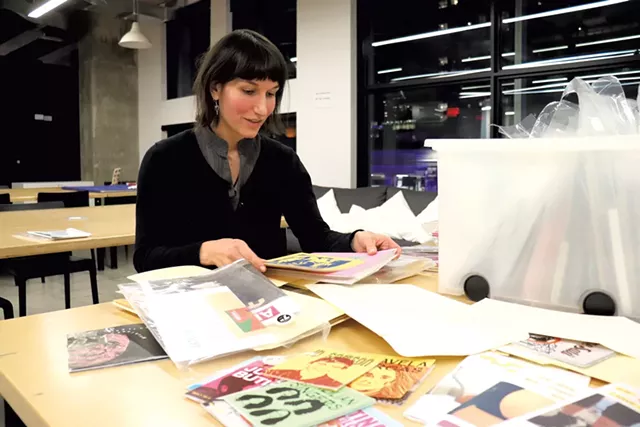 Margaret Grayson
Jessica Hébert at Artexte
While the classic lie, "The internet is forever," might help discourage young people from sending nude selfies, it's still a lie. The modern internet is littered with broken links and abandoned URLs, the ghosts of forgotten blogs, and entire news sites that have been swallowed by the ever-rising tide of new content. When archivists digitize documents, they constantly update the formats to keep up with technology. Even the average laptop user must stay ahead of the curve to avoid the perils of CD-ROMs and other outdated tech.
As early as the 1990s, computer scientists were warning us about this trend: "The current generation of digital records therefore has unique historical significance; yet our digital documents are far more fragile than paper," wrote Jeff Rothenberg for Scientific American in 1995. "In fact, the record of the entire present period of history is in jeopardy."
It's interesting, then, to contemplate the oft-repeated assertion that print is dead — because so much print is still here, literally, on shelves, in desks and in recycling bins.
Montréal is a city in which to embrace print, and the zine might be its calling card. While the city is notable for its art and music scenes, it's also home to many bookstores, archives, presses and publishers — and to Expozine, an annual small-press fair. Nearly 300 vendors gathered at the fair in November to sell their wares, most of which were zines.
A zine is the modern-day version of Thomas Paine's Common Sense pamphlet — a readable printed work that is easily shared. These informal, self-published documents are usually created in small numbers and take many forms. Zines are stapled or stitched with thread or folded like accordions. Some come in their own boxes or bags. They might be composed entirely of words, photos or drawings, or a combination thereof. Some are even cut-and-pasted bits and pieces from other publications.
Zines were once heavily associated with the music scene, sold in record stores and packed with album reviews. Today, a zine might exist to share art or identity, discuss politics, or showcase creative writing. What matters is that they're not precious. Zines are designed to be made and shared, to physically exist in the world and in the reader's hand.
I set out on a recent Thursday to learn more about Montréal's zine makers and independent presses. Given that I don't speak French, I only contacted people who publish in English. Yet I quickly felt like Alice down the rabbit hole, because zine makers and enthusiasts seem to be all over Montréal. What follows is just a toe dip into the city's zine world.
My day began at Librairie Drawn & Quarterly, the storefront of a comics publishing house by the same name, which put out 23 new books in 2019. The shop is small and intimate (the bathroom is literally a closet) with a curated selection of comics and standard fiction, nonfiction and poetry. One shelf is dedicated to zines.
At the store I met Kate Lavut, an artist and writer who publishes her own and others' comics through her company, Paper Dog Press. Lavut stumbled across zines in her neighborhood, Saint-Henri, when a small group of residents was distributing them door-to-door. They called themselves Walking Distance Distro. (A "distro" is a zine distribution service or location.)
An artist since childhood, Lavut began donating her work to the distro — and when they told her that one of her comics was a best seller, she figured she'd better start selling them herself.
"Because zines are so easy to make, anyone can have a zine," Lavut said. "I've found that more and more people know about them."
For her, a big part of the appeal is that the works are informal. Zines can be riddled with misspellings or printing errors. Lavut uses the medium to teach her daughter that art doesn't have to be totally perfect. "When you make a mistake, you turn it into something else," she said.
Lavut's goal isn't to live off her work — she doesn't think that's really the point of zines.
"It's bite-sized, and that makes it affordable," she said. But she has taken the opportunity to turn her zine, CHiCO, into a full-length graphic novel, and she hopes to teach a zine-making workshop soon.
Lavut said mini-comics, a type of zine, are often a way for artists to break into the publishing industry. Julie Doucet is a well-known underground cartoonist and printmaker who got her start creating a zine with a photocopier, Lavut said.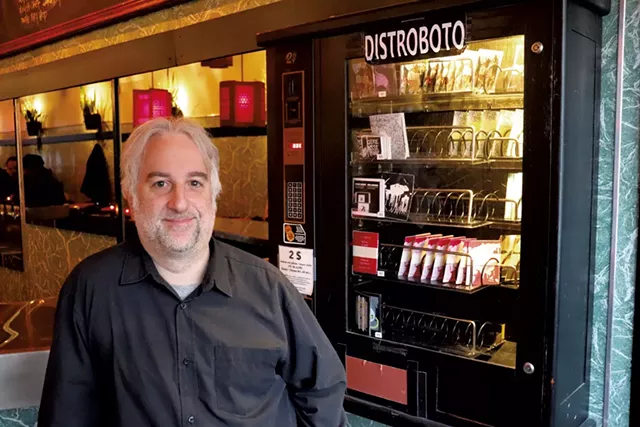 Margaret Grayson
Louis Rastelli and a Distroboto zine vending machine
For the next stop on my tour, I met with Louis Rastelli, the unassuming godfather of Montréal's zine scene, at a brewery called Le Cheval Blanc. Mounted on the wall was a cigarette vending machine — but instead of cigarette packs, its little shelves were full of zines and art. Rastelli walked in with a box full of zines with which to restock the machine, called a Distroboto.
Rastelli is cofounder and director of ARCMTL, a nonprofit created in 1998 to preserve the city's underground culture. The founders were zine makers in the 1990s, and Rastelli had a particularly successful one called Fish Piss that sold at Tower Records stores. He and his zine community saw the need to archive their material as they were creating it.
"In the late '90s, we felt like the '80s material was disappearing," he said. He noted that larger archives and libraries are "just starting to wake up" to the importance of preserving posters, fliers and other ephemera. ARCMTL has been doing it for years.
ARCMTL's goal is to both promote and preserve independent culture — not just zines but also books, posters, photos, vinyl and cassettes. In addition to operating the archive and keeping four Québec Distrobotos stocked and maintained, the organization runs the Expozine, which has grown annually since 2002. Rastelli said it started with about 60 vendors and now draws nearly 300, as well as hordes of browsers. ARCMTL also started separate fairs for art books and posters as Expozine grew.
I put a $2 coin into the Distroboto and pressed A5. Out came a booklet produced by ARCMTL that outlines how zine makers can incorporate augmented reality into their work. It was accompanied by a tiny abstract print by Noelle Wharton-Ayer, a visual artist based in Québec City. Rastelli gave me a copy of Pajubá, a tiny yellow zine by Eloisa Aquino of B&D Press that describes a distinct language used by transgender people in Brazil.
I saw more of Aquino's work at my last stop of the day: Artexte, a nonprofit dedicated to documenting and preserving contemporary art. Librarian Jessica Hébert pulled out two large plastic tubs full of zines. In them was a series Aquino created called The Life and Times of Butch Dykes, miniature illustrated biographies of women including Audre Lorde, Judith Butler and Chavela Vargas. Last month, Microcosm Publishing in Portland, Ore., released the work as a 256-page hardcover book.
Aquino and Jenny Lin, a print media instructor at Concordia University, operate B&D Press, which publishes their own works and those of others. Lin creates zines and detailed, sculptural pop-up books.
Hébert believes that zines are an important part of contemporary art.
"They're an art form in themselves," she said. "Even if you have a very low budget, you can make something and distribute it ... They show that contemporary art doesn't have to be really stiff and really serious."
Hébert makes zines of her own with another Artexte employee under the moniker Stellar Zinery, including risograph photo zines and cut-and-paste stories told from the perspective of a pigeon in her neighborhood. She was attracted to zines as a casual art form, a way to get out of her own head and just create something, she said.
Sifting through the Artexte collection — which anyone can view without an appointment — is magical, like paging through a shoebox full of old photos or browsing the knickknacks at a yard sale. I would have spent hours if not for the darkening sky and the call of the road back to Vermont.
So much of my world exists on a phone screen. It was a marvel to consume bite-size thoughts that demanded a physical form — and a pleasure to hold the tiny works of art in my hands.