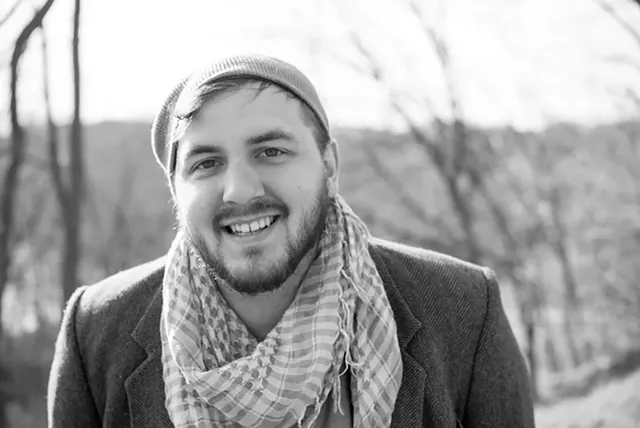 courtesy of Dylan Griffin
Zig Zag Lit Mag cofounder A. Jay Dubberly
Have a novella that needs to see the light of day? A collection of poems you want to share with your neighbors? A black-and-white photo you believe everyone should see?
If you live in Addison County, there's a new place to publish your creative work. Zig Zag Lit Mag is a literary journal started by a pair of Vergennes writers who want to celebrate the voices and visions of their neighbors.
The biannual publication is now taking submissions of all kinds: poetry, prose, essays, screenplays, plays, comics, haiku and jokes, as well as visual art — though keep in mind that it will be printed in black and white. Zig Zag's inaugural theme is "The View From My Window."
The idea for a magazine grew out of a series of writing workshops at Vergennes' Bixby Memorial Free Library. In 2014, the day after Zig Zag cofounder A. Jay Dubberly moved to Vermont from southern New Hampshire, he noticed a sign advertising one of those workshops at the library. The 26-year-old educator, who has an MFA in screenwriting from Goddard College, was itching to start his own writing workshop. "It was a way to meet people," he says.
courtesy of Dylan Griffin
Zig Zag Lit Mag cofounder Muir Haman
So Dubberly went in. That's where he met Muir Haman, Bixby's adult services librarian, who was running the existing workshop. Haman, 31, is a poet who earned his master's at Middlebury College's Bread Loaf School of English. Game to expand the library's writing program, he invited Dubberly to lead his own workshop.
The pair started offering regular table reads: On the last Tuesday of each month, writers gather to read aloud from their works in progress. After each reading, the writer remains silent while the rest of the group discusses the work.
"Those are still the coolest things that we do," says Dubberly. "We have these really intense, very educated conversations."
Dubberly says the goal of the workshops and journal is to enrich the local community and empower local writers. He was delighted to watch one workshop participant come out of her shell over the three months she came to meetings. "She was so embarrassed to share her poetry at the start," recalls Dubberly. At the Zig Zag launch party in early June, the woman proudly read her work before a crowd of strangers.
That launch party, which featured readings by local writers Christina Caniyo, Maria Castano, Erin Knight, Norton Latourelle, Michelle L. Mowery and Nancy Means Wright, also celebrated the Small and Inspiring grant from the Vermont Community Foundation that Zig Zag won this spring.
"One of the highlights is the community that we've built up," says Haman. "You really get to know people intimately when you're listening to their raw work."
He and Dubberly hope to continue building that creative community beyond Vergennes into all of Addison County, where the print journal will be available at libraries. (An online version will be free.)
Through their new magazine, the pair aims to give Vermont writers "the confidence boost of walking into your local library and being able to find your own writing amongst the Hemingways, Christies and others," Dubberly declares on the Zig Zag website. "Because real writing isn't just something that exists on Kindles or mass-market paperbacks; it's happening all around us all the time."