On Independence Day, the streets of downtown Bristol were lined with bystanders braving a cloudy morning to watch the parade. Gov. Peter Shumlin ambled down the streets waving, as did dignified contingents from local fire departments, veterans' associations, scout troops and others. Floats from local businesses passed, tossing candy to kids.
On the corner of Maple and Pleasant streets, the crowd was just beginning to get restless when it heard strains of Pharrell Williams' "Happy" blaring from massive speakers on a painted school bus. The vehicle bore the words "Zeno Mountain Farm" — a summer camp in Lincoln — emblazoned on its side.
Behind the steering wheel, Will Halby, one of Zeno's four cofounders, bopped his head to the beat. Up ahead, in front of the bus, a swarm of campers cavorted. Some, sporting gray wigs and cardigans, did a choreographed dance with spinning wheelchairs, pumping their arms to the song's chorus. Others, dressed as fairies and woodland creatures, danced on a float decorated to resemble a green mountain. Yet others carried a "Be Happy" sign and a rainbow.
As the parade turned onto Main Street, a woman in the crowd — which had perked up and begun cheering — held up a toddler. "Look," she called out, "it's the happy bus."
The bus brought up the rear of Zeno's procession. As it moved, a volunteer repeatedly hopped on and off, bringing water to thirsty campers dancing ahead and guiding those who were tuckered out onto the bus for a rest. Other volunteers held hands and danced with and pushed the wheelchairs of the campers, whose developmental disabilities included spina bifida, Down syndrome, autism and traumatic brain injury.
"The Fourth of July parade is my favorite moment, every single year," Jeremy Vest, 28, had told Seven Days in an interview before the festivities. The Maryland native, who has a rare genetic disorder called Williams syndrome, has been coming to camp at Zeno for five years. "Everyone's so excited. You put on a show, and everyone's just loving it," he said.
Zeno Mountain Farm is a nonprofit organization in Lincoln that runs annual camps for adults with developmental disabilities, maintaining a roughly one-on-one ratio between campers and able-bodied volunteer staffers. By most definitions, only half of the camp's 80-person parade posse would be considered "able-bodied." But at Zeno, campers are known for their artistic abilities or their personal qualities, not their medical diagnoses.
Led by brothers Will and Pete Halby and their wives, Vanessa and Ila, Zeno has a mission "to support lifelong friendships between people of diverse abilities." The camp rejects the binary opposition of "able" and "disabled."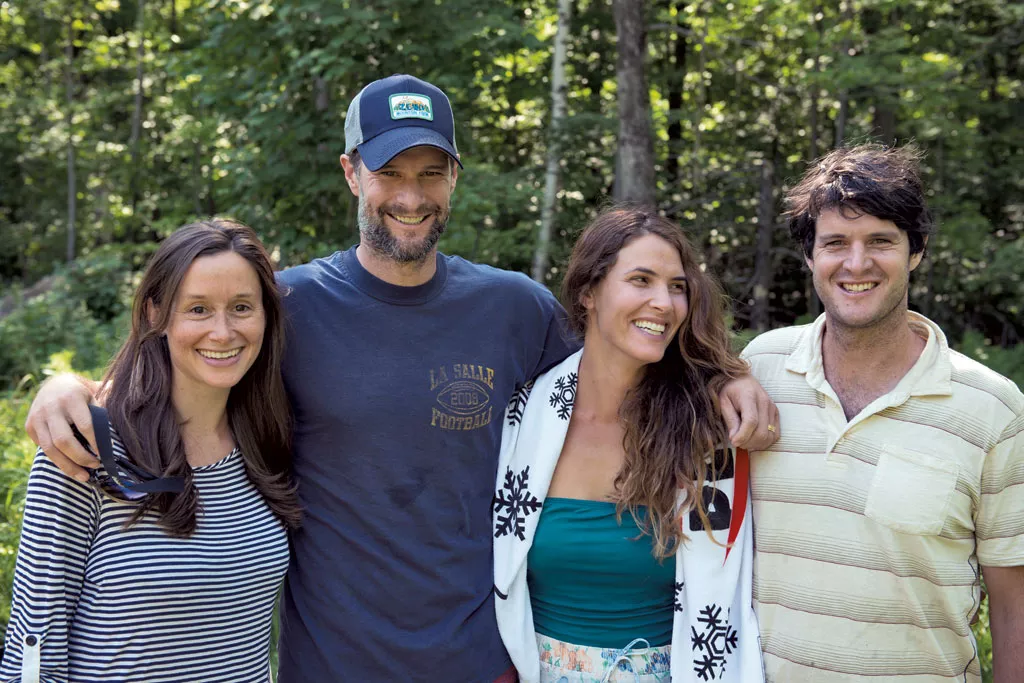 Caleb Kenna
Ila Halby, Will Halby, Vanessa Halby and Peter Halby
"We really don't talk about [disability] very much," said Pete Halby in a June interview in Bristol. "We talk about Larry, we talk about Bobby, we talk about Steve, we talk about Pete and we talk about Will. We don't talk about the fact that Steve has a chromosome missing."
With roots in Vermont and Los Angeles, Zeno creates feature films and stage plays with integrated casts. Its biggest annual program is a five-week performing-arts summer camp that begins with building parade floats and ends with an original play performed for the public. Shorter film camps take place throughout the year.
Some of Zeno's films have become runaway hits: Bulletproof, a Western, has been shown in 10 film festivals and took home Best Short at the Boston International Film Festival last year. A documentary film on Zeno and the making of Bulletproof by Michael Barnett, whose movie Superheroes aired on HBO, will be released this fall.
"It's been kind of nuts," said Will, who, with Vanessa and their three children, is temporarily living in Los Angeles during the winter months to facilitate Zeno's newfound success in the movie business. "But it's great because it only brings more people into the mix, and it celebrates the message of who we are in a not-preachy way."
This Saturday, July 12, the Big Picture Theater in Waitsfield will host the Vermont premiere of two of Zeno's earlier shorts: "The Return of the Muskrats," a pirate musical; and "Sky Squad Eagle Eight," about a young man seeking real-life superheroes. Film screenings and premieres have become key fundraising events for the nonprofit, which relies entirely on donations and volunteers.
Zeno's $175,000 to $200,000 annual operating budget comes from lots of small donations, a strategy the directors jokingly call the "Obama" model of fundraising. Pete estimates that some 2,700 individual donations covered this year's expenses.
"We just rent a theater, hold a movie premiere and invite everyone we know, and everyone will come and donate," Will said. "But it's also a great way to celebrate and build the community beyond the camp borders."
That community has climbed into the thousands and includes some celebrity friends, such as Jack Osbourne, who bought a yurt on Zeno's Lincoln property; and singer-songwriter Damien Rice, who "showed up at camp to play a few songs one night and literally never left," Pete Halby recalled. Actors including David Arquette and Rob Delaney have performed cameos in Zeno's films.
"People are so psyched and, I think, blown away [by the films]," said Pete. "And that's what we want. For us it's not about disability; it's about a community of actors and a beautiful message. The word 'disability' puts people in a frame of mind that I think we want to break."
The Halbys have called Vermont home since 2008, when the two families purchased a 270-acre parcel of land on a mountain in Lincoln with sweeping views of the Champlain Valley.
The four founders had worked in camps and programs for adults with developmental disabilities for nearly 25 years — their entire adult lives. Over time, they developed close ties to the national sports program AccessSportAmerica and to Camp Jabberwocky on Martha's Vineyard (where Pete and Ila first met), as well as to an extended network of individuals and families in the disability community.
In 2003, Will founded a group of camps in Los Angeles. The Halby clan rebranded it as Zeno Mountain Farm five years later, when they moved to Zeno Road and registered the nonprofit in Vermont.
"We had all these experiences at all these different places, and then we pulled them all together and said, 'We all love being in Vermont,'" said Will — who, like his brother, graduated from the University of Vermont. "We were on the fringes of starting families, and this was very much where we wanted to start [them]."
Since 2009, Zeno has hosted dozens of campers and volunteers at its summer camp. In the winter, the site hosts a ski camp in collaboration with Sugarbush Resort in Warren. Zeno also runs nine short, activity-specific camps in California, Florida and Guatemala throughout the year. Those activities include filmmaking, music and water sports — experiences that are normally off limits to many individuals with disabilities.
"There's really no limitations," said Jill Collins, the parent of a Zeno camper. "[My daughter] can zip-line, she can ski, she's in parades, she's in musicals."
Collins' daughter, Madison, was born without the ability to speak, and didn't begin walking until she was 9. "She wasn't supposed to live until 10," Collins said. "She was supposed to never walk. And now she's 20; she walks; she's still nonverbal, but she really gets her point across, and she's funny as hell. In this environment, she thrives," Collins added, "and it's beautiful to see."
8 slides
Collins is working at Zeno this summer with her friend Colleen Delman; like everyone performing staff duties, they are unpaid. Each year, dozens of people from around the country turn up in this remote outpost to volunteer their time. The number of campers and on-site volunteers during the summer hovers around 70; many individuals come for short intervals as their work schedules allow.
According to staff, Zeno grows by word of mouth. "Friends of friends keep growing it, which is nice, because those are the best references," said Pete. Since campers return year after year, their rapport evolves organically. That familiarity doubles as a safety mechanism; returning volunteers understand campers' medical needs and can respond appropriately to problems.
Many of the volunteers are local residents who jumped in to lend a hand when Zeno arrived six years ago. "We can't stress how much we appreciate the Bristol and Lincoln area," Will said. He ticked off a long list of individuals who donate their hours and local businesses that donate food during camp sessions.
"I feel like I get more from Zeno than I give to Zeno," said Bristol resident John Moyers, who volunteers in the camp's kitchens each summer. "One of the things I found at Zeno is that everybody has a different way of communication. Whether people are verbal or nonverbal, or deaf or challenged physically or cognitively, everybody communicates, and if I just slow down and have patience and open my mind, all of a sudden communication can be incredibly rich."
"I read an article by the CEO of Best Buddies [International, a nonprofit that pairs individuals with disabilities and volunteers], and he said the finish line would be a world where programs like Best Buddies didn't have to exist because people with developmental disabilities would be so well integrated into society," Will said. "And I agree with that, but, at the same time, I'm certain that ... everyone would still want to come to camp."
Contact: xian@sevendaysvt.com
INFO
"The Return of the Muskrats" and "Sky Squad Eagle Eight," produced by Zeno Mountain Farm. Saturday, July 12, 7:30 to 9 p.m., at the Big Picture Theater in Waitsfield. Free. zenomountainfarm.com
The original print version of this article was headlined "Happy Campers"