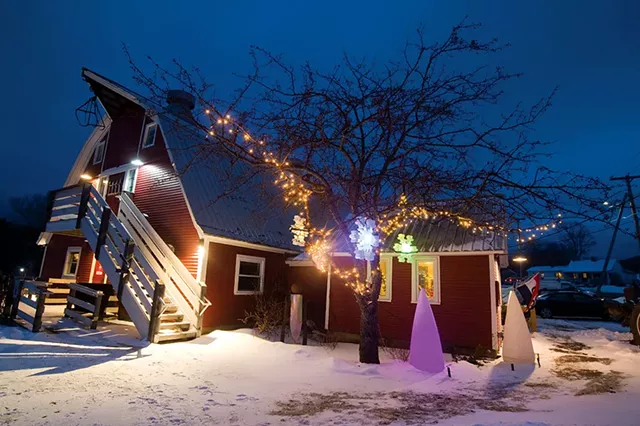 "Eat. Drink. Be." That's the motto of Waterbury's Zenbarn, where you can dig into brisket in the dining room, sip a CBD cocktail at the bar and practice yoga in the loft. Founded in the fall of 2016 by brothers Ari and Noah Fishman, Zenbarn brings together cuisine, creativity and community in a century-old dairy barn.
Location Details
Zenbarn
179 Guptil Rd.
Mad River Valley/Waterbury
Waterbury, VT
802-244-8134
Eclectic/Fusion, American (New), Bar and CBD Maker
The brothers grew up just across the road, when the barn was a restaurant called Tanglewoods. When the owners of Tanglewoods retired after 25 years, the building went up for auction.
"Ari called me and said, 'We bought Tanglewoods,'" Noah recalls. The Fishmans set about renovating the space and creating a business unlike any other in town.
"We landed on a place that could bring people together holistically," Noah says. "Where you could have great food and drink — which you can get elsewhere in Waterbury — but more in terms of art, entertainment and wellness."
They've delivered on that vision. The interior — decorated by their mother, Sue — features art, barstools and even toilet-paper holders made by craftspeople whose work is represented at her Stowe gallery. The barroom is a welcoming space for events and parties, serving local brews, cocktails and mocktails. One fall evening, it hosted an after-work party for a public official, followed by a bluegrass show with hometown pedal-steel player Gordon Stone.
In a loft above the bar, the wellness center offers yoga, meditation, tai chi and more. Past the bar is the dining room, where patrons are seated by Ari and Noah's dad, Stephen.
The small kitchen turns out ample and appealing eats from a menu of barbecue, ramen, sandwiches and small plates. Among the highlights: crispy cauliflower with tahini dip, a Jewel Salad with grilled romaine, and a terrific take on crudité in which onion dip is presented in a roasted onion and served with vegetables and warm pita.
Diners could easily put together a substantial and satisfying meal of small plates, but they'd miss out on the brisket platter: flavorful, sumptuous, and served with kimchi slaw, corn bread and a choice of sides. Or how about the 420 Burger, served on a CBD-buttered bun?
Says Noah, "Our kitchen is always creating fun new stuff."