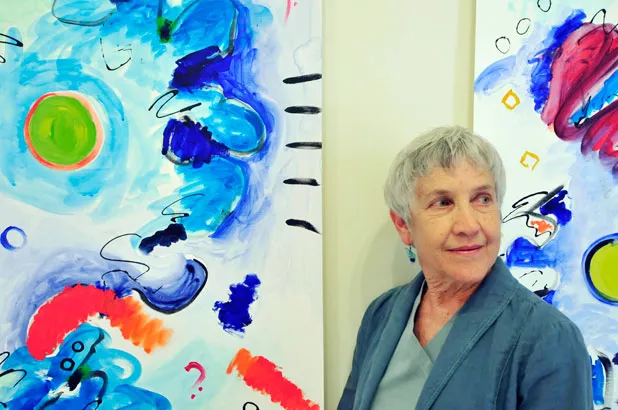 You don't have to understand Japanese culture, let alone the language, to appreciate the abstract beauty and power of brush painting. It needs no translation, perhaps because it's the highest form of artistic expression in Zen Buddhism.
Vermont artist Lois Eby, 69, has integrated the principles of Zen calligraphy, namely the sense of balance between "energy and peace," as she puts it, into her paintings. In many instances, she uses symbols and characters from the Japanese tradition as the basis for her own experimentation with line, color and space.
Eby became fascinated with calligraphy and brush painting in the early 1980s, after a stint as a watercolorist specializing in landscapes and still lifes. Up to that point, she says, she felt like an outside observer of the natural world, seeking a more dynamic, holistic way to project the spirit of nature in her art.
Eby began emulating calligraphic masters, including the 17th-century artist and poet Gesshu Soko, and gradually created her own visual language, incorporating traditional Zen symbols such as the square, triangle and circle into her patterned fields of dots, squiggles and swatches of pure color.
Lately Eby, who says she's always searching for "rhythmic vitality" in her paintings, has been experimenting with white space — that is, allowing more of it in each piece. From her spare, tidy studio in Wolcott — an addition to the home she and her husband, the poet and playwright David Budbill, built in 1971 — she talks about the Zen of painting and the difficulty of finding the right tension in her work.
"I'm always thinking about how much space is in a painting," Eby says. "Sometimes I veer toward fullness; other times I veer toward emptiness. The question is: How simple can it be? It's a major question for any painter. I've been more interested in minimalist art as another way of thinking about the power a form can have in space."
Minimalism and white space are the central elements in her 21 works currently on display at the Vermont Supreme Court in Montpelier. In contrast, Eby's earlier paintings have a Kandinsky-esque profusion of dynamic forces — colors, lines and space — that compete for a viewer's attention. About five years ago, Eby began to shift her focus toward bolder ink-brush strokes and more blank space. Though she invariably augments the black-ink-brush painting with an intense acrylic palette, she's become less inclined to let the colors compete with the other elements. Now Eby often allows a single black form to dominate a nearly white background.
One of the best examples of this shift in her work is "Enso," an enormous circle that in the Zen tradition represents the oneness of the individual with the universe. Typically, Japanese calligraphers create the circle with one stroke of a brush dipped in black ink. Eby made her enormous enso (it's between 3.5 and 4 feet in diameter) with a string mop dunked in black acrylic, which she swooped in an arc on a white canvas. She confesses she wasn't able to make the circle in one pass and had to go around twice. Still, it's quite a feat.
The texture of the paint is uneven, showing the movement and energy of the stroke and revealing that her near-perfect circle is hand drawn. At the bottom is a red swoosh — Eby's signature, in effect. Japanese calligraphers mark their ink paintings with elaborately carved stamps dipped in red ink.
Unlike "Enso," most of Eby's abstractions are mixed media, acrylic and ink paintings. Though they are marked by a similar tension between restraint and unfettered creativity, they're also much busier. In "Dancing the Blues," for example, a thick, black-ink "S" undulates, snake-like, across the vertically aligned white paper. It looks something like a Japanese character, yet it's clear the whimsical swoosh doesn't represent a particular word. The curves are highlighted with strokes of primary colors, circles and squiggles that balance the asymmetry of the central inked image.
"Riff on a Red Note" falls somewhere between the two preceding examples. Again, the ink-brushed symbol, which resembles a question mark, is at once emblematic and nonsensical. Eby renders the arc with authority and energy, but it doesn't seem to matter, in the end, whether it has a literal meaning. The painting invites the viewer to assign his or her own signifiers to the abstraction. Is it merely a question mark, or a universal question?
Eby, a native of Tulsa, Okla., is an avid yoga practitioner but says she isn't a "card-carrying" Buddhist. Nonetheless, Buddhist principles clearly influence the way she thinks about her life and her work — as does improvisational jazz, thanks to Budbill's musical inclinations.
Eby acknowledges that balance is as difficult to attain in art as it is in the rest of life. Her work, however, suggests that it's achievable.