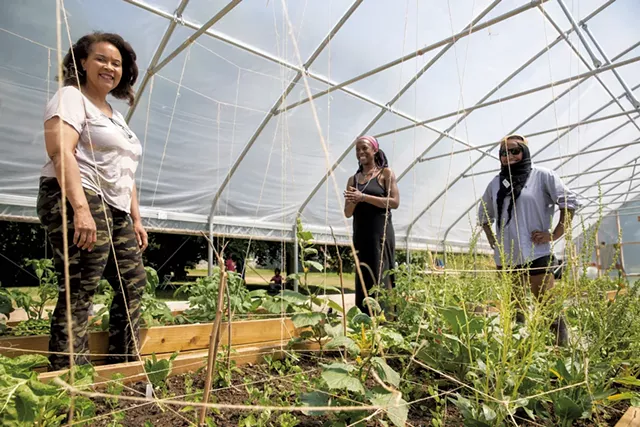 James Buck ©️ Seven Days
From left: Lydia Clemmons of Clemmons Family Farm, artist Omega Jade, and Krista Scruggs of ZAFA Wines
Amid 16 raised beds of black-eyed peas, collard greens, tomatoes, sweet potatoes, okra and more at Clemmons Family Farm in Charlotte, conversation turned to gumbo.
"My mother grew so many tomatoes and canned them for winter to use in sauce and gumbo," said Lydia Clemmons, who was raised on the farm.
"I have my grandparents' recipe for gumbo, but they made it without tomato," said Krista Scruggs, founder of Burlington-based ZAFA Wines. "We always ate it at New Year's."
"Yep," Burlington artist Omega Jade chimed in, "it would take all day to cook."
Clemmons' parents, the elder Lydia and Jack Clemmons, are now 97; this spring, they planted the first two raised beds in the recently constructed hoop house. Purchased by the couple in 1962, the 148-acre farm is one of the largest African American-owned farms in the state and part of Vermont's African American Heritage Trail.
According to the 2017 U.S. Census of Agriculture, Vermont has only 17 solely Black or African American-owned farms, accounting for 0.33 percent of all farmland. That's slightly lower than the national percentage of 0.5 percent.
The three women gathered on a recent hot afternoon to talk about a fledgling collaboration they hope will help nudge those numbers higher. More broadly, the goal is to support Black people in reclaiming the right to grow their own food — whether in small backyard plots or on full-scale farms — as a crucial step toward improved health and equity.
Clemmons, who is in her late fifties, juggles a job in international public health with a volunteer position as president of the nonprofit arts and culture organization associated with her family's farm. Scruggs, 36, launched ZAFA in 2017 and has since earned an array of accolades, including a spot on Wine Enthusiast's coveted "40 Under 40" list. Jade, 41, a Clemmons Family Farm collaborating artist, was commissioned to create an anthem for the hoop house.
The emerging partnership between the farm and Scruggs is called And Still I Rise, a nod to the poem "Still I Rise" by writer and civil rights activist Maya Angelou.
"Literally, it's about plants rising and growing but also the collaborations between the two partners and the expanded network we want to create," Clemmons explained. "The whole focus is on really helping people rise, lifting up our people."
Clemmons and Scruggs first met in March 2020 and clicked right away. Since then — despite the pandemic — the ZAFA team has planted 75 cider apple trees at the Charlotte farm and helped with hoop house planting and maintenance.
Plans for community events are on hold, but the pair envisions hosting dinners cooked by local Black chefs using farm-grown produce, as well as supplying food to those chefs' businesses. Clemmons said her family is in discussion with local farmers of the African diaspora to expand production of traditional food crops such as teff.
"This is an opportunity for us to feed and grow for the African diaspora community here," Scruggs said.
One of the first community members the project has informed and inspired is Jade.
"I called her and said, 'Can you do a hip-hop song for the hoop house?'" Clemmons recalled, smiling. "And she said, 'What's a hoop house?'"
Jade proceeded to educate herself by planting her first garden. "I still have a lot of learning to do, but it made the song more fun for me to do," she said. "Like, I would be practicing while watering the garden, and my kids would be helping."
The compelling earworm of a song goes, in part: "Coming all together to make food and lives grow, / From earth to tabletops, let young ones know. / Stuck in lockdown pondering what will make me healthy, / In case stores close down, supplies go to the wealthy. / Back to the old school with seeds to grow, / Give knowledge to the youth so they will know."
As her three kids played by the hoop house, Jade said, "This project has had me thinking on so many things in the future ... about buying my own house, about teaching children how to provide for themselves."
Jade's thoughts are remarkably similar to the motives that drove the Clemmonses to buy their Charlotte farm in 1962.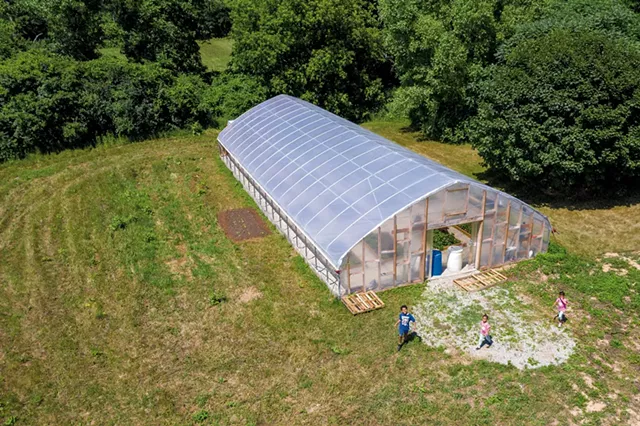 James Buck ©️ Seven Days
The Clemmons Family Farm's new hoop house
When they moved to Vermont from Cleveland, Jack and Lydia Clemmons were a pathologist and a nurse anesthetist, respectively. They made it through medical school on oatmeal, baked beans and chocolate bars.
It meant everything to her parents to be able to buy the farm, Clemmons said: "They were just looking for a place where you could really set down roots and be able to invest in something that's home."
It took them 35 years to pay off the initial $35,000 mortgage while investing countless hours of sweat equity in renovations. They remortgaged to send five kids through college.
On top of their medical careers, the Clemmonses farmed. "Both of their families thought they were out of their minds," their daughter said. Colleagues expressed similar views: "Why on Earth would you, who are in our elite medical community, want to farm?"
But her parents wanted to raise their children around animals and plants, to teach them the value of manual labor and self-sufficiency along with the importance of academics. "They hated the idea of snobbery and elitism. They actively rebelled in their quiet, gentle way," Clemmons said.
The relationship between Black people and farming is shaped by "the stigma of sharecropping and slavery before that," Clemmons acknowledged. "We have a lot of suffering tied to that relationship to the land ... being forced to labor and reap no benefits."
For her parents, though, farming was about self-determination and self-reliance. "What a joy to be able to actually invest in something, own it, and see the fruits of your labor, and have your kids and grandkids see the fruits of your labor. That's what legacy is," Clemmons said. "That's equity," she added, implying the double meaning of the word: fairness and value.
Both forms of equity, however, have proved elusive for Black farmers.
Well-documented research chronicles decades of systemic racism that contributed to pushing many off their land. A landmark class action case against the U.S. Department of Agriculture alleged racial discrimination against African American farmers who applied for farm loans and assistance between 1981 and 1996; it was settled in 1999 in favor of thousands of plaintiffs.
According to a 2019 investigative report in the Counter, a nonprofit online publication focused on the U.S. food system, from 1910 to 1997 Black farmers lost around 90 percent of the land they owned, while white farmers lost only about 2 percent.
Scruggs pointed out that the barriers to obtaining land and nutritious food go hand in hand with contributing to the broader system of oppression.
It's no coincidence, she said, that Black people have been disproportionately affected by COVID-19. "Part of the problem is not having access to healthy or good food," she said. "Control of your own food is a form of protest, because you're not reliant on other people to feed yourself."
The young farmer and winemaker credits her late paternal grandfather with kindling her desire to farm, even though, when she was a kid, the weekends she spent weeding his gardens in California's Central Valley "seemed like a punishment," she said with a chuckle.
Later, Scruggs came to look forward to those visits. They bonded over a shared appreciation of Johnny Cash, and her grandfather told her about growing up in Arkansas picking cotton. It would be easier to make wine from grapes grown by others, she said, but "he's why farming is a big part of it for me."
In Europe and California, where Scruggs spent time learning her craft, many vineyards have been in the family for generations. "It doesn't look like that for me, nor anyone that looks like me in America," she said.
The ZAFA team currently farms two leased parcels in Huntington and Northfield, but Scruggs is about to close on her own farm in Isle La Motte with the support of the Vermont Land Trust. Her grandfather, she said, tearing up a little, would be proud.
She plans to paint the number 18 on her barn to announce the 18th Black-owned farm in Vermont. "From 18, it should be 118; it should be 1,800," she said. "Collectively, with this partnership, our goal is to be that resource for our community and each other."
Asked what allies can do to help at this time of heightened awareness, Clemmons and Scruggs both noted the increase in public statements of support. But, Scruggs said frankly, "Your sign is not enough."
They requested that supporters consider sharing networks and professional expertise in the legal, financial and business domains. Simply put, Clemmons said, Black people don't have as much access to that kind of social capital. "We mean people who know people who can do something, big things," she continued. "Give us a couple hours of your time."
"Or a day," Scruggs suggested.
While donations are helpful, knowledge and connections deliver more long-term value, she elaborated. "You've now empowered that person to build a business that will go beyond that $200 you gave them. It's not a dollar right now; it's the opportunity for us to build a dollar for tomorrow."
It all adds up to "not just a better place for Black people," Clemmons said. "This will be a better Vermont for everyone."