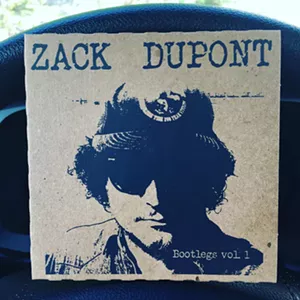 Zack DuPont, Bootlegs Vol. 1
(Self-released, CD, digital)
Releasing your own bootlegs is a fairly audacious thing to do, more common with huge acts capitalizing on their success — think Bob Dylan or the Rolling Stones — by releasing home albums or live concerts without record-label involvement.
Zack DuPont is not an act on par, fame-wise, with Dylan or the Stones. Among other musical pursuits, he made his name in Vermont gigging relentlessly with the DuPont Brothers — a duo act with his brother, Sam. They're a powerful presence onstage, and they've played around the country. But the new solo project Bootlegs Vol. 1 isn't about Zack DuPont's modest celebrity. It's just about his talent.
Despite the implied grit of a bootleg, DuPont's engineering work on this short LP sounds fantastic on big stereo speakers. High volume also makes it clear that his performances are impeccable. Part of that is the sheer experience that years of constant shows provide. Part of that are the high standards to which DuPont has aspired since his days with Burlington's Japhy Ryder and as a solo artist.
It is a credit to DuPont's musical upbringing that there are so many quality influences to unpack. For instance, reviewing the DuPont Brothers' 2014 album Heavy as Lead, then-Seven Days music editor Dan Bolles identified a strong Nick Drake influence. Yet I've always felt that John Prine was the duo's guiding star. I also think neither of us is remotely right. DuPont is the keen student of a broad pantheon of musicians.
More importantly, he's working to find his own voice. DuPont's delivery is soft but full, a warm whisper that sits nicely atop the tonal range of his acoustic guitar. His guitar playing, as so many Vermonters have seen firsthand, is exceptional: clean, bright and full.
None of that is news. What this project really showcases is DuPont's continued growth as a lyricist and songwriter. He tackles dark subjects with ease and cuts compelling stories down to bare-bones. On tracks such as "Making Friends," he juggles self-deprecation and genuine sadness, often in the same line. "Folklore" channels Jackson Browne and Cat Stevens, delivering life lessons over a beautiful melody.
Despite the retro format, he's very much a man of his times. Few of DuPont's heroes would have ever thought to pen a song named "Today Is a Video Game," but that's one of the best-written tracks on the album. Everything here is lean and impressive.
Bootlegs Vol. 1 is exactly what it should be: raw, beautiful music from the heart. These songs unfold over repeated listens, and the track list is carefully calibrated. Even at seven songs, many of them short, Bootlegs still seems like an album, demanding and rewarding your attention.
In other words, I'm looking forward to Vol. 2. DuPont has set the bar mighty high with Vol. 1, and he's got the means and motive to do it again. In the meantime, Vol. 1 is a perfect midwinter soundtrack. Fans of unvarnished Americana and folk are in for a melancholy treat.
Bootlegs Vol.1 is available at zackdupont.bandcamp.com.