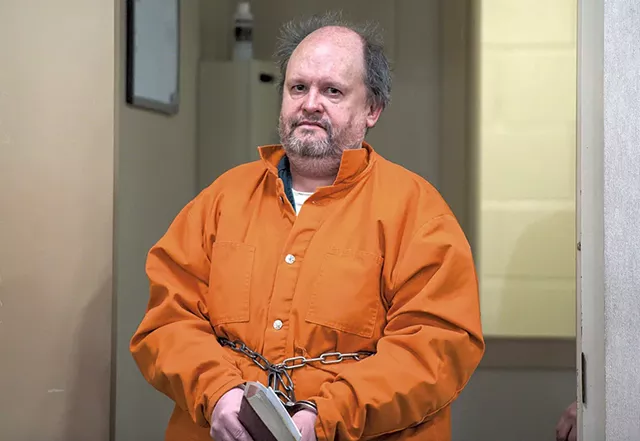 Glenn Russell
Christopher Hayden at Vermont Superior Court in Burlington
Christopher Hayden barraged a Burlington city councilor with messages to "go back to Senegal" and "watch your step." He walked into Burlington City Hall and shouted for the "Jew" mayor to come face him.
And he called the city's police chief at all hours, leaving cackling voicemails on his cellphone that threatened, "I'm gonna get you, Jew boy."
Racists who verbally attack public figures can vex police and prosecutors, who must balance public safety with strong constitutional protections for free speech. Civil rights groups recently criticized Bennington police and Attorney General T.J. Donovan for not pursuing criminal charges against the white nationalist who racially harassed former state representative Kiah Morris online.
In Hayden's case, Burlington authorities haven't hesitated to bring charges. For two decades, police have noted his grotesque dances upon the stage of free speech and arrested him at every misstep. Hayden, 50, has been prosecuted 40 times since the '90s and faces seven more charges filed since October. He is accused of hate crimes against the mayor, the chief of police and a city councilor.
The unusual charges point to Burlington's aggressive approach to hate crimes — as well as limitations of the law.
Hayden considers himself a contrarian social critic and a satirist whose free speech rights have been trammeled. But the public figures he's harassed say his threats are no joke.
Many mass shootings "took root in speech that was exactly like this," Burlington Police Chief Brandon del Pozo said. "People, I think, were becoming worried about that, that we have this person in our midst who is conforming to exactly such a pattern."
Hayden's present troubles began October 9, when he walked into the Champlain Housing Trust lobby to pay his rent. He appeared drunk and was ranting about his property manager, according to a police affidavit. Hayden told a frightened receptionist he would "slit her throat" and drew his finger across his neck.
Two hours later, Hayden walked to Burlington City Hall, where Mayor Miro Weinberger was meeting with high school students in his office. Hayden began shouting from the reception area to "send that Jew out here!" Staff locked their office doors and shuffled the students and chaperones out a side door.
At the police station, Hayden's blood-alcohol content was found to be more than triple the legal limit for driving.
Hayden was charged with criminal threatening, a law passed in 2016 partly to protect Department for Children and Families workers, for his actions at the housing trust. Prosecutors also charged him with aggravated disorderly conduct accompanied by a "hate crime enhancement" for his alleged "tumultuous" behavior directed toward Weinberger. Both are misdemeanors, but the hate crime enhancement, reserved for actions "maliciously motivated" by a victim's race, religion or other protected class, increases the maximum disorderly conduct penalty from six months to two years in jail.
Less than two weeks later, City Councilor Ali Dieng (D/P-Ward 7) complained to police about emails he'd been receiving from Hayden since being elected in 2017.
Initially, Dieng said, he was merely included on messages Hayden emailed to groups of people. Hayden eventually began sending vicious messages only to Dieng, who is from Senegal, noting his race and details about his family. One read only, "hey nigger you better watch your step."
"When he started to talk about my family, that's when I really said something needed to happen here," Dieng said.
Hayden was charged with disturbing the peace by electronic means, also with a hate crime enhancement, and was released from jail with orders from a judge that he could not possess a computer, harass Dieng or drink alcohol.
He continued his electronic tirades, court documents allege. During a December interview with WCAX about bias incidents, del Pozo named Hayden as the source of roughly 20 percent of complaints in Burlington. Hayden responded with a barrage of emails to the black reporter who had interviewed del Pozo in which he referred to himself as a "trained killer."
Hayden next decided to target del Pozo, as if daring the authorities not to arrest him again. He sent dozens of emails and left 18 phone messages, transcriptions in his court file show. "Jew boy! I'm gonna come get you personally I guess if you don't step the fuck off," Hayden said in one message.
The upshot: another count of misdemeanor disturbing the peace by phone with a hate crime enhancement.
During that investigation, officers found Hayden cracking open a Natural Ice beer in his Grant Street apartment in Burlington — a violation of a judge's order that he not drink alcohol.
So he went back to jail until February 7, when a judge released him on still more conditions, including that he not visit the police station without legitimate business. Five days later, Hayden walked into the headquarters at 1 North Avenue and ripped a police department logo from the wall. He was arrested and is being held in lieu of $1,000 bail.
Hayden has sent hundreds, if not thousands, of emails to Vermont public officials and media, including Seven Days, over the years. A few of his charges have been for violent acts, as when Hayden pushed and threw a brick at someone staying at the Ho Hum Motel in South Burlington.
In 2012, mayor-elect Weinberger first encountered Hayden at outgoing mayor Bob Kiss's office.
"He gave a Heil Hitler salute and said some pretty anti-Semitic things," Weinberger recalled. "He stormed out of the office and broke a water cooler on the way out."
Del Pozo said officers are accustomed to abusive language. But Hayden's repetitive, targeted messages stand out. Del Pozo also said he felt a duty to come forward personally.
"It's my job to protect these people, and when I became a target, I was going to act on their behalf," he said.
The new charges are merely the latest turn in Hayden's cycle through state custody — which generally concludes with a mental health commitment. Court records indicate that Hayden did a stint in the former Vermont State Hospital in Waterbury in spring 2011. He's also been through mental health and drug treatment courts, but the cycle persists.
The last one began in 2015, when Hayden was alleged to have threatened black men on Church Street while holding a screwdriver. More charges accumulated, including for harassing a Burlington Free Press writer who reported on the incident.
His treatment court process fell apart in June 2017, shortly after Hayden sent a series of anti-Muslim, vaguely threatening emails to then-interim Vermont Democratic Party chair Faisal Gill, who is Pakistani American. Hayden also spammed Vermont media and public officials with a poem that began "It's time to kill Fat Faisil [sic] Gill" and described acts of mutilation.
Two court-ordered doctor's evaluations determined that Hayden was mentally fit to stand trial. But three public defenders in a row withdrew, because Hayden believed they were undermining his rights. After Hayden's third attorney begged off, a third competency exam found him unfit to stand trial. So, in July 2018, the state resolved Hayden's pending cases by agreeing to a 90-day order of non-hospitalization, which put him in the care of the state Department of Mental Health for community-based treatment.
Three months later, Hayden threatened his property managers, and the cycle started anew.
During a brief interview last Saturday at Northwest State Correctional Facility in Swanton, Hayden appeared slighter than in his emailed selfies, and he did not voice the rage he expresses electronically. Rather than answer questions, Hayden gave only a short statement declaring himself a "satirist" and a "patriot." He then told this reporter, "Don't forget who you're fucking with now," and walked off. He looked dazed as a guard pointed him back toward the cellblock.
Attempts to speak to Hayden's family were unsuccessful. One apparent out-of-state relative asked not to be contacted again, without confirming or denying the familial relationship. "I have nothing to tell you," the person said.
Hayden's obscure blog makes reference to his mental health and alcohol issues, though his writings are often lucid and occasionally clever. He created a meme depicting himself as "Vermont's most-persecuted dissident," but the right-wing fever swamps have not picked up his cause.
Hayden has defended his actions on First Amendment grounds and has cited the AG's words at the Bennington press conference about former representative Morris' harassment.
"The court tells us that where speech involves public officials or manners of public concern, the First Amendment tolerates a great deal of speech that is hateful and offensive," Donovan said at the time, in a quote Hayden excerpted in one of his emails.
At a March 1 hearing, Hayden's latest appointed attorney, Robert Katims, argued that his actions at city hall and emails to Councilor Dieng did not contain explicit threats or any physical component and were therefore constitutionally protected.
The state, meanwhile, said the charges don't require an explicit threat — or any threat at all. Hayden's disruptive behavior in the mayor's office qualifies as disorderly conduct, according to a legal memo from the State's Attorney's Office.
The emails to Dieng were illegal because they were repetitive and purely malicious, the state says. The state also argues that Dieng's status as a public figure isn't relevant because Hayden's speech "had nothing to do with his public role as a City of Burlington Councilor."
Superior Court Judge Kevin Griffin has yet to rule on the arguments.
Chittenden County State's Attorney Sarah George declined to discuss the pending cases but noted their "complicated" nature and said her office carefully considers constitutional questions when reviewing each charge.
Weinberger commended police and prosecutors for their "aggressive actions."
"I think if Kiah Morris had been living within Burlington when these incidents [targeting her] took place, the Burlington Police Department would have been as aggressive as possible in protecting her," Weinberger said.
During his 117 recorded encounters with police and dozens of prosecutions since 2011, Hayden's mental health has been called into question repeatedly.
Del Pozo acknowledged as much but said the justice system's "first goal" is to protect Vermonters. "The second goal is, if possible, to try to get him help that will make him less of a threat," he said.
Gill said he considered that mental health issues might have prompted Hayden's missives. But he also noted that the man was persistent and methodical.
"He knows what he's doing, and he's doing it very deliberately," Gill said.
Gill thinks Hayden should be in jail. Dieng said he isn't sure where Hayden belongs. His concern is more immediate.
"All I want is for him to stop contacting me and sending emails about my religion, my family, my race," Dieng said.