Courtesy Of Velvet Patsy
First Friday
Yes, Vermont is one of 19 states where same-sex couples can get married. But if you're a young gay, bi, lesbian, trans or queer college student, you might not be ready to walk down the aisle just yet. Don't worry: There are plenty of places to meet that special guy, girl, or genderqueer hottie. We've compiled a few of them here. Not on this list: your campus LGBTQ group. Be sure to check that out, too.
First Friday
Higher Ground, 1214 Williston Rd., S. Burlington, highergroundmusic.com
Time to get your groove on! Twinkle-toed party people kick off the first Friday of every month on the dance floor at this high-energy gathering. Expect a mix of live music, DJed tunes, drag performances and more.
Final Fridays
Oak 45, 45 Main St., Winooski, oak45.com
Imbibers toast the final Friday of each month while sipping their way through an extensive wine, beer and cocktail menu at this boutique bar and lounge. Featuring an eclectic mix of rustic and industrial décor, this local hotspot provides the ideal atmosphere for good conversation and connecting with friends old and new.
House of LeMay
Matthew Thorsen
House of Lemay
The House of LeMay are Vermont's most high-profile and longest-running drag queen troupe — the lovely ladies prefer you not call them "the oldest," obvs. But they're hardly the only ones. Other local royalty includes Kings Local 802, Major Face, Quechee George and Jonathan Bitchman. You'll likely find all of those performers, and many others, at the annual Winter is a Drag Ball, the cold season's hottest party.
Pride Vermont Parade & Festival
Sunday, September 14, Battery Park, Burlington, pridevermont.com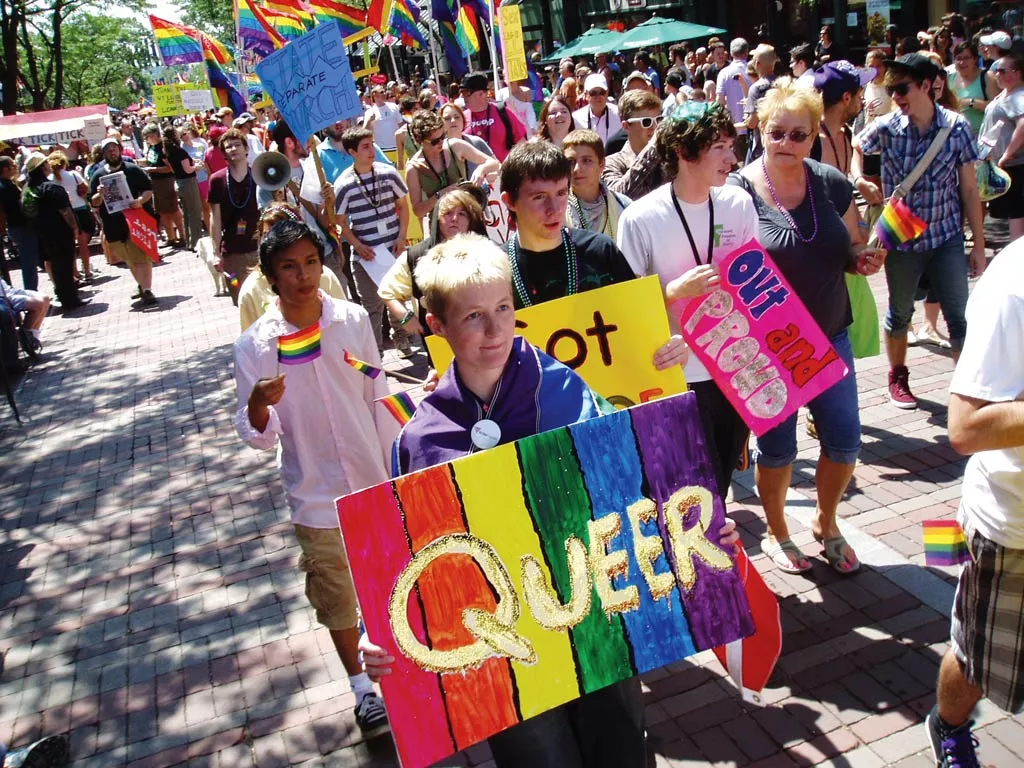 Matthew Thorsen
Pride Parade
Vibrant costumes, performers and eye-catching floats fill the streets of Burlington for the city's annual Pride parade — part of a larger weeklong Pride celebration. It happens in September, not in June or July, mostly so that students like you can attend. Beginning at the south end of Church Street, this procession of lesbian, gay, bisexual, transgender, queer, intersex and allied locals travels to Battery Park for live music, an interfaith prayer service and all-ages entertainment.
Out for the Oscars Gayla
Sunday, Februay 22, Red Square, 136 Church St., Burlington, outrightvt.org
Matthrew Thorsen
Out for the Oscars
Outright Vermont rolls out the red carpet for its yearly live telecast of the Academy Awards, aka the "gay Super Bowl." Revelers don sequins, feathers, fedoras and movie-themed threads for photo ops and costume contests while celebrating with hors d'oeuvres and cocktails. The proceeds benefit Outright's queer-youth advocacy mission.
Peep Show!
Monthly, Monkey House, 30 Main St., Winooski, monkeyhousevt.com
Produced and founded by Jonathan Bitchman and Quechee George, Vermont's home of queer burlesque presents an ever-changing cast of guest performers who bring themed shows to life. Past celebrations of all things campy have included odes to David Bowie and Freddy Mercury, complete with music from topnotch DJs.
Translating Identities Conference
Saturday, November 1, University of Vermont, Burlington, uvm.edu/~tic
In 2012, the Advocate named UVM one of the top 10 schools for transgender students. The Translating Identity Conference, now in its 10th year, is a big reason why. This free, one-day, student-organized event features guest speakers and workshops about gender identity and self-expression. While specifically aimed at the local trans community, TIC reaches well beyond Burlington. DarkMatter, a queer, South Asian performance and literary arts duo, delivers this year's keynote address.
LGBTQ Organizations
Outright Vermont
241 N. Winooski Ave., Burlington, outrightvt.org
In 1989, a Friday night pizza party in Burlington welcomed self-identified queer youth ages 13 through 22. A quarter century later, the meetup hasn't missed a week, and Outright has gained momentum with each passing year. The folks behind the Vermont Drag Idol, the Queer & Allied Youth Summit and other notable events are clearly here to stay.
Pride Center of Vermont
Formerly RU12? Community Center, Vermont's largest LGTBQ organization was founded in 1998 by two UVM students. These days, it boasts services and support groups ranging from rapid HIV testing to the popular LGBTQ Fiber Arts Group. Gay, bi and trans men can join its offshoot GLAM for weekly meetings and social outings that include kayaking and volleyball.