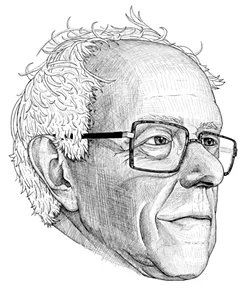 Sen. Bernie Sanders' unusual presidential campaign attracted unusually passionate supporters — people who volunteered countless hours, donated record numbers of small contributions and even got Sanders tattoos. We asked readers to tell us how Sanders' campaign affected them over the last 15 months. Here are a few from the flood of responses:
---
My husband and I went to get our Bernie tattoos and were interviewed by BBC America. I beamed as I showed off the new ink on my shoulder and told the reporters: "Bernie's got my back!"
Danika Zirkle
Burlington
---
Bernie inspired my mom to buy me the "Bernie" Vermont Teddy Bear. The card inside the box read, "If Bernie wins the Democratic nomination I want him back. If not, you can keep him! Deal?" I would've rather had the nomination, but the bear will have to do.
Austin Hornyak
Burlington
---
It gave me hope. It opened my eyes. It made me campaign for him every day online. I attended his announcement rally and got some great pictures, including a selfie. I love that guy! So I painted a billboard in my yard.
Lisa Sheridan
West Rutland
---
I had just completed treatment for Stage IV cancer and broken up with my girlfriend. Every part of my life had been torn apart and I had seen no way of putting it back together. Then a friend put me in touch with the local Bernie Sanders organizer who met me for coffee. Soon I was slogging through New Hampshire snowstorms recording voter information and reciting the Stump Speech. After my third week, I knew it by heart. In fact, it was all my heart knew. I had forgotten about my ex-girlfriend. I had forgotten about cancer. All I was concerned with was getting this wild-haired, poor-postured democratic socialist through the New Hampshire primary. The American Cancer Society gives me a 65 percent chance of being alive in five years. After that, I'll be safe from recurrence. Bernie won New Hampshire. It's been almost a year, and I'm still alive. Four more years.
Joseph Ruane
Atkinson, N.H.
---
I was a surrogate and performed music at rallies in Vermont, New York City and New Hampshire, as well as outside polling locations. The New York Times and the Washington Post interviewed me. I made a video singing "This Land Is Your Land" that Bernie's campaign shared on their social media pages. I learned a ton about the delegate system, and voting in general, because of Bernie. It was the first time I was ever motivated to research candidates, to research the voting system, to talk to my friends and family about politics, to think critically about democracy.
Kat Wright
Burlington
---
I was harassed online, called a "$hill" every time I was even a little bit critical of Bernie Sanders, and insulted by lifelong friends. The behavior of Sanders supporters and, increasingly, the candidate himself, strengthened my resolve to elect Hillary Clinton.
Katie Worley
Waltham, Mass.
---
While knocking on doors in Starksboro, I found that a disturbingly large number of local residents come to the door wearing nothing but Speedos. Strangely, virtually all the Speedo wearers turned out to be strongly pro-Bernie.
Jay Furr
Richmond
---
Bernie's campaign affected me in two ways: My best friend of 50 years rode his unicycle from Burlington to Washington, D.C., to raise awareness and funds for Bernie. I provided support services for much of his ride, camping out in a pop-up trailer. Second: I got my first tattoo at age 58 on my right arm, inking the words "Feel the Bern" underneath an outlined image of Bernie's head.
Chip Mitiguy
Rutland
---
I started my first-ever Twitter account, @VoteBernie4Pres (had to learn how it all worked, too), and now I have almost 7,000 followers! I'm a Bernie Sanders Twitter maven! Every night before bed my Twitter feed is the last thing I see, and it's the first thing I check when I wake up!
Amanda Neubelt
Burlington
---
To say that my partner and I were ardent supporters — both online and off — would be an understatement. I am sure our friends were sick of our advocacy for Bernie. We were just so passionate and inspired by his ability to be consistent in his principles and values. He was, and is, a unique person and candidate. My partner supported him until his death a week ago. I feel in my heart that I must carry on what he would have wanted: Support Bernie until the very end.
Patrick Moore
Chattanooga, Tenn.
---
It gave me street cred whenever I traveled out of state and told people where I'm from.
Brian DeLaBruere
Burlington
---
I volunteered for the text messaging team that sent voting reminders and event invitations for the Sanders campaign across the country. I'd never before volunteered for a political campaign, and I've been a voter since Bill Clinton first ran. I loved it. I sent over 25,000 texts, squeezing in volunteering after work or on lunch breaks. Pretty sure that is more people than I have ever actually talked to, or likely will, and it was fantastic. I will miss it.
Daphne Van Schaick
Pawlet
---
Prior to his campaign, my Facebook page was the place I posted gardening tips, environmental news, physics and engineering advances, astronomy pics, and just generally fascinating shit. And then along came Sanders.
My page filled up with stories about Bernie. Lately it's been a stream of keeping the internal fires of hope and belief Berning.
This campaign has changed how I hang out in the world, and for the better. It's been an intense last month, as I find myself punditing with the best of them. While I think I lost — as well as found — some friends in the process, I also gained a LOT of clarity about how I want to spend the next few years of my life with respect to politics — at 58, color me more engaged.
Cynthia Beal
Eugene, Ore.