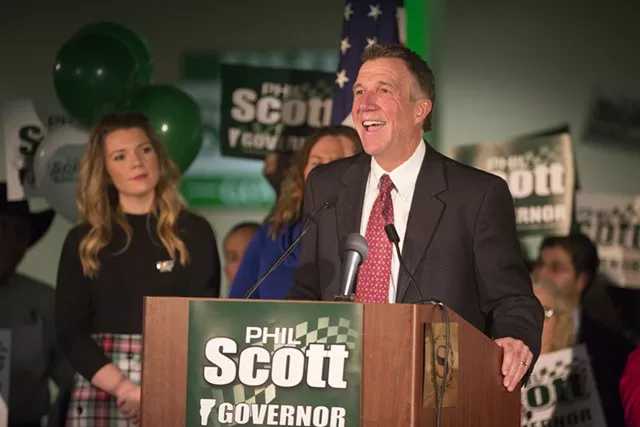 File
Lt. Gov. Phil Scott
Since he joined Vermont's gubernatorial race 11 months ago, Republican Lt. Gov. Phil Scott has tried to talk about nothing other than taxes and spending. But in the crucial final weeks of the contest, he's found himself talking about nothing other than abortion.
"It's just very frustrating to me, to be honest, because I'm pro-choice," Scott said Monday. "I believe in a woman's right to choose."
Not according to the Planned Parenthood Action Fund, whose Vermont super PAC has carpet-bombed the state's airwaves for the past two weeks with damning television advertisements questioning his commitment to abortion rights.
"Phil Scott supported restrictions on a woman's right to choose," says the narrator of one such ad. "And Vermont Right to Life, which opposes all abortion — even for rape and incest — recommended Phil Scott."
The ads, largely financed by $350,000 worth of contributions from the Democratic Governors Association, have worked like a charm. Every time Scott's tried to defend himself, his opponents have hit back harder — sometimes distorting his words and those of his supporters to give the false impression that he's on a crusade against Planned Parenthood.
When Scott referred to the ads as divisive last Tuesday during a WPTZ-TV debate, they assailed him for suggesting that abortion is a "wedge" issue. When he aired a response ad last Thursday featuring a supporter and Planned Parenthood volunteer calling the original ads full of "distortions and lies," they accused him of attacking the organization. And when Scott complained in an interview Monday that, to his critics, he was "just not pro-choice enough," they took him a little more literally than he intended.
"I know that he himself called himself 'not pro-choice enough,'" Democratic opponent Sue Minter said Tuesday. "He has made the decision to attack Planned Parenthood."
Actually, he hasn't. Scott has consistently defended Planned Parenthood ever since he visited one of its Burlington clinics last summer at the height of the national Republican movement to defund the organization.
"They do really good work for a lot of people in need," he told Seven Days in an interview last October.
What Scott has done is respond to hundreds of thousands of dollars worth of super PAC attack ads largely funded by the DGA. The desire to do so is more than understandable — but that doesn't make it a good idea.
For one thing, Scott has allowed the Democratic apparatus to knock him off his own message in the homestretch of the campaign — and goad him into a debate that he simply cannot win. According to the Pew Research Center, 70 percent of Vermonters think abortion should be legal in all or most cases. If those voters are thinking about abortion rights when they cast a ballot — not taxes and spending — they're a lot less likely to back Scott than they would be otherwise.
When the Vermont Democratic Party tried to drag the debate into another news cycle Monday by staging a press conference on the subject at the Vermont Statehouse, Team Scott gave it a big assist: His campaign coordinator, Brittney Wilson, showed up and staged a counter-press conference, virtually ensuring more coverage. Worse yet, Wilson wasn't prepared to answer basic questions about Scott's position, such as whether he would veto bills that curtail abortion rights. She also claimed that her boss "supports a woman's right to choose in every way."
Actually, he doesn't. He has repeatedly said that he supports mandatory parental notification and limits on late-term abortion — restrictions that would prevent some from obtaining the procedure.
Asked whether Scott would renounce the recommendation he received from the Vermont Right to Life Committee, Wilson said he would not.
"He sympathizes with everybody's point of view," she said. "You have an organization that's pro-life. That is not dangerous or harmful in some respect to other people."
Many women would disagree. They see the anti-abortion lobby as a fundamental threat to their right to control their own bodies.
Therein lies the problem. Scott may see himself as pro-choice, but many — including Minter — would disagree with his definition.
"If you're not willing to protect all women and their rights to choose," she said in Tuesday's interview, "you do have a questionable record on choice."
To be sure, it is almost inconceivable that a Scott administration would preside over the curtailment of abortion rights in Vermont. For one thing, the legislature's Democratic majority would never allow it. For another, Scott himself has pledged that he would not pursue any such restrictions as governor.
"It's not something that's on my agenda whatsoever," he said Monday.
But Scott would not go so far as to say that he would veto legislation that would limit late-term abortions or require parental notification.
"I think the likelihood of that happening is very, very slim," he said. "But, to be honest, if it made it to my desk and it had the support of [the Democratic legislature] I could see where I could sign it."
That puts Scott right where the Democrats want him: on the defensive, splitting hairs and leaving just enough room for his opponents to sow fear in the hearts of pro-choice voters.
In a race as close as this one, that might be enough to make the difference.
But perhaps the more significant and lasting question is this: If Planned Parenthood will go to war on the Democratic Party's dime with a candidate willing to meet the organization halfway, why would any Republican bother working with it? And how is that protecting a woman's right to choose?
Ashe in the Plan
As Vermont's gubernatorial contest nears its noisy conclusion, two quieter races are playing out over who will lead the legislature next year — and serve as the new governor's most powerful allies or adversaries.
While the Vermont House and Senate won't formally replace retiring House Speaker Shap Smith (D-Morristown) or Senate President Pro Tempore John Campbell (D-Windsor) until the legislature reconvenes in January, Democrats in both chambers are likely to settle on successors sooner. Senate Dems may do so within two weeks, at a Montpelier caucus tentatively scheduled for November 14. And a clear front-runner has already emerged.
Since the legislature adjourned last May, three potential pro tem candidates have taken their names out of consideration: Sens. Phil Baruth (D-Chittenden), Chris Bray (D-Addison) and Ann Cummings (D-Washington). That leaves just two declared candidates: Sens. Tim Ashe (D/P-Chittenden) and Claire Ayer (D-Addison).
Both have been driving around the state in recent weeks, meeting with colleagues in their home districts and trying to lock up votes.
"I think I've got a good chance to become the next pro tem," said Ayer, a retired nurse from Addison who has served 14 years in the Senate and currently chairs its Health and Welfare Committee. "I'm looking forward to being the first woman pro tem ever."
Ashe, who has worked as an affordable housing developer and currently teaches economics at the Community College of Vermont, was more tight-lipped, saying he was "not interested" in discussing the race before the November 8 election.
"It's presumptuous for me or any other member of the Senate to be making plans for anything until we get reelected," said Ashe, who has spent eight years in the Senate and currently chairs its Finance Committee.
Despite his reticence, Ashe appears to have the job all but locked up. In interviews with 18 of the 19 incumbent Senate Democrats and Progressives who are seeking reelection, nine said they plan to vote for Ashe: Sens. Baruth, Cummings, Jane Kitchel (D-Caledonia), Mark MacDonald (D-Orange), Dick Mazza (D-Grand Isle), Dick Sears (D-Bennington), Michael Sirotkin (D-Chittenden), Anthony Pollina (P/D-Washington) and Ashe himself. A 10th, Sen. John Rodgers (D-Essex/Orleans), said that "unless something dramatic happens" and he decided to enter the race himself, "I'll probably vote for Tim."
Notably, three of the Senate's most powerful players — Kitchel, Mazza and Sears — have all lined up behind Ashe.
"I've just been incredibly impressed with how he thinks, how he approaches issues, how he works with others," Kitchel said.
Only two incumbent Dems, Sen. Jeanette White (D-Windham) and Ayer herself, said they plan to vote for Ayer.
"I think she has a really inclusive style. She's very forthcoming and treats everybody respectfully," White said.
Support for Ayer could certainly grow. Six incumbent Democrats said they remain neutral in the race: Sens. Bray, Becca Balint (D-Windham), Brian Campion (D-Bennington), Ginny Lyons (D-Chittenden), Dick McCormack (D-Windsor) and Alice Nitka (D-Windsor). Sen. Bobby Starr (D-Essex/Orleans) did not return calls seeking comment.
And next week's elections could shake up the pro tem vote count, though not many senators face serious opposition.
Three nonincumbents are considered heavy favorites to win open seats: Rep. Chris Pearson (P-Burlington) and Williston Selectboard member Deb Ingram in Chittenden County and Rep. Alison Clarkson (D-Woodstock) in Windsor County. Pearson says he would support Ashe, while the other two say they are neutral. Two other candidates, Sarah Kittell and Denise Smith, could also win tough races in Franklin County and take back two Republican seats.
If Ashe prevails and Sen. David Zuckerman (P/D-Chittenden) wins his race for lieutenant governor, the Senate would be run for the first time by two pols with Progressive roots. But Ashe's leftie leanings don't seem to trouble Mazza, one of the Senate's most conservative Democrats.
"He certainly has his own political views, but as a chair, wow, everyone is impressed," Mazza said. "I think you're going to see a majority of Republicans support him for pro tem."
Indeed, Sen. Joe Benning (R-Caledonia), the Republican minority leader, says that if there's a contested vote in the Senate come January, even he would back Ashe.
Senate Democrats will also have to appoint a new majority leader. Baruth, who has filled the post for the past four years, informed his colleagues Monday that he would relinquish it.
"It's been an honor to serve the caucus and to have their trust," he says. "But it's probably better that someone else try their hand for a while. That'll allow the new leadership team to start fresh — and on the same page."
In the House, the race for speaker appears far less developed, though Rep. Sarah Copeland Hanzas (D-Bradford), the majority leader, and Rep. Mitzi Johnson (D-South Hero), who chairs the Appropriations Committee, have long been seen as front-runners. Other contenders include Rep. David Sharpe (D-Bristol), who chairs the Education Committee, and Rep. Chip Conquest (D-Newbury).
Still more candidates could emerge. In recent weeks, some members have been talking up Rep. Janet Ancel (D-Calais), who chairs the Ways and Means Committee, though she says she would enter the race only if her caucus fails to "coalesce" around one of the other candidates. Meanwhile, a group of moderate Democrats, independents and Republicans has been exploring the notion of putting forward their own candidate — perhaps Rep. Adam Greshin (I-Warren).
"If Vermonters vote for change at the statewide level and also in their individual legislative races, I think it would be important to give it to them," Greshin said, acknowledging that such a scenario would only work if Republicans and independents make gains in the Democratic chamber. "We'll see if Vermonters are indeed interested in better financial leadership."