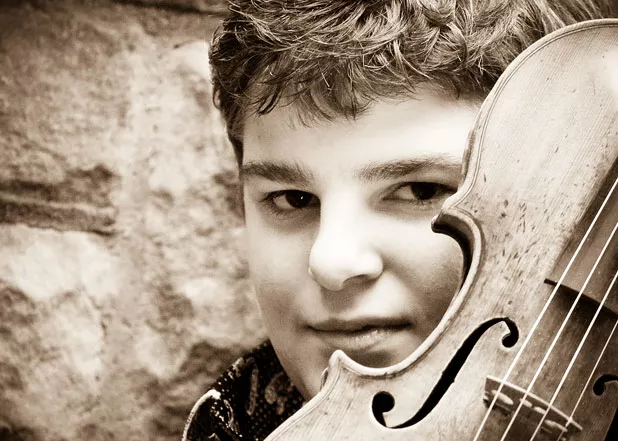 Youth and high-caliber classical music don't often go together — unless you're talking about the Music Festival of the Americas. The annual weekend concert series in Stowe features an orchestra whose members are mostly under the age of 35. Their conductor, 31-year-old Alondra de la Parra, is dedicating this year's festival, the 10th, to "the future of young musicians," and she has brought in two soloists — 16-year-old pianist Jan Lisiecki and 17-year-old violinist Chad Hoopes — with very bright futures, indeed.
It's best to suppress memories of what one was doing at 16 when talking with serious, philosophical Lisiecki, who lives in Alberta, Canada, with his parents. The teenager has performed with orchestras around the world and just signed an exclusive recording agreement with the classical world's biggest label, Deutsche Grammophon. In Stowe, he'll play the piece he will record in January in Munich for his first CD: Mozart's Concerto No. 20 in D Minor.
Lisiecki's playing amazes; watch the Canadian national television documentary made about him when he was 14 (available on YouTube) with chin support at the ready, lest your jaw drop. "An unmannered virtuoso," one critic has called him. Does he pay attention to reviews of his performances?
"Yes and no," Lisiecki answers thoughtfully. "There is no perfection in music; there are always different opinions on how to play things. That's one of the most beautiful things about it," he adds. "You can never get bored."
Lisiecki's parents, both horticulturalists, moved to Canada in 1988 to escape Eastern Bloc Poland. A teacher suggested they start their son on piano. "I wouldn't say they didn't like classical music, but it wasn't their passion," says the pianist. His mother travels with him during international touring trips. (Lisiecki graduated two years early from high school and is headed to the Glenn Gould School of Music in Toronto this fall.) His father joins them for sightseeing or to visit the homeland. As it happens, the three will head to Warsaw after the Stowe concert, where Lisiecki will play in the international music festival called Chopin and His Europe.
Does the talented pianist feel an affinity for that other Polish prodigy, Frederyk? Lisiecki admits he gets the question often in his "many, many" interviews. He demurs: Music itself is "an international language — you can't have any borders in it."
Chad Hoopes' violin playing has also gained him an international performance career and an appearance on CBS' "The Early Show." The Minneapolis native's talent is a little more traceable than Lisiecki's: His parents "love classical music." Early on, Hoopes and his two older sisters, a violist and violinist now studying at Juilliard, formed a trio.
"We started as a hobby, but it kind of grew into something more than that," Hoopes admits with a chuckle. The family moved to Cleveland so that their son, then 12, could study at the Institute of Music. He'll attend the highly selective Curtis Institute of Music in Philadelphia in the fall.
How does one become a virtuoso soloist with both a U.S. and an international agent? Says Hoopes, "Everyone [who studies violin] thinks, 'I want to be like Joshua Bell.' I started getting a glimpse of that possibility when I won the [Yehudi] Menuhin [International Violin] competition [in Wales]" — the top accolade a 13-year-old can attain. "It's exciting when it starts to become a possibility."
As it happens, Hoopes is now represented by the same agency that represents Joshua Bell: IMG Artists. So are Lisiecki and de la Parra — which accounts for their joint appearance in Stowe.
Curtis composition professor David Ludwig, who is also the Vermont Symphony Orchestra's new-music advisor, says it's "not too surprising" for teenagers to have agency representation. "You'll see management for the very young musicians most frequently in violin or piano," he says. "For whatever reason, the [classical music] field can be obsessive about prodigies."
Of the three key players headed to Vermont, only Hoopes and de la Parra have met. Hoopes performed Vivaldi's Four Seasons — the piece he'll play in Stowe — two years ago in California with the Philharmonic Orchestra of the Americas, which de la Parra founded at the age of 23. The POA announced in June that it was suspending its 2011-12 season due to anticipated financial concerns, but the Music Festival of the Americas Orchestra will mostly draw from POA's youthful ranks, which included musicians from 22 countries in both Americas.
Implicit in the planning behind this gathering of top young musicians is the hope that young people will fill the audience. Both Hoopes and Lisiecki regularly give outreach concerts for elementary school students when they travel, and both report inspiring excitement and an endless stream of questions in return. Though Hoopes listens to Lady Gaga and the Black Eyed Peas like most American teens, the violinist says it's a goal to turn young people on to classical music.
Lisiecki agrees that exposure is key. "Some people have a fixed viewpoint on classical music that could change quickly if they just went to a live performance," he suggests.
Reaching young listeners is crucial, Lisiecki adds. "It's our own future audience. It's definitely an investment."