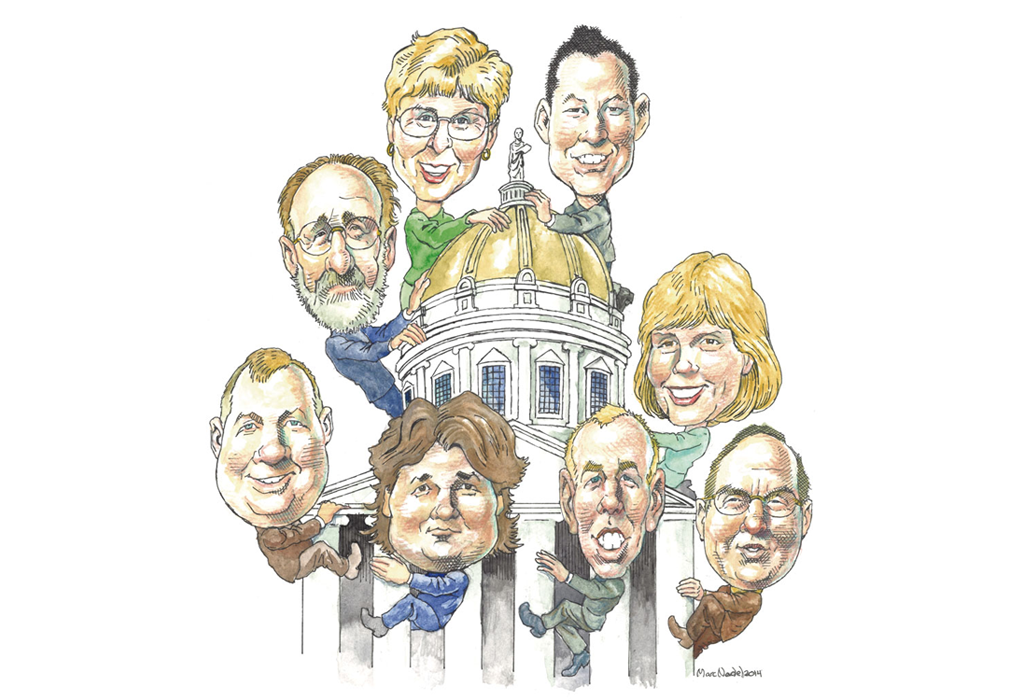 Marc Nadel
Clockwise from top right: Michael Ly (R), Jean O'Sullivan (D), Roy Collette (L), Scot Shumski(R), Loyal Ploof (L), Kurt Wright (R), Bob Hooper (D), Joanna Cole (D)
Conservative politicians are a rare species in the Queen City. Currently, eight of the 10 representatives Burlington sends to Montpelier are Democrats; one is a Progressive. The lone Republican, Kurt Wright, is also the only R on the 14-person Burlington City Council.
But this November, two upstart conservatives are hoping to infiltrate the Democratic stronghold.
Scot Shumski quickly earned the maverick moniker after handily winning a seat on the Burlington School Board last March. When the superintendent failed to give him the line-item budget he requested, Shumski hand-delivered a public-records request to her office — and alerted reporters ahead of time. Now his sights are set on the Statehouse. To get there, Shumski has to unseat Jean O'Sullivan, a Democratic state representative in the Chittenden 6-2 district and a former city councilor.
In the neighboring two-seat Chittenden 6-1 district, Michael Ly, born and raised in Arizona to parents who fled Cambodia, is making his first-ever run for office under the tutelage of Wright, who — like Ly's opponent, Democrat Joanna Cole — is running for reelection. Ly has worked in accounting since age 16. He's trying to convince voters that his fiscal acumen is just what Montpelier needs.
Both districts are in Burlington's New North End neighborhood, which, with its mostly modest homes and quiet cul-de-sacs, has a retro-suburban feel. The Bagel Café & Deli, the neighborhood's main breakfast joint, is a hotbed for hyper-local political debate. Residents say grocery runs to nearby Hannaford inevitably turn into social outings.
"It's kind of like its own little town," observes City Councilor Dave Hartnett, a moderate Democrat who manages a convenience store on North Avenue. Case in point: O'Sullivan, who used to own a discount beverage store in the neighborhood, recalled arguing politics with one of her regular customers — an opinionated young boy named Scot Shumski. (During interviews, both sidestepped questions about the other.)
The New North End remains "mostly blue collar," according to Hartnett, though an increasing number of young families have flocked to the area. Shumski returned to the neighborhood with his wife to raise their three children in 2004; Ly came with his wife and two kids in 2011.
The demographic shift appears to have had a liberalizing effect on the historically conservative enclave. Even though the region has the city's highest concentration of homeowners — and property tax increases hurt — residents with young children tend to support municipal spending on public schools.
Neither Shumski nor Ly is so inclined, and both have found political supporters among New North Enders who are fed up with tax increases. The young Republican candidates suggest the city's "affordability crisis," as they've coined it, is displacing longtime residents; both said they know people who've been priced out of the area.
"I think that without property tax reform, you will continue to see Vermonters forced to leave their homes," said Shumski, 42, who is currently a stay-at-home dad. (He said he's starting a company but couldn't share details because it hasn't been trademarked.)
Campaigning door to door with all three children in tow, the rapid-talking Shumski told potential constituents he doesn't want to "just tweak" the state's education funding formula; he wants wholesale change. Most people nodded and took his brochure without offering an opinion — even when he brought up the topic himself.
In his budding public service career, he seems to relish his reputation as a renegade. "If I had one bumper sticker, it would say 'Question Authority,'" Shumski said, pausing to corral his daughter. (He doesn't credit Socrates for that slogan. Nor does he mention countercultural LSD proponent Timothy Leary, who popularized the expression in the 1960s, before Shumski was born.)
One of two board members to vote against the school budget, Shumski actively campaigned against it. He held a rival press conference before Mayor Miro Weinberger announced his support for the budget, criticizing Weinberger's absentee ballot procedure.
"He is not afraid to be a voice that disagrees with the majority," confirmed Patrick Halladay, the school board chair.
At one point during Shumski's doorstep campaigning, a woman drove by slowly and waved. According to the candidate, she emailed the mayor and other Burlington Democrats before the school board election, urging them to help stop him from realizing grander political ambitions. Shumski dismisses critics like these as "a small minority of extreme radicals."
That group would include some Democrats, such as Burlington City Councilor and O'Sullivan campaign treasurer Tom Ayres. He's voiced concerns about Shumski's conservative ties — to the group American Majority and to Lenore Broughton, a deep-pocketed Burlington donor and friend of Shumski's who gave generously to his school board campaign.
Shumski insisted he's too independent to be influenced by campaign donations, and that Ayres raised the issue in an attempt to discredit his campaign.
Wright agreed. Describing Shumksi as "very articulate" and "an absolutely tenacious campaigner," the Republican rep lamented what he described as an effort to "demonize" Shumski, who, he said, has "become sort of a hero with regard to his efforts on the school board."
Shumski's opponent, Jean O'Sullivan, lives half a mile from Shumski in the house she's occupied for the last 34 years. Drinking a tall mug of coffee at a paper-strewn dining room table, the self-described "genetic Democrat" said she'd been a witness to the influx of new young families, exclaiming, "This whole neighborhood is turning over, which is wonderful!"
What about Shumski's claim that high taxes are forcing people to flee?
"That's an attractive argument at first glance," O'Sullivan said, before countering that there are plenty of other reasons leading older people to move — poor public transportation options, safety concerns about living alone. She noted that residents on fixed incomes are already paying taxes based on income rather than property values.
A single mother of two grown children, O'Sullivan transitioned mid-career from beverage-and-candy-store owner to stockbroker. Gov. Peter Shumlin appointed her to the House in 2011, and she ran unchallenged in 2012.
While Shumski talks a lot about revamping tax systems, creating jobs and fighting the heroin crisis, O'Sullivan's goals are smaller in scope. Her latest project: trying to make it easier for people coming out of prison to find housing and employment. If reelected, she'll make a third attempt to pass legislation that would prevent employers from asking prospective employees on job applications whether they're convicted felons.
A member of the House Committee on General, Housing and Military Affairs, O'Sullivan is probably best known in the Statehouse for successfully promoting a bill requiring the Vermont National Guard to give the legislature an annual report on sexual assaults within its ranks. House Speaker Shap Smith described her as a "pragmatic, progressive-minded Democrat" and said he was "confident" she'd get reelected.
Campaign finance filings show that O'Sullivan has raised $530 (including donations from Gun Sense Vermont and the Marijuana Policy Project) and lent herself $1,350, while Shumski has raised roughly $900, including $500 from what was listed as the "Burlington Vermont Republican City Committee."
Shumski and O'Sullivan have one thing in common: They are natural politicians — voluble, energetic and seemingly at ease going from house to house, asking strangers to vote for them.
Four for Two
Over in the Chittenden 6-1 district, incumbent Joanna Cole isn't so keen on glad-handing. "Running campaigns is gross," she said. "I just want to do the work. I want to make the world better. I don't want to do the political garbage."
The contest for two seats here is more crowded. The Republican duo of Ly and Wright is facing off against Cole; Bob Hooper, a Democrat and former president of the state employees union; and two libertarians: perennial candidate Loyal Ploof and Roy Collette.
Wright met Ly when he was going door to door during the last election and later convinced the young Republican to run. Now they are making the rounds together, with Wright lending his political capital to the first-time politician.
Ly began knocking on doors early — in June — and estimates he's hit nearly 1,500 houses. "At least every other door ... they are excited to see someone who cares about property taxes — a candidate who's going to make that central."
But as the two pols worked Pleasant Avenue, only a few people brought up their property tax burdens. One man who was upset about his suggested the legislature would ignore Ly's financial expertise. "They'll reject that," he said.
On the positive side: A handful of residents were friendly with Wright and, at his suggestion, said they'd vote for Ly, too.
Ly said people still "get a puzzled look" when he tells them he's Republican. "It's possible to be young and bright and Republican," he joked. "It's actually possible."
Ly, 33, is founder and sole employee of Burlington CFO, through which he rents himself out to companies as a chief financial officer. (He won't name any of his clients.) Religion has played a big role in his life. His parents were Buddhist, but he and his mother converted to Christianity, Ly said, in recognition of the religion that helped them restart their lives America. In 2010, the Seattle Times published a story about his efforts to encourage fellow evangelical Christians to reach out to Muslims.
Cole, too, has religious roots. A stay-at-home-mother turned chemistry and biology professor in Pennsylvania, she was planning to become a minister at a United Methodist church but then she "took a same-sex partner, and that kind of killed the idea." Instead she became a Quaker and moved with her partner to Burlington in 2003 to work on a campaign to legalize gay marriage. She's married to the woman for whom she left the ministry.
After running unsuccessfully for state rep twice, Cole won in 2012. A member of the House Committee on Government Operations, she recalled working on a pension forfeiture bill that passed easily in 2013. Cole recounted how naysayers needed to be convinced before the bill came up for a vote. "I just lost so much sleep," she said, bringing a clenched fist to her chest. "They were trying to destroy my baby."
In addition to promoting single-payer health care and energy efficiency, Cole is also calling for changes to the property-tax system. The state should rely more on income taxes rather than property taxes to fund education, she said.
What of Ly's line of argument — that the current cast of lawmakers hasn't done enough to change the way the state funds education?
"Michael Ly is so inexperienced," Cole said, noting the solution is more complex and requires more political buy-in than her young opponent likely realizes. "He has no understanding of really what this is all about."
Hooper was an unexpected addition to the race — supporters wrote him onto the ballot. The retired probation officer for the Vermont Department for Children and Families served two terms on the school board and ran in the primary for the same House seat in 2012. He said he planned to run again, but not this year. His father died recently. Hooper said he won't actively campaign but, with his name recognition, he stands a chance.
If he wins, it won't be because he raised a lot of money; Hooper hasn't even hit the threshold that requires him to report campaign-finance contributions. Cole has about $500 in the form of a loan from her wife. Ly has raised more than $3,600.
Republicans and Democrats agree that both Shumski and Ly face uphill battles.
Don Turner, the House minority leader, said he's thrilled to have two young — and viable — candidates in Burlington, but the party's coffers are pretty depleted. "I think that we will do everything we can to help them. I'm disappointed to say I don't have the resources my opponents on the Democratic side have."
How worried are the incumbents? Cole wasn't about to predict the outcome. "Different people vote for different reasons ... I really wish people voted based on the issues, but I'm afraid that not that many people delve that deeply."
"I'm so Irish. I'm not going to say," said O'Sullivan, knocking on her wooden dining room table. But she did mention that she's "been on the ballot" for various positions over the past 30 years.
The original print version of this article was headlined "Young Republicans Challenge Incumbent Dems in Burlington's New North End"