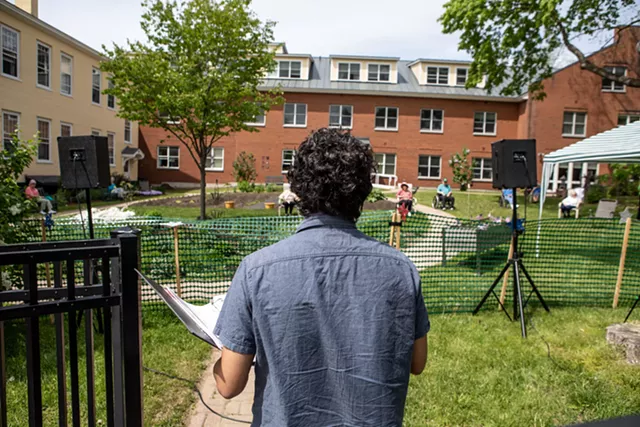 Luke Awtry
Sam Thompson at the Converse Home
Emma Greenwood and Sam Thompson, high school seniors and the star participants in the Youth Opera Workshop of Vermont, were looking forward to multiple solo performances when the coronavirus hit. Each would have starred in his or her school musical; Greenwood had several recitals prepared, and Thompson had just finished learning the male lead in the workshop's spring opera, Dido and Aeneas. Both anticipated more live singing opportunities as voice performance majors at college in the fall.
Now all those plans are canceled or up in the air. So founder and director Sarah Cullins created a substitute performance series: Project Serenade. She helped these fledgling singers gain expertise through the opera workshop, a satellite program of the Middlebury Community Music Center.
The concert initiative brings the two singers to the grounds of eldercare and nursing-home facilities to perform for residents, who look on from a safe distance. Cullins found inspiration in the tradition of the mariachi-band serenade in Colombia — where she lived and performed for a decade and where her husband, Daniel Gaviria, is from.
Many Vermont musicians have been reaching their audiences online these days, but few have ventured back into the world of live performance. One exception is harpist Rebecca Kauffman, who has been giving open-air concerts on the deck of her Burlington condo development.
Cullins envisions Project Serenade as a balm for both the audiences and the singers, she says. Nursing home residents are among the most vulnerable in a pandemic, and therefore the most isolated.
"The [social-distancing] sacrifices we are all making are in huge part in order to protect our seniors, but they may feel forgotten," Cullins says. "I wanted to make sure they knew we are, in fact, thinking of them all the time. And so many haven't been able to see their grandchildren," she adds, so the concerts help bridge a "generational gap."
Meanwhile, singers without performances to work toward tend to fall into an "emotional hole," Cullins observes.
Of the switch to virtual lessons after the pandemic took hold, soprano Greenwood recalls, "That was one of the hardest things — to continue to have lessons and learn new content but wonder, Why am I doing this when there's so much bad [stuff] going on and I don't know when I'll be able to perform again?"
The first serenade, on May 17 at Cathedral Square Senior Living in Burlington, changed all that. Thompson and his father set up a sound system in the parking lot, and the two singers took turns performing favorites such as the 18th-century Italian aria "Caro mio ben" and the Frank Sinatra version of "Moonlight in Vermont" into a microphone. Residents and caregivers sat outside the entrance or listened at windows.
Thompson, a tenor, says the singers chose their own songs. "You really can sing just about whatever you like," he notes. "[The residents] really enjoy people taking time out of their lives to do something for them, whatever it is. I really enjoy it, too."
"I had people shouting down from windows and saying, 'That was great!' and 'Thank you for coming,'" Greenwood says. Some called out requests, and the singers found themselves doing spontaneous encores until they ran out of repertoire. "I definitely rode that happiness for a week," she adds.
It will be a while before that performance high is a regular aspect of the singers' lives. Live classical and choral singing is uniquely unsuited to a pre-vaccine pandemic world. Singers are trained to project their voices, which are laden with droplets.
"A lot of experts are saying they don't see concerts happening for at least a year, because singers project their germs up to 16 feet," Greenwood says.
And, as with most arts, virtual singing is just not the same.
"All the technical tools we have are amazing," Cullins comments, "but singing into your phone is a very different experience than singing outdoors and watching someone wave down to you from a fifth-story window. Nothing can replace being live."
Cullins says she hopes to schedule as many concerts at facilities as possible. Last weekend, the duo performed briefly at the Converse Home in Burlington; another concert is planned for Mayo Healthcare in Northfield. She is open to requests.
"I'm hoping other musicians are inspired by this idea," Cullins says. "A snowball effect would be great."