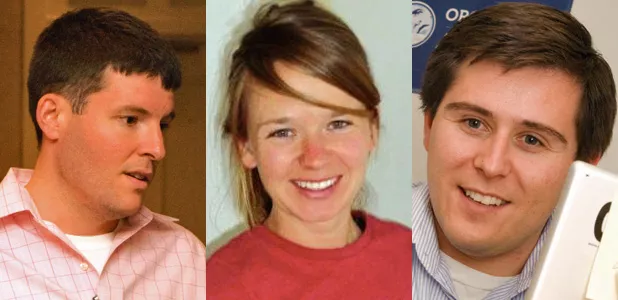 Left to right: Corry Bliss, Alexandra MacLean, Paul Tencher
In this year's bare-knuckled governor's race, Democrat Peter Shumlin and Republican Brian Dubie have grabbed the headlines for the barbs they've hurled in debates and on the stump.
But behind the scenes, three up-and-coming political operatives — one local, two hired from out of state — are supplying the candidates with ammo. These young guns often fire the shots so the candidates don't have to.
Shumlin's campaign manager is 28-year-old Alexandra MacLean, who was his Senate aide at the Statehouse. Raised in Peacham in the Northeast Kingdom, MacLean helped Shumlin win a razor-thin victory in the five-way Democratic primary. Now she's trying to counter the Dubie campaign's barrage of negative ads without making her boss look like he's the one going negative.
"Peter hired a native Vermonter and that's reflective of the way we're running our campaign," MacLean says.
Dubie found his campaign manager, Corry Bliss of Virginia, through the Republican Governors Association. Bliss managed Republican Congresswoman Thelma Drake's unsuccessful re-election bid in 2008. He's kept Shumlin on the defensive with a daily drumbeat of ads and press releases that call the candidate "unethical" and suggest he'd release "hundreds of criminals" from prison to save money.
A second young Democratic operative, Rhode Island native Paul Tencher, 30, has emerged as a political fighter, too. He was picked to run the Democratic Party's Coordinated Campaign after managing Deb Markowitz to a third-place finish in the Democratic gubernatorial primary. Tencher doesn't work for the Shumlin campaign; he's tasked with supporting all Democratic candidates. But he's become a prominent player in the governor's race.
Some pundits are blaming out-of-state political operatives such as Bliss and Tencher for the negative tone of the governor's race.
"They're hit and run," says Garrison Nelson, a University of Vermont political science professor. "The day after the election, they're packed up and out the door. So they don't care what they leave in their wake."
Nelson himself was unwittingly dragged into the fray this summer during the primary campaign. During an interview with Fox 44 News, Nelson suggested Markowitz's campaign had "flatlined." After the story aired at 10 p.m., Tencher emailed station news manager Lesley Engle and told her Nelson had donated to Shumlin's campaign. Unable to confirm the claim, the morning news director yanked the story from the next day's broadcast.
Afterward, Engle says she checked Tencher's claim against state records and found it to be false. Tencher now admits he had no proof of a donation by Nelson when he wrote the station, but "overheard" others suggesting he had. Nelson was "infuriated" about the incident.
"This was an effort to kill the clip, which to me indicates a kind of incivility of the game," Nelson says.
For his part, Tencher rejects being characterized as a political hit man and bristles at being compared to Bliss — a parallel drawn in a recent WCAX story. To Tencher, the two practice completely different types of politics.
"I'm tough and want to win but I did not go to Karl Rove academy," Tencher says. "I have never sunk as low as these operatives that come from a very different school of politics."
Tencher cut his teeth running congressional campaigns for Democrats in the battleground states of Missouri and Ohio. He heeded the advice of Democratic strategist James Carville, who Tencher says once told him during a phone chat to "sleep on some old lady's couch" — meaning, work on a congressional campaign and, at some point, you'll be sleeping on a stranger's sofa while volunteering.
After a stint on Capitol Hill, he connected with Markowitz through EMILY's List, the national group that supports female candidates and endorsed the secretary of state in the gubernatorial primary.
Now he's working closely with MacLean, a savvy political player who's become well known under the golden dome in Montpelier. After graduating from University of Edinburgh with a degree in history, she returned home to intern for Vermont Natural Resources Council, fighting Wal-Mart's attempts to open a store in St. Albans.
MacLean worked on Democrat Scudder Parker's losing campaign for governor in 2006 and later worked as legislative aide to Democratic House Speaker Gaye Symington. She agreed to work as Shumlin's Senate aide in 2008 because she respected his willingness to take politically unpopular stands, she says.
MacLean isn't an out-of-stater, but she is running Shumlin's campaign, which just released an ad casting Dubie as Pinocchio, his nose growing each time a "misstatement" he's made flashes across the screen. For instance, Dubie claimed IBM would leave the state if Vermont Yankee closed, a claim the company denies.
MacLean defends the Pinocchio ad, saying it's not a character attack of the type she accuses Dubie of hurling.
"We are just attempting to make a clear contrast based on the issues," she says. "Just because I'm from here doesn't mean I'm scared to call out Brian Dubie for making misstatements and spreading mistruths."
Bliss, a 2006 graduate of CUNY School of Law, did not return several calls from Seven Days for this story. He and Dubie connected via the Republican Governors Association, which has funded anti-Shumlin television ads.
Under Bliss' direction, Dubie's campaign has continued to run television commercials claiming Shumlin's plan to transition nonviolent offenders from prison would release "child pornographers," even though numerous media outlets have revealed that state law classifies child pornography-related crimes as "violent." A staff attorney for the Senate Judiciary Committee has confirmed that, under state law, anyone found guilty of possessing child porn is considered "violent" and not eligible for early release.
But Bliss has stood by his boss's claims. "It's my contention that child pornography is not a violent crime based on a literal reading of the statute," Bliss told the Bennington Banner on September 24.
For Bliss, it's familiar territory. News accounts of his last campaign in Virginia reveal his candidate, U.S. Rep. Thelma Drake, was dishing out personal attacks and taking them.
According to articles in the Virginian-Pilot newspaper, Drake accused her opponent, Glenn Nye, of breaking the law by taking a deduction on a house he owns in Washington, D.C. — a charge that turned out to be false. When Virginia Democrats slammed Drake for turning a profit on three properties she bought in foreclosure, Drake's campaign called the attacks "desperate."
"Glenn Nye is reaching ever deeper into the political mud," Bliss told The Hill newspaper in October 2008. "He has no positive agenda and is now resorting to outrageous falsehoods and smear tactics."
Negative campaigning isn't new to Vermont, but the new crop of operatives is cranking it up a notch. Amy Shollenberger, who managed state Sen. Doug Racine's campaign for governor this year, recalls that Racine was the target of negative television ads in the 2002 governor's race when Jim Douglas accused him of flip-flopping on votes.
"The new element is, now they're attacking character," says Shollenberger, 39. "Rather than pointing to voting records or policy positions, they are questioning each other's judgment and integrity."