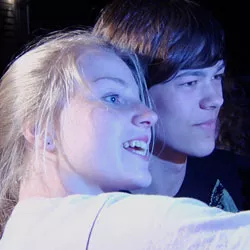 "Almost every movie I see that's about high school feels like high school in the '80s," says local filmmaker Graham Raubvogel. A 17-year-old senior at Burlington High School, he knows how far off the stylized Hollywood vision is. In two new short films — one a documentary, one fiction — Raubvogel takes us into the corridors of BHS for a student-level view.
Young filmmakers are common these days, but ones with Raubvogel's track record aren't. He started wielding a camera at age 8 and won first prize at the Santa Monica Teen Film Festival at 14. Last year, his documentary "God Hates...," about the Westboro Baptist Church's notorious visit to Vermont, was an official selection at the Frameline International LGBT Film Festival. Raubvogel's latest narrative short, "It's Time to Wake Up," won him a Merit Award from the National Foundation for Advancement in the Arts. And he spent last summer interning at Blue Collar Productions in L.A., where he helped edit movie trailers and got behind-the-scenes footage on sets.
Back home for his last year at BHS, Raubvogel created what he calls "two movies about the high school experience from an emotional perspective." He made the documentary "I Dwell in Possibility" for the Burlington School District, which recently received a $200,000 planning grant from the Nellie Mae Education Foundation to design new, "student-centered" approaches to education.
To that end, Raubvogel interviewed teachers and fellow students — including several new Americans — about where education is going and should go. Then he used computer graphics to place some of his interviewees against animated backgrounds that shift as they talk, reflecting their evolving visions.
Why not focus on new educational tools that already exist? "Technology moves so fast, I think it's very nearsighted to show a smartboard in action, or something like that," Raubvogel says. "I wanted a more farsighted look ... a sketch style of what the classroom of the future could look like. Like dreams, almost."
Dreams are at the forefront of his other short film, "It's Time to Wake Up," which Raubvogel bills as "Gatsby meets the Y generation." Here he uses editing and mood lighting to tell the fragmented story — half fantasy, half reality — of a boy who dreams of the girl he lost against the background of a status-obsessed world. Vacant Lots drummer Brian MacFadyen plays the Gatsby figure; Brooke Burrington is his Daisy.
When he read The Great Gatsby in class, says Raubvogel, he started seeing parallels between Fitzgerald's "lost generation" and his own: "A lot of people are dispassionate and not so driven in one direction," he says. "A lot of people are heading off to college feeling lost."
How does Raubvogel get his effects on what he says are practically nonexistent budgets? "VCAM [Vermont Community Access Media] is awesome," he says. "I never have to pay for equipment. It's great to just utilize resources in my community."
VCAM production manager Bill Simmon, a fellow filmmaker who's worked with Raubvogel since the latter was in middle school, offers high praise. "I've taught filmmaking at [the Community College of Vermont] and Burlington College and, out of the gate, Graham was ahead of most of my college students," he writes in an email.
Raubvogel says he knows fellow young filmmakers who are already "fretting" about film school, but he's not among them. He's applied to five colleges and wants a rounded education, he says, that would involve design, architecture and another of his passions, Chinese language and culture. "The bottom line is," he says, "I love making movies. I just want to keep making movies and see where that takes me."