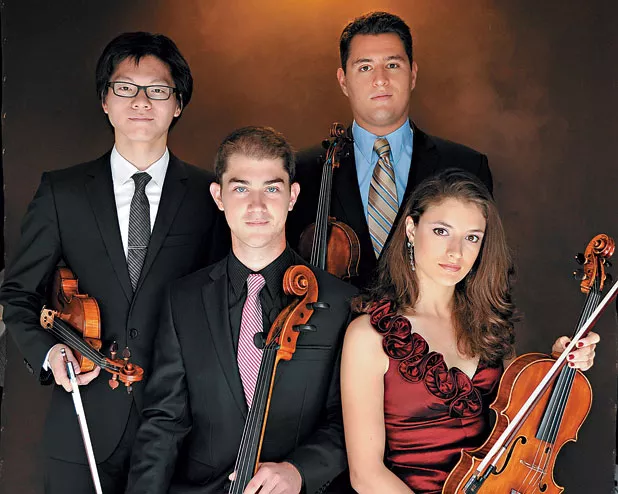 The Curtis Institute of Music in Philadelphia, the nation's most selective conservatory, turns out more solo and orchestra string players than string quartets. But when the latter emerge, they tend to develop formidable reputations. Two examples come to mind: the long-admired Guarneri Quartet (now disbanded) and the Borromeo Quartet, both made up of musicians who trained together at the institute.
Heading to Burlington this Friday is the newest such group: the Dover Quartet, a foursome of Curtis graduates, all in their mid-twenties, who formed the group in 2008 while still students. Two facts speak to the level of excellence this young quartet has already attained. Curtis named Dover its very first quartet-in-residence in its 89-year history. And the group recently won one of the most significant string-quartet competitions in the world, the Banff International — taking not just the top prize but all three of its special prizes for the best performances of Haydn, Schubert and a newly commissioned Canadian work.
Dover was particularly hailed for their competition performance of Beethoven's eighth quartet, which the Calgary Herald called "unforgettably professional." In Burlington, the foursome will play an all-Beethoven program as part of Mel Kaplan's Beethoven Cycle. Dover are the fourth of the cycle's six visiting professional quartets, which will collectively play all 16 Beethoven string quartets in concerts spanning two years.
Dover are presenting the German classical-romantic composer's third, ninth and 16th quartets. The first and last of those are "brand new for us," says violist Milena Pajaro-van de Stadt, who forms Dover with violinists Joel Link and Bryan Lee and cellist Camden Shaw. But the musician, who spoke by phone from Philadelphia just before her daily rehearsal with her quartet colleagues, is not worried. "It's the greatest music ever written, so it's hard to go wrong with that," she says.
That sense of confidence also characterizes Pajaro-van de Stadt's musical background. She didn't always play viola. When she was 5, her physician-father tried to teach her piano.
"I was stubborn," Pajaro-van de Stadt recalls. "I wanted to play an instrument he couldn't play." She chose violin, which she played along with piano until her senior year of high school.
During that year Pajaro-van de Stadt added viola for fun, and by year's end she was enjoying her alternative instrument so much that, while intending to apply to conservatories such as Juilliard as a violin player, she auditioned as a viola player at Curtis. She got in. "You feel beyond lucky to be accepted [there]," she notes.
By her third year at Curtis, Pajaro-van de Stadt, Link, Lee and Shaw had become "really serious" about continuing their quartet professionally. "We had to have the relationship talk," Pajaro-van de Stadt says with a laugh. "We made a commitment to each other, kind of like a marriage," in which all members agreed to prioritize the quartet in their musical lives. By the violist's fourth year, the quartet had taken first prize at the Fischoff National Chamber Music Association Competition.
Burlington-area audiences may remember Dover from their appearance two years ago at the winter encore of the Lake Champlain Chamber Music Festival (founded by another Curtis grad, Soovin Kim). During that visit, the quartet signed on to be represented by Melvin Kaplan, Inc., the Burlington-based agency run by the founder of the former Vermont Mozart Festival and of its replacement, the Vermont Summer Music Festival.
"It's unusual for us to take on a quartet that young," says John Zion, Dover's booking agent at Kaplan, who first saw the group a month before its LCCMF appearance at a string-quartet showcase at the Manhattan School of Music. "But it was immediately clear that the Dover was something very special, playing on a much higher level," he recalls, than the handful of other quartets at the showcase.
Zion notes another standout quality that will likely make for an excellent concert this Friday. "I heard them play a Bartók quartet, a work that is not particularly easy for audiences to comprehend and enjoy," he says. "But they were able to make the music understandable, and play with conviction."
Dover Quartet play Beethoven on Friday, October 4, 7:30 p.m., at the College Street Congregational Church in Burlington. $35. Preconcert lecture at 7 p.m. vermontsummermusicfestival.com