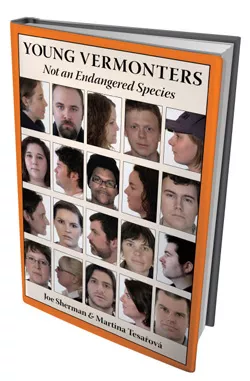 Every few years, our state's leaders get all het up about Vermont's shifting demographics — specifically, the exodus of young people. But are young Vermonters really an "endangered species"?
That's what Montgomery writer Joe Sherman sought to find out by interviewing 20 Vermonters ages 21 to 38. His subjects range from Barre tattoo artist Lila Rees to rock star Grace Potter, from "a bartender to a trial lawyer, a special-ed teacher to the granddaughter of an Abenaki chief," he writes on his website. He's just published the interviews — along with photographs by Martina Tesarová — in a book, Young Vermonters: Not an Endangered Species. Sherman has authored nonfiction books such as In the Rings of Saturn (Oxford University Press) and Gasp! The Swift and Terrible Beauty of Air (Shoemaker & Hoard); he's putting this one out through his own Black Falls Press.
Besides inquiring into his subjects' lives and livelihoods and what keeps them here, Sherman asks them "classic Vermont" questions — have they milked a cow? Tapped a tree? Canned food for the winter?
And he gets some candid, un-PC assessments of the state — from 30-year-old Rees, for instance, who laments the lack of a non-"hippie-dippy" market in downtown Barre, where she works. "There's no jobs around here!" she says. "People don't have any extra money" for expensive groceries.
Or Davon Martin, a 25-year-old Burlington construction worker who says that, as a 6-foot-4 African American, he can sometimes see people getting nervous when they pass him on the street. "The problem is, nobody wants to talk about the issue," he says.
As for Potter, she seems to have the "making a living" part figured out. But can she can? Pick up the book and find out.