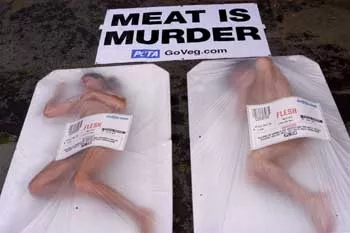 Vegetarian or meat lover, the animal-rights organization People for the Ethical Treatment of Animals (PETA) knows how to get your attention. Last week, two PETA activists lay on large trays wrapped only in cellophane on the corner of Pearl and Church Street Burlington.
The bare-all duo wasn't trying to catch some rays on the sidewalk; they were mimicking packages of meat in this pro-vegetarian demonstration. Campaign coordinator Chris Link passed out pamphlets with information about animal treatment in slaughterhouses.
The aim of the demonstration -- one of several Link is staging up and down the East Coast -- is to point out that all animals are made of the same flesh and bones and have the same feelings as human beings, and that eating meat is like eating a corpse. "Meat package" Amy Jannette, 19, and her companion looked uncomfortable on their small trays -- emphasizing the discomfort of animals crammed into crowded cages before they are slaughtered and sold at grocery stores.
The packages were labeled with oversized price stickers reading "FLESH: Billions of animals are abused and violently killed because you eat meat. Get help!" Jannette stressed that people need to "really think about what 'meat' is," and that vegetarianism is a healthier choice for both animals and people.
The demonstration drew mixed reactions. One local vegetarian, on a break from work, volunteered by holding a sign that read "MEAT IS MURDER." But not everyone was convinced. A car full of teenaged boys slowed down, and its passengers screamed "Cheeseburger!" out the windows.