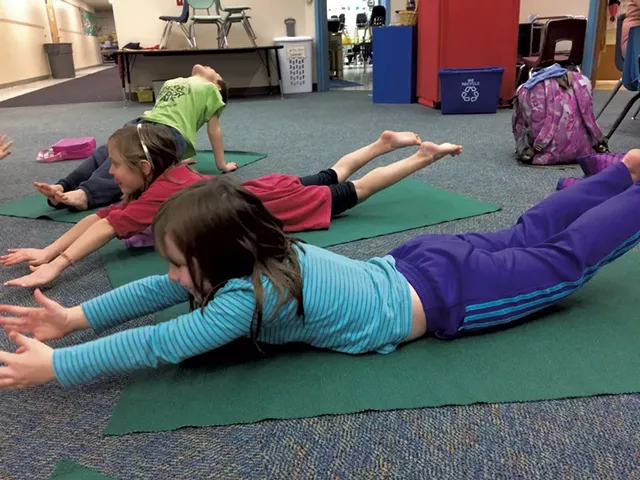 Benefits:
Strengthens core and back muscles
Lengthens spine and opens heart
Strengthens legs, arms and buttocks
Promotes relaxation
Massages abdominals to possibly improve digestion
Steps:
Lie down on your belly.
Rest your arms out in front of you, palms facing each other.
Breathe in and lift your legs and arms.
Take a couple of breaths in the pose.
Relax arms and legs as you exhale.
Try different arm positions: arms out in front of your body, hands linked behind your back, or arms out to the sides like you're flying. Have Fun!
Lie down on a folded blanket and pull yourself across a slippery floor or have a friend or parent pull you around on a blanket or bolster! Imagine you are in the Olympics and race down the icy track.
Pose description courtesy of Susan Cline Lucey, owner of Evolution Prenatal & Family Yoga Center in Burlington and Essex. For more information about kids and family yoga classes, visit evolutionprenatalandfamily.com.