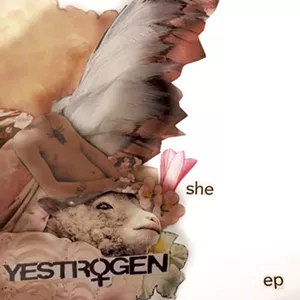 (self-released, CD, digital)
We hear the word "revolution" on the reg in President Donald Trump's America. Whether referring to blue waves or rainbow waves or any number of impassioned sociopolitical causes, the word rumbles with urgency and righteous indignation. So when a band uses the word "revolution" to describe itself, listeners can't be blamed for expecting something, well, revolutionary. And delivering a self-mandated musical insurgence is tough to do! It's surprising that so many entities — whether bands or razor-blade companies — welcome the excess pressure of having to live up to seditious marketing.
While Montpelier four-piece rock band Yestrogen do refer to themselves as a "sweetheart surf-pop-rock revolution" on Bandcamp, their debut EP, SHE/EP, isn't likely to incite a political uprising. That's because its themes dwell not on revolt but on something much more familiar: love.
SHE/EP's nostalgic tunes find endearing ways of communicating the intimate subtleties of romance, heartbreak and self-actualization. The group's jangly songs are blithe and breezy, combining the structural simplicity of rock's 20th-century heyday with a contemporary lyrical bent.
In the first moments of opening track "Lemon," vocalists/instrumentalists Julia Kate Davis, Clairebot9000 and Christine Lxr braid hushed, languid harmonies over equally tranquil guitars. But the malt-shop daze quickly dissipates as the song jackknifes into a hard-edged garage-rock zinger fit with a clever limerick rhyme scheme.
"Someone Else" pairs whimsical beach vibes with crushing lyrical despair. Drummer Django Koenig's hip-shaking, sunshiny beats and Davis' buoyant delivery create a refreshingly contradictory combination as she sings brokenhearted verses such as, "I've been tryna hide myself for days / Waiting for someone to tell me who to be" and "I've been spending all my time at home / Waiting for somebody to call me."
Calling on spoken-word intros of classics such as the Contours' "Do You Love Me" and the Shangri-Las' "Leader of the Pack," "Cigarette" opens with inner-monologue musings before sliding into a chiffon-and-tulle junior prom slow dance. Utilizing the "magic changes" chord progression — the one lampooned/celebrated in '50s nostalgia musical Grease — the song draws a parallel between two different kinds of addiction: chemical and emotional.
On closer "Overdrive," haunting surf chords slowly unfurl after a sustained, three-part harmonization of the words "my pussy." The song quickly reveals itself as a barbed surf banger. Its remaining, repeated lyrics ("Ride or die / Baby, I would rather drive") hint at the jubilation of personal pleasure.
Yestrogen's debut does many things well, especially lyrically. Despite its misleading branding, the Montpelier outfit reminds us that love makes the world go round. And maybe that is a revolutionary idea after all.
SHE/EP is available at yestrogen.bandcamp.com. Yestrogen perform on Friday, January 25, at Mingle Nightclub in Barre.