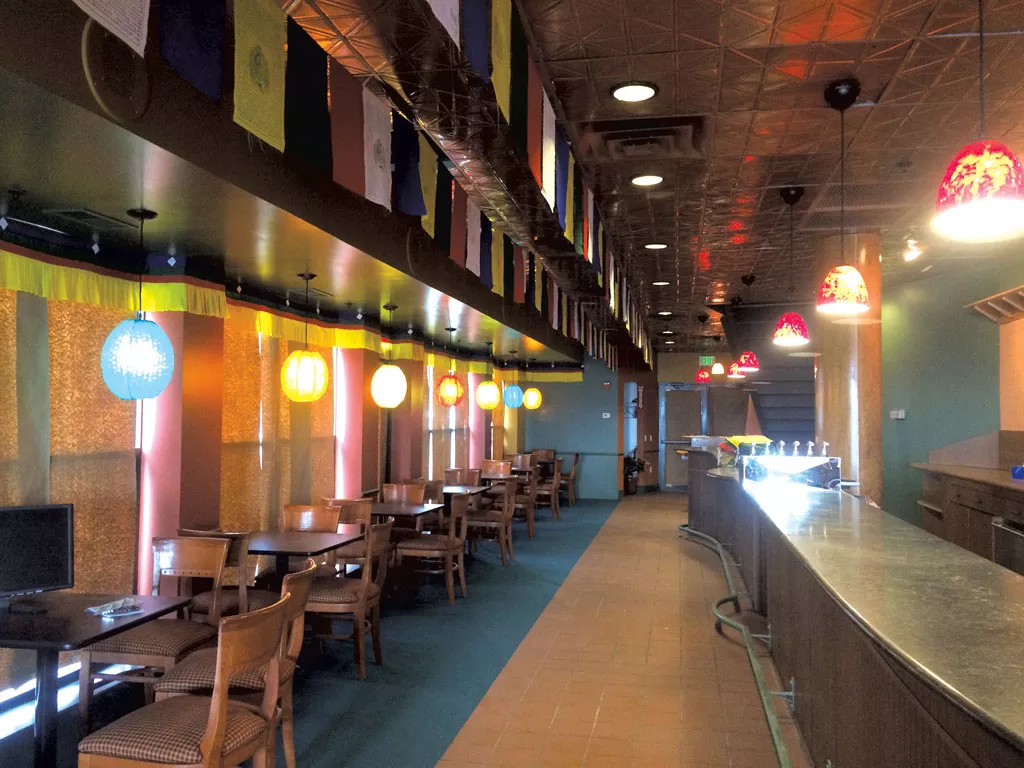 Alice Levitt
Yangser Dorjee's Himalayan Resturant
On the astrologically auspicious day of May 11, Tenzin and Yangchen Dorjee will begin the soft opening of Yangser Dorjee's Himalaya Restaurant, a sequel to their popular Plattsburgh Himalaya Restaurant, at 3 Main Street in Burlington, former home of Madera's Restaurante Mexicano. After a 9 a.m. blessing ceremony, the restaurant will open for lunch at 11 a.m.
Yangser is a combination of the Dorjee children's first names and in "a very crude kind of direct translation" means "golden luck," says Tenzin. But the Dorjees don't need the help of serendipity. They have a proven formula. The sprawling 90-seat restaurant, with room for an additional 60 diners on the lake-view patio, will begin its life serving the same menu as its Plattsburgh counterpart.
That menu devotes a page each to cuisines from Bhutan, Tibet and Nepal. Tenzin's goal is to keep his service intimate so diners unfamiliar with the cuisines can learn more about them. They'll use that knowledge to choose among dishes such as Tibetan soup with hand-cut noodles; one of the spicy Bhutanese stews served with butter tea; and delicately spiced Nepali salmon.
Yangser Dorjee joins four other Himalayan eateries in the Queen City, including the brand-new Dharshan Namaste Asian Deli on North Avenue. But Tenzin says he's certain most of the dishes prepared by his cousin, chef Nima Wangchuk, have never been tasted in Burlington before. In four to six weeks, Wangchuk will add lunch specials to his offerings. Up to four daily options will alternate between Himalayan countries, Tenzin says. Some lunch menus will focus on a fourth cuisine: Indian food, including Bengali-style fish and the fare of the mountainous Ladakh region.
Eventually, traditional brunch will replace weekend lunch service. "On most weekends we don't eat lunch, we have brunch," Tenzin explains. But that meal is "not your regular greasy brunch. It's like breakfast-cum-lunch because it's kind of heavy." Dishes may include traditional breads and egg scrambles filled with vegetables such as chickpeas and potatoes. "We'll also try to introduce the monastic side of things, which is pure vegetarian," Tenzin adds.
Whether guests come to Yangser Dorjee for brunch, lunch or dinner, they can be assured they're eating local or organic food or both. The restaurant just got its first delivery of a whole grass-fed cow from Bridport's Champlain Valley Alpacas, to be used in momos. The Dorjees have a history of working with farmers, and the new Burlington location will give them even more Vermont sourcing options, creating a one-of-a-kind fusion of local food and faraway tastes.