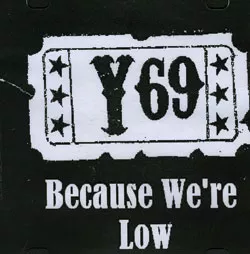 (Self-released, CD)
Because We're Low, from Burlington punkers Y69, is humbly presented as a burned CD. Handwritten, two-tone album art and credits — band members Glenn, Greg and Chris are listed by first name only — contribute to the sense of informality. Though initially underwhelming, the bare-bones aesthetic suits the music, which similarly eschews any over-thinking.
Y69 have assembled a collection of stark, earnestly delivered punk-rock anthems. And make no mistake, every song is a would-be anthem. Save for a hidden track — which we'll get to — the 18-minute disc is full of urgent, desperate verses and triumphant sing-along choruses. In fact, by album's end, I'm convinced there isn't a sentiment in the world Y69 can't express as an anthemic sing-along.
The album opens with "Way To Long" [sic], in which the singer — either Glenn or Chris — laments he's been thinking about an ex-lover for, well, way too long. Typo aside, the message of moving on from emotional stagnation is a universal musical concern.
The next song, "Get the Fuck Out," offers a similar theme of escape. This time, though, we're not dealing with stifled romance. "I'm not righteous, that you can believe," the singer admits, before adding, "You've got to leave right. You've got to leave right now."
The title song follows. Featuring a frenzied, shuffling beat, it is unique to the set. However, anyone unsettled by the departure from the disc's established sound need only wait for the chorus: a familiar anthemic sing-along.
The album's low point, "Whiskey Won't Do," is awkward, to say the least. Where other songs deal with relatable states of angst, despair and indignant anger, here we have the refrain: "Shot of fucking whiskey, that won't fucking do / shot of fucking whiskey, I want to fucking screw / shot of fucking whiskey, leave that shit for me / shot of fucking whiskey, get down on your knees." So, will whiskey, in fact, do? I'm confused.
The album's epilogue is a recording of a prank phone call. The victim is a woman, initially disbelieving and annoyed as the perpetrators — presumably Y69 — repeatedly ask where she is. When she finally admits, "Winooski," everybody laughs. Perhaps not the best way to end an album, it illustrates that the band could benefit from growth in a broader sense.
Because We're Low's most endearing qualities are its more introspective moments, delivered with apparent sincerity. Brimming with nascent potential, Y69 seem to enjoy being unapologetic and crass about who they are. But the tedious repetitiveness of their songwriting leads one to question just how much the band actually has to say.