Francine Bahati walked briskly toward the front doors of the YMCA in Winooski last Wednesday around 5:30 p.m., athletic bag in hand. The smile on her young face faded when she was asked about the pending closure of the gym at the O'Brien Community Center.
"It makes no sense," said Bahati, an after-school care provider at nearby St. Francis Xavier School. Born in Tanzania, she came to the U.S. with her Burundian family in 2004 when she was 6.
She's fully embraced American gym culture and now walks from her Winooski home to the Y facility once, sometimes twice, a day for Zumba class, weight lifting or treadmill sessions. Her scholarship membership rate of $15 per month also gets her into the Burlington Y facility, but Bahati doesn't have a car, and riding the bus to and from Burlington takes longer than her workout, she said. It just isn't practical for her, and she worries about having to give up a healthy activity and the camaraderie she's developed with other regulars.
After hearing of plans to close the facility on June 30, "I cried for a minute," she said. "If the Y doesn't work, we want a new gym." Currently, there's no other comparable public fitness center in Winooski.
Also disappointed: Jerry and Todd Eaton, who had just finished their respective workouts. The two brothers have developmental disabilities and visit the Winooski Y regularly with an aide from the nonprofit Howard Center. They get in free under their care plan and get the same deal at the Burlington Y. But that branch is busier, and parking is more difficult for the people who drive them, the brothers said. They don't want the Winooski Y to close.
"I hope they figure something out," said Jerry Eaton, who lives in Burlington. "It's not fair."
That sentiment has made its way to the other side of the river, to no avail. Leaders of the Greater Burlington YMCA say they're pulling the plug on the satellite operation because it is draining resources at a time when the nonprofit can least afford it.
The Burlington Y is feeling the burn trying to meet a $22 million fundraising goal for a brand-new building up the block from its current downtown home at 266 College Street. It couldn't continue to pay rent on the 8,300-square-foot space in Winooski, which this fiscal year amounts to $126,450.
With staffing factored in, it costs $300,000 per year to run the Winooski facility. Revenues do not cover that sum, even with 481 members. Theoretically, if each of them paid $625 a year, the Winooski Y would break even.
But they don't. Some, like Doug Brassard, happily fork over the full adult rate of about $46 per month. The Colchester-based salesman appreciates the Y's staff and its bright, airy space, where he can almost always get on an exercise machine. He also likes the fact that the people hefting barbells and doing squats might speak Tibetan, Arabic or French. Though small, Winooski is home to a broad range of people, including New Americans from around the globe. The city has a nonwhite population of about 18 percent — compared to a 5.2 percent average in Vermont, according to U.S. Census Bureau data.
Brassard drives to his workout, but he's noticed many regulars don't have cars. "I see a lot of foot traffic. A lot of local people walk here ... So the question is, where do they go?" Brassard asked.
Many Winooski Y members receive scholarships based on income, which helps poor families but makes it harder for the facility to operate profitably. It doesn't offer the after-school care, preschool or swim lessons that help shore up the bottom line at the Burlington facility. Losses in Winooski totaled $42,000 in 2016 and have averaged about $50,000 in each of the past five years.
"It was 10 years of operations and 10 years of losses," Greater Burlington YMCA CEO and president Kyle Dodson said of the Winooski Y. "It imperiled the rest of the operation." The umbrella organization employs approximately 300 people, including 105 full-time workers, to serve 4,000 members, plus 3,000 children in preschool, after-school and summer camp programs.
Despite the bad news out of the Onion City, Dodson was upbeat about the Queen City Y's current building campaign, which supports plans to break ground in June 2018. The Y is about $16 million of the way toward its $22 million target. That tally includes at least $5 million that was raised during earlier discussions about a new facility going back to 2010. The pot of cash included a hefty donation from local philanthropist Tony Pomerleau, which gave him naming rights on the current building.
The new Y, purchased for $2.5 million in 2015, will also bear the Pomerleau brand.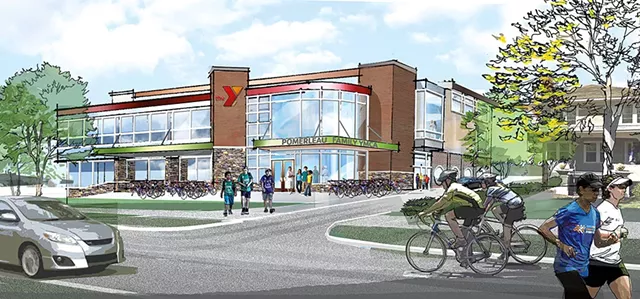 courtesy of greater burlington YMCA
Burlington YMCA lobby exterior rendering
Last year a $1 million challenge grant from Bob Stiller,* founder of Green Mountain Coffee Company, and his wife, Christine, helped generate an additional $3 million in donations — building momentum for the campaign. Also last year, local developer Frank von Turkovich signed an agreement to purchase the current Y building.
The exact purchase price is not public record until the transaction closes, which is anticipated in 2018. But it's a significant chunk of money. Y leaders will say that the sale of the building and certain tax credits are expected to generate $7 million, according to Dodson.
Officials envision building a 60,000-square-foot, two-story structure — 10,000 square feet larger than the current Y. The facility would include a child development wing, allowing the Y to add 50 new slots to its popular infant and toddler programs. Preliminary designs show a large lobby with lots of glass and a view down to a new lap pool. There would also be a second, warmer "program" pool, new gym spaces and about 50 parking spots.
The Y still has to raise about $6 million* more to make its vision a reality. Another challenge is maintaining the current facility while plans for the new one take shape at 298 College, just 150 steps away. The existing four-story building features cramped but creative preschool classrooms, the old gym with its running track along the balcony, creaky boilers, leaks, dark and cramped spaces, and numerous flights of stairs.
"It's Byzantine," Dodson said of the structure.
As he talked about the fundraising campaign in his third-floor office, workers were making emergency repairs on the roof of the lap pool. Lawyers and local pols ply its waters, but so do refugees who are just learning English and longtime residents of the area who could not afford the Y's fitness programs or childcare programs without scholarships.
In 2015, the Y gave out $605,000 in financial assistance toward programs, up from $400,000 in 2011.
Meanwhile Dodson, who was hired last June to run the $8.8 million organization, is making $145,000 a year — about $20,000 less than Gov. Phil Scott. Dodson's predecessor, Mary Burns, earned $188,698 during her last full year of employment, according to the Y's Internal Revenue Service 990 tax filing, which is public record.
The next five highest paid staffers earn an average of $83,000 annually, Y officials disclosed when queried by Seven Days, and one of those individuals makes more than $100,000. The average nonprofit executive director salary in Vermont is $83,154, according to the 2016 Nonprofit Wage & Benefit Report of Northern New England.
Dodson defended the YMCA upper-management compensation and said two positions — his executive assistant and a financial officer — were cut last year. But the Y also hired a new vice president of development, Rick Blount, to help with its fundraising effort. In a previous position, he led a team that brought in nearly $100 million at the Robert Larner, M.D. College of Medicine at the University of Vermont.
Back in Winooski, the Y's pending departure from the O'Brien Community Center is expected to leave a large hole. It's the anchor tenant in the 10-year-old, 28,000-square-foot building on Malletts Bay Avenue.
On February 17, the place was abuzz with activity. As half a dozen people worked out in the Y, a city employee prepared to open the small community library at one end of the building. In another space leased by the University of Vermont Medical Center, a man exercised in a whirlpool. Two elderly nuns from the Our Lady of Providence retirement home wheeled out a cart loaded with hot drinks and snacks for their weekly Friday morning community coffee klatch in the lobby.
The Y's departure is likely to start conversations about changing the building's use. Last year, city officials paid for a study to explore moving the police station and possibly city hall to the Community Center. Those ideas need more thorough examination, but the discussion is likely to accelerate this year, said Winooski Mayor Seth Leonard.
He said there are no plans to recruit a new fitness center tenant — and that news will disappoint at least one constituent.
Bahati's final words before heading inside the fitness center: "Keep this as a gym."
*Correction, March 1, 2017: A previous version of this story misidentified Bob Stiller. This story has also been updated to reflect accurate fundraising figures.