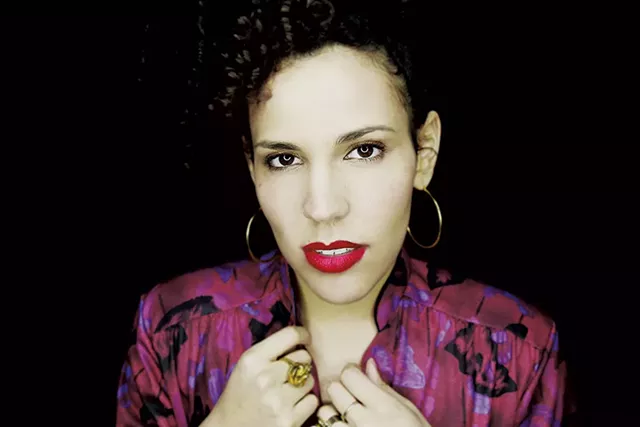 In 2016, a funny thing happened when Brooklyn-based R&B maverick Xenia Rubinos released her sophomore album, Black Terry Cat. For her, it was a collection of songs that expressed personal observations and profound life experiences. But in a year filled with discord and political unrest, her musings on being brown in America presented as calculated, political statements. At least that's what a bunch of music journalists thought.
And sure, perhaps politics are at play to some extent. Art is inherently political, after all. But sometimes the "protest music" label is hastily applied to any black or brown artist making deeply personal music in the 20-teens.
What makes Black Terry Cat feel so contemporary — or even futuristic — are not just Rubinos' timely assessments of race, class and, above all else, love. It's the way she unpredictably expresses herself through production, instrumentation and her own voice. Each track incorporates something unexpected, whether it's an acid-jazz saxophone trill, overdriven organ pops, charred guitar riffs, or her tendency to vocally zip back and forth between staccato and legato.
Rubinos performs on Friday, June 30, at ArtsRiot in Burlington, with support from local Afro-funk fusionists Sabouyouma and DJ Mo-T.
Seven Days caught up with Rubinos by phone.
SEVEN DAYS: In a piece on Bandcamp Daily, you said, "I feel like on my first album, I was afraid to say anything." Could you clarify that statement?
XENIA RUBINOS: Part of the reason was because I was feeling shy about saying what was on my mind and [was] afraid to be judged or that I didn't know what I was talking about.
I think what I did to get around that was to try not to take myself too seriously and say, "OK, let's do writing exercises. Every day, let's just write something, and you don't have to show it to anybody and it's not going to be a song and you can just throw it away."
I was able to write [Black Terry Cat] with that mentality of taking it easy on myself and not putting so much weight and severity to every single lyric. That ended up working for me.
SD: What kinds of conversations has Black Terry Cat sparked between you and other musicians and industry people?
XR: There's a general solidarity that I discuss sometimes with other music makers and producers about being miscategorized or being pigeonholed because of your physical appearance, your ethnic background [or] cultural story. There's quite a bit of tokenizing that happens. [It] can be kind of frustrating. That conversation is one that I seem to be having pretty frequently.
SD: A lot has happened in our country since you released Black Terry Cat. Has postelection life influenced any new writing?
XR: I think after November, and even leading up to it, and having all of these new — well, not new — old conversations that I hadn't had a chance to have in public, I started thinking about what my responsibility [is] as an artist [and] as a woman of color in the music industry. What am I representing? I started to feel really overwhelmed but also kind of empowered.
But, ultimately, I came back from tour after the election and decided that the most revolutionary, transgressive thing that I could do in my music is to just do whatever the fuck I want and not think, Oh, I should write my experience as a brown girl in America. It's not about that. It's actually just about doing whatever the fuck I want and taking my time.
There are a lot of times in [my] set where there's an outro of a song, and I'll drag it out way longer. I think about that moment of taking my time as being something that's revolutionary in and of itself: a woman taking her time to do whatever the fuck she wants to do.
SD: Can you tell me about the visual component of your work? Your videos, your photos, your social media — how much of what we're seeing comes directly from you?
XR: Pretty much everything. It's a work in progress. Part of it is strange, and I used to think of it as this really superfluous thing that I had to do with my music. But now I've actually been having more fun with it and thinking about how it's literally a visual representation of my sound.
I feel like the things I see in my head take a while to actually manifest. I feel visually challenged a lot of times. I try to be as specific as I can about [my] ideas. I always want it to feel new and interesting and [to] look like the music and feel like it's coming from my vision and my personality.
I've had the chance to work with some great video directors, like Armando Croda. He directed the "See Them" video, which was a virtual-reality bike ride through Brooklyn.
SD: Do you bike a lot?
XR: Never. And I actually wear glasses for distance, but I didn't want to wear glasses in the video. I wanted you to be able to see my eyes. I was riding around Brooklyn blind. I couldn't see one foot in front of me, so it was actually very dangerous.
I almost crashed into a couple cars. There was a bus incident. Nothing happened to me or anybody else, thank God. But there were definitely a couple of close calls. The director was following me on his bike and was so worried. He was like, "Oh, my God, why didn't you tell me you never bike?"
SD: You've mentioned this concept of carrying joy and pain equally. What does that mean to you?
XR: It's something I've been thinking about for years. I kind of started to process [it] a little bit the first time I went to Cuba to meet my family. I was 13. It was a really beautiful experience.
One of the things that struck me is just how joyful and resilient people are [there], even in the face of hard times. They're always inventing, always making something up, always making things happen. I started asking myself on Black Terry Cat if I had any of that in me and if I was able to carry my pain joyfully and accept it.
The truth is, we all struggle. We all have our issues, and I think it's really important to make peace with that duality of life and know that it's part of it.
SD: Do you have any other creative outlets or hobbies?
XR: I really love dancing. I have thought of exploring movement, and I took some movement classes a year or two ago. I started thinking about using it as a part of my writing process and exploring how movement would change what I would do with my voice and how I would write.