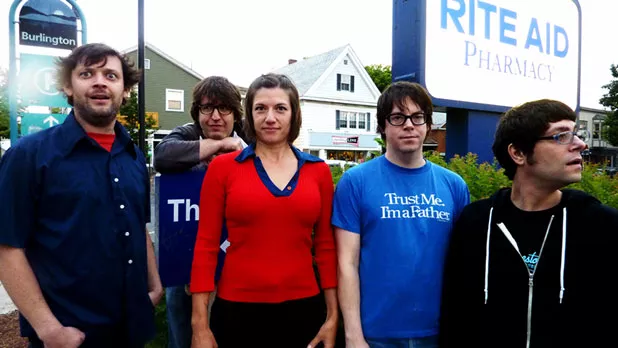 Well, folks, it's here. No, no. Not the holiday season. That's been here since roughly August. I mean the holiday party season. The most wonderful season of all!
The holiday party season typically begins when we're just under two weeks out from Santa's birthday, er, Christmas. By this point, Thanksgiving is but a faint, fond memory. And, between unending Christmas commercials, TV specials, Bob Rivers' Twisted Christmas carols on the radio and the incessant jingle of the Salvation Army guy — I seriously think he's following me — we're just about reaching the holiday cheer breaking point. Hence, the holiday party.
Holiday parties are great, if only for the unintentional comedy inherent in mandatory socializing. They represent a perfect storm of yuletide frustration, awkward conversation with coworkers and unchecked booze consumption, gift-wrapped in an ugly sweater and cinched with a Santa tie. The holiday party is when Bill from accounting makes out with Ellen from marketing in front of half the company. When Roger from sales tells his boss to go fuck himself in his acceptance speech for Employee of the Year. It's when Dan from the music section karaoke-serenades Maeve from the sex column. Hypothetically, of course. Erm, moving on …
Fortunately, the local music scene has its own Christmas parties. And, let me tell you, they're a lot more fun than your average office shindig.
We begin with what has become something of a surprising annual tradition, the Crapulous Christmas Party this Saturday at the Monkey House, hosted by Rebecca "Nuda Veritas" Kopycinski. This year's bash will be the third annual and, by most accounts — OK, Facebook — the biggest yet. Expect performances from — read this in your best Don Pardo voice, please: DJ Disco Phantom! Comedians Colin Ryan and Pat Lynch! The Crapulous Sing-aLong Honky-Tonk Christmas Band! Dean Martin! Holiday Movie Trivia! Paul and the Mystery of Gravity! The Rockettes! And a very special reading of "'Twas the Night Before Christmas" by Betty White.
All right, I made up a few of those. However, the show is a benefit for COTS and will feature a raffle with loads of nifty prizes from the likes of Mars Pyramid Records, Sneaker's and the Outdoor Gear Exchange. And, you never know, Betty White might show up …
Betty White will almost definitely not be at Nectar's that same night, however, when a slew of Burlington's finest rock the halls to benefit the Spectrum Youth Center, including Dr. Green, Blue Button, Spirit Animal and Lendway. Dueling benefit shows … it must be Christmas.
On a related note, Blue Button sent along a sneak peek of their forthcoming debut record a couple weeks back. Two words: Christmas miracle.
Meanwhile in Montpelier, Langdon Street Café gets into full yuletide mode with an entire week of typically random holiday nonsense they've dubbed "X-Mess Fest." The fun begins Sunday with, obviously, traditional Celtic folk band the Turning Stile and continues through Christmas Eve. And I'm told that whatever you do next Wednesday, don't miss "Nutty Cracker," the café's "cheesy ballet" featuring a cabaret composed of ghosts of LSC past and present, presented by Nutty Steph's Granola.
BiteTorrent
Speaking of the magic of the holidays, Higher Ground was blessed with its own Christmas miracle this past week when it was (finally) announced that the one, the only, the really-tough-to-pin-down Ms. Lauryn Hill had finally settled on a date for her much-talked-about appearance at the club. Drum roll, please! It's Sunday, December 19. Set it in stone. I found out the way I'm sure most folks did: HG co-owner Kevin Statesir flagged me down from his car in the parking lot of PetSmart in Williston — where I was definitely not buying my dog an ugly Christmas sweater for a party … ahem — and passed along the good news, while an increasingly agitated woman not-so-patiently waited for his parking space and shot me several dirty looks, and maybe even a yulefinger afterward. Ah, Christmas.
---
A few months ago I wrote about local songwriter Gregory Douglass' latest online fundraising venture. To refresh your memory, Douglass has been doing a weekly webcast concert series for most of the year and soliciting donations from viewers to help fund his next record. It's kind of like an e-version of busking on Church Street. Only without all the stupid rules and regulations. Oh, and with more money. Like, a lot more money. I admit I was skeptical when Douglass first presented his plan. But I was wrong. As of this printing, he's raised over $12,000 between his online concerts and album presale packages. He is still well shy of his total goal of $61,270. (Yes, really. Being a pop prince ain't cheap, OK?) But the number is impressive nonetheless. If you're interested in donating, or simply fi-curious, tune in to Justin.tv/gregorydouglass every Monday at 9 p.m.
---
Band Name of the Week: Pink Fury. In the past two weeks I've received no fewer than four separate emails from four separate readers suggesting I check out newish Burlington punk band Pink Fury. Though I've yet to catch them in person, I did spend some time perusing the tunes available on their MySpace page, and, I gotta say, you folks might be on to something. I mean, what's not to like about riot grrrls and violins? Exactly. Catch Pink Fury this Sunday at the Monkey House with fellow punk trios Weaseldust and FM Drag.
---
As "that guy from 'the' Seven Days," I get a lot of weird shit in the mail from musicians trying to stand out amid the flood of look-alike press kits and album packages. In the last year alone, I've received a freaky-ass diorama, a beer koozie, a voucher for a free car wash, candy, a T-shirt that reads "I'm Not Dan Bolles" and a book about decoding rap lyrics. My all-time favorite weird package: a rock. Really, just a rock, with instructions to hold it to my ear. I may have a new runner-up, though, and it comes by way of Plattsburgh-based band Oh! Betty. The group recently sent in a copy of their new holiday single, "Martha Stewart Christmas." The single itself is pretty decent, in a corny, slightly-too-wholesome-to-be-truly-funny sort of way. If nothing else, the band is tight, and lead vocalist Julie Canepa has some great pipes. But the best part is the cover, which features Canepa looking rather Stewart-esque, some snazzy/cheesy retro lettering and a sticker that reads — wait for it — "As Seen on YouTube." Sign of the times?
---
Speaking of holiday singles, Mrs. Myra Flynn — note the new prefix — just released a new one, "Harvest," that is only available online. You can go through the usual e-stores — iTunes, Amazon, etc. Or you can download it directly through Flynn's website, MyraFlynn.com. "Harvest" features a special guest vocalist, the aforementioned Gregory Douglass, who, in addition to lending his pipes, seems to have imparted some fundraising wisdom to Flynn. The neo-soul siren has launched her own album presale packages ranging from $25 (you get a signed CD and a shout-out on the website) to — I swear I'm not making this up — $5000. The latter gets you everything included in the lesser packages plus one night with Demi Moore — er, a day of shopping with Myra. Hope she's buying.
Listening In
And once again, this week's totally self-indulgent column segment, in which I share a random sampling of what was on my iPod, turntable, CD player, 8-track player, etc., this week.
Pink Noise, Here Is Happiness
Jenny Dee & the Deeli-quents, Keeping Time
Daniel Johnston, Songs of Pain
Dusty Springfield, Dusty in Memphis
Various artists, A Colbert Christmas: The Greatest Gift of All!