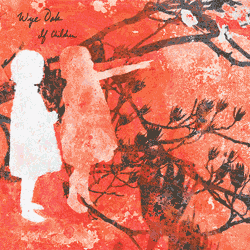 (Merge Records, CD)
Baltimore duo Wye Oak is variously described as noise, indie pop, folk and shoegaze. Those clever categorizations aside, the imaginative duo have refined an evocative style, as evidenced by their Merge Records debut If Children.
Recorded over the winter of 2006, the album is actually regarded as a re-release, repackaged for "indie major" Merge. Part sparse lullabies, part blossoming, noise-draped rock, the album is at times cutely reminiscent of Sonic Youth's early works, as well as those of Yo La Tengo and The Breeders. The band prides itself on achieving a full-bodied feel despite its two-person makeup. And there's no shortage of richly adorned sound, even if a lot of it is supplementary noise.
Many of the tracks begin in the guise of traditional, judicious indie-rock tunes only to flourish into elaborate soundscapes. Jenn Wasner and Andy Stack share all instrumentation duties. But any allegiance to a conventional duo dynamic largely ends there. "Archaic Smile," an alluring ballad peppered with Stack's sporadic percussion, is one of the album's more traditional duets. Here, the two sound nice together, and it's unfortunate this format does not appear more often.
Wasner dominates the majority of the vocal work. But her sultry delivery is often disaffected by being double-tracked. There's something distancing and artificial in this oft-used indie-pop technique, and much of the record is lyrically muddled as a result. That said, the melodies on If Children are often too winsome for the listener to notice much. On "Family Glue," Wasner is as striking and commanding as any of the starlets of the genre, her voice mixed smartly with a twangy guitar and tender solo fiddle.
Another standout track is "I Don't Feel Young," an audacious hymn on the disillusionment of youth that thematically illustrates the disc as a whole. "I speak too fast," sings Wasner, "I laugh too loud / I am the smallest in the crowd."
If Children is an auspicious, convincing debut by two promising young talents. Wye Oak, currently on tour with the valiant Baltimore rock trio Pontiak, appears at The Monkey House in Winooski this Sunday.