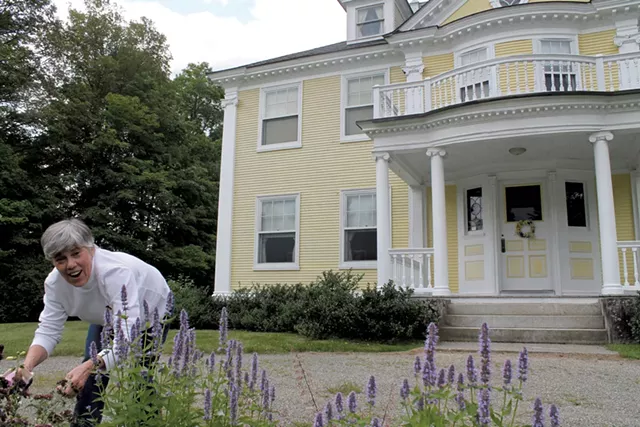 Julia Shipley
Suzanne Boden at the Governor's House
The Governor's House in Hyde Park was built in 1893 by Vermont's 43rd governor, Carroll S. Page, to resemble a house erected more than a century earlier — the Georgian home of poet Henry Wadsworth Longfellow in Cambridge, Mass. The mansion's current owner, Suzanne Boden, also uses the premises to invoke a bygone era and a literary legacy. Her exquisitely restored eight-bedroom bed-and-breakfast serves as the setting for Jane Austen weekends — an immersive experience for the sense and sensibility of those who wish to temporarily hang out in a 19th-century novel.
Haven't read all six — or perhaps any — of Austen's published novels? Missed all the Jane Austen-related TV and film productions, including 27 new releases over the past decade? No idea what the Regency period is? Not a problem. The naïve and experienced alike may still enjoy, and perhaps even revel in, this three-day event billed as a "leisurely weekend of literary-inspired diversions for every Jane Austen devotee."
July 17 marked the 200th anniversary of the British novelist's death at age 41. Consequently, this year there have been even more Austen-centric gatherings, tours and parties than usual. Yet her contemporary fans are legion, including more than 5,000 dues-paying members of the Jane Austen Society of North America. Among many annual events, they attend the celebration in Bath, England — the author's hometown — and the Jane Austin Festival, which organizers call "the largest Jane Austen event in North America," held in Louisville, Ky.
For the past decade, Boden has done her part: About four times a year, she welcomes "Janeites" to honor the foremother of the modern-day romance novel.
At a recent Pride and Prejudice-themed Austen weekend, six guests arrived at the Governor's House on a sweltering Friday afternoon and checked into their spacious rooms. This reporter was among them.
"There are about eight things you need to know," Boden informed us. Each one pertained to forgoing many modern amenities and adjusting to conditions typical of Austen's time. The fireplace bricks might impede the Wi-Fi signal, she cautioned. Keeping the windows shut with curtains drawn during the day would make the air-conditioner-free house cooler. Electronic devices (other than cameras) should be left in one's room.
This simplified lifestyle is precisely what drew Joan Haslett and her daughter, Mary Johnson, both from Chittenden County, to register for the weekend. The duo had attended two of Boden's other offerings: an afternoon tea and a "Downton Abbey" lecture. This time they signed up because they knew that the inn, with its wide hallways, cozy parlors and gracious back porch, was conducive to reading and relaxing. When the weekend's scheduled carriage rides and croquet game were cancelled due to downpours, Johnson admitted, "I don't mind. It's really nice just to stay inside and knit."
Other attendees booked the event expressly for the chance to meet each other and share their love of all things Austen. Knowing how much she loved Pride and Prejudice, Sara Smedberg's husband gifted her the weekend as a 35th birthday present.
The registered nurse and mother of three from central Massachusetts said she was looking forward to "having time to herself." But Smedberg later commented, "When I wanted to be social, it was lovely to share in the experience and each other's knowledge."
Ginger Coon, a 42-year-old children's librarian from Baton Rouge, La., booked her stay at the Governor's House last January. Her inspiration, she said, was the film Austenland about a woman who visits an Austen-themed resort. And, as Coon put it, "All these crazy things happen to her." She said she had wondered whether any place like that actually existed. When she googled her question, Coon recalled, "This place popped up."
Julia Shipley
Suzanne Boden (left) and guests at an Austen weekend
In addition to the Pride and Prejudice event, she also registered for the following week's In Character Weekend. In preparation, Coon took an online sewing course and stitched two Regency-style gowns — a day dress and a ball gown. Donning these throughout the weekend, Coon said she aimed to portray Anne Elliot from Austen's novel Persuasion. Why that character? "Because, like me, she's old and single," Coon replied.
"And sensible," added Boden, invoking the complex and intelligent women who populate Austen's novels. "Perhaps too sensible for her own good."
The five senses provided the theme for Boden's Friday-night lecture, attended by both her weekend guests and drop-in customers. After serving pitchers of ice tea and sangria with homemade lemon squares, cheeses and crackers, the host began a talk that introduced the smells, sounds, customs and aspects of daily life in Regency-era England.
The Regency was so named for a period when King George III — the one who lost the American colonies — became deranged and was deemed unfit to rule. His elder son, George IV, ruled as the prince regent (the king's proxy) from 1811 until his father's death in 1820.
This era is the setting for all of Austen's novels, and, consequently, it is Boden's favorite. "I love the clothes [simplified flowing gowns]; I love the music [Beethoven and Schubert]; I love the food [platters of meats and vegetables and baked goods]; I love the furniture [circular tables with animal feet]," she said.
Boden's vision began to take shape 10 years ago when, as she recalled, she was hanging her cutwork lace tablecloths to dry on the clothesline. Surrounded by her laundry outside her historic home, with Mozart wafting from the windows, she might have been in another time. She remembered thinking, Hmm ... I could be Jane Austen.
About the third or fourth time she had that thought, Boden said, she wondered if there were others who felt that way — or, more accurately, wanted to feel that way. So she looked online and discovered that, aside from the annual festivals, nothing seemed to suit what she sought. So Boden created a series of weekends, each focused on a particular Austen title.
In addition to the Regency-inspired physical environment, Boden's weekend devotees are treated to period meals, including an afternoon tea and informal lectures on etiquette and history, supplemented with readings and illustrations from her vast reference collection. In addition, there is stimulating conversation, instruction in some of the card games Austen's characters played, opportunities to use a goose quill pen — the kind Austen used — and, on the final morning, the chance to match wits with Boden's 52-question Pride and Prejudice-themed quiz.
For returning attendee Bonnie Britz, who recently retired from teaching English as a second language in Brooklyn, the quiz was a chance to top her prior score. At a prior weekend Britz witnessed a fellow contestant claim, "I know I'm going to win this — I must have watched the movie seven times." * But, according to Britz, it's reading the book that ensures a high score. To date, the highest score is 98 of a possible 104. Britz scored the highest in the weekend's group with an 89, allowing her to select a prize from items Boden had arranged on the mantel. Britz selected a mouse pad inscribed with a passage from Austen's novel Emma.

Meanwhile, those with the lowest scores earned a Pride and Prejudice-themed bookmark. And, Boden pointed out, "You get to read the book again."
Or read it for the first time. Having discovered Austen's compelling story as well as the lively culture surrounding it, this reporter is now determined to do so.
*Correction, September 6, 2017: An earlier version of this story misattributed a quote to Bonnie Britz. It was said by a fellow contestant.